In my opinion, the matchup of the week for the eighth week of the 2008 NFL season has to be the San Diego Chargers facing off with the New Orleans Saints.  Both teams are fighting to stay in their division race.  In San Diego, the second-place, 3-4 Bolts are fighting to keep up with the Denver Broncos.  Denver lost 41-7 on Monday against the New England Patriots, and currently stand at 4-3, just one game ahead of San Diego.
The season's most efficient passer, Drew Brees, and his team are fighting down South.  At 3-4, New Orleans finds themselves at the very bottom of the NFC South.
This is the most eye-popping matchup between two 3-4 teams.  Both teams are looking to bounce back after devastating losses.  The game?  Well, it will be played at 1 PM ET.  The catch?  It may say that New Orleans is the "home" team, but this game is as neutral as it gets.  Both teams will, early in the week, fly to London, England and play the three-hour game at Wembley Stadium.  Wembley is traditionally a stadium for non-American football (in other words, soccer).  But, for the second straight NFL season, commissioner Roger Goodell has made the decision to hold a regular season game across seas.  Doing this is an obvious attempt at expanding the NFL's fan base, which I think is a great idea (even if it does mean one NFL team truly only gets seven home games).
Who will win the game?  Well, it may sound like a simple question to ask.  But really, it's not.  These two teams are pretty evenly matched.  Here is a brief breakdown of the game (and who I believe will win).
OFFENSE v.s. DEFENSE
The offense is a very key component in an American football game.  Score alot of points, and you obviously have a better chance at winning the game.
Both teams have high-powered offenses, but one team will be without a key playmaker.  That player I am referring to is New Orleans' RB Reggie Bush, who will be out for at least a few games.  Bush just recently had surgery on his knee after leaving Sunday's game early against the Carolina Panthers.  Yes, Bush's absence will have an affect on the Saints' production on the ground and return game, but Brees is still a Pro Bowl-caliber QB with an accurate arm and a few key returns in the receiving game.  Tight end Jeremy Shockey and WR Marques Colston returned to the lineup on Sunday, but were ineffective.  Look for Sean Payton and Brees to go to the two playmakers a little more often against San Diego's weak pass defense.  When I say weak, I mean weak.  Through seven weeks, the Bolts defense is 31st overall against the pass, and it doesn't look promising when the Saints' passing offense is first in the NFL.
Edge (When NO has the ball): Saints
San Diego QB Philip Rivers, first in the NFL with a 109.9 QB rating, is up there with Brees when you talk about talent.  Both are more than capable of leading their team down the field when it matters most.  But, with Ladainian Tomlinson looking a bit fragile for the Bolts, Norv Turner may have to rely a little more on Rivers and the passing game.  Speaking of which, the Bolts offensive line has given up 17 sacks to opposing defenses, that's good enough for a tie with the Broncos (8th) for most in the League.  But, the fact that New Orleans' defense has sacked the QB seven times this season makes me think the Bolts' offense will succeed when passing the ball.  And, if Tomlinson can produce on the ground, they will be in pretty good shape and will easily keep up with the highest-scoring offense, as of right now anyway.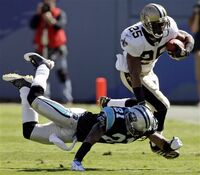 Edge (When SD has the ball): Chargers
Wow, what a surprise!  I have given the edge to both offenses.  Does that mean this game will turn out to be another Minnesota/ Chicago game?  Possibly.  I sure hope all those Englanders attending the game are a fan of offense.  Because if not, you're wasting your money.
SPECIAL TEAMS
I'm giving the edge to San Diego for the simple fact that they have speedy return man Darren Sproles and Pro Bowl kicker Nate Kaeding.  Sproles may be tiny (5-6, 181 pounds), but never underestimate his ability to take one to the house.  New Orleans' special teams will struggle because, again, of the absence of punt returner Bush.  Kaeding is tied for 10th in points in the NFL, and New Orleans kicker, Taylor Mehlhaff (?!?!) is 33rd with just 11 points in three games.
Edge: Chargers
Despite me giving San Diego the edge under the special teams category, I'm handing the win to the New Orleans Saints.  They may have had an off day against the mediocre Panthers defense last week, but so did San Diego's offense (well, the running game did anyway).  Brees is far too dangerous on offense for San Diego's young Philip Rivers to outplay him.  New Orleans wins big in a game all about the QB's.
The score??:  San Diego 31, New Orleans 34
Ad blocker interference detected!
Wikia is a free-to-use site that makes money from advertising. We have a modified experience for viewers using ad blockers

Wikia is not accessible if you've made further modifications. Remove the custom ad blocker rule(s) and the page will load as expected.