Well, it appears as though the combination of the Tony Romo injury, and yet another episode in the Adam Jones chronicles got to the Dallas Cowboys' heart. Yesterday, the St. Louis Rams upset the 'Boys, 34-14 (if you want to even call it an "upset", many expected this). Yes, Marion Barber did manage to break 100 rushing yards (just barely with exactly 100 yards), and did in fact get into the end zone in the first quarter. But, the rather inconsistent Steven Jackson of the 2-4 Rams ran for 160 yards and scored three--yes, THREE times. Jackson scored 35 fantasty points for my AGM team on Yahoo!
Romo's replacement, hefty veteran Brad Johnson, looked disgusting. Three interceptions came from his cannon of an arm, and he fumbled one more time, though it was recovered by the offense. Truth is, he has been off the field for too long. I, myself thought he would be capable of leading the Cowboys offense over this Rams team. But, Wade Philips put too much on his shoulders. I'm not sure why you would have Johnson attempt 34 passes, and give your star running back just 18 carries. The defense is under too much pressure and has been giving up too many points. Give the ball to Barber 25-30 times, and you may have had yourself a game.
No, I'm not saying the Cowboys would have won the game. The problem is obviously the defense at this point. Give Barber the ball 30+ times and have your defense give up less than 30 points, and THEN you can safely say Dallas would have a 5-2 record.
Point is...
Dallas has a few things to work on.
If Steven Jackson can stay productive, and Marc Bulger gets help from his offensive line (being sacked five times is something that cannot happen) this team could win some tight games down the stretch.
Steelers Come Off Bye Week With Big Win Over Cincy
It may only be the winless Cincinnati Bengals, but a win is a win. The Pittsburgh Steelers' 38-10 win over the Bengals didn't come as easy as it sounds. The game was close through three quarters (17-10). But the Bengals, who were without star QB Carson Palmer, were eventually hit hard--as was their rookie LB Keith Rivers out of USC, who is out for the season with a broken jaw after being jacked up by Hines Ward on the fourth play of the game. Da 'Burgh scored three unanswered touchdowns in the fourth quarter to pull off the 28-point victory to cruise to a 5-1 record and a commanding lead in the AFC North.
With Willie Parker still out with an injury, the Steelers had to rely on Mewelde Moore, who made his second career start in a black and gold uniform. Moore ran for 120 yards and scored three touchdowns (2 on the ground, 1 through the air). Moore's first TD was a two-yard reception and was his first TD of the season. Quarterback Ben Roethlisberger, who was sacked for a record-pace of 18 times before Sunday's game, wasn't sacked once. But on the other side of things, Ryan Fitzpatrick was sacked by the Pittsburgh defense seven times, and forced two fumbles (only one was lost). Roethlisberger threw for 216 yards and 2 TD's. Former Jacksonville Jaguars QB Byron Leftwich threw for 34 yards and and added another TD pass in the game. Pittsburgh will head back home to face the 5-1 New York Giants next Sunday (4:15 PM ET).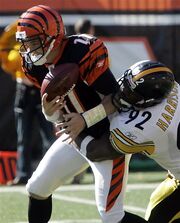 BBB15's Thoughts on the Rest of Sunday's Games:
Baltimore Ravens 27, Miami Dolphins 13
Joe Flacco didn't make many mistakes and LB Terrell Suggs sparked the Ravens' win with a 44-yard interception returned for a TD early in the second quarter. The key to the game? Ronnie Brown (13 ATT, 27 Yards, 0 TD's, 2.1 YPC) and the Wildcat formation was inaffective for the Fins. Because of that, the Ravens were able to come out on top and improve to 3-3 on the season.
San Francisco 49ers 17, New York Giants 29
J.T. O'Sullivan had a decent game, throwing for 256 yards while completing 16 of 28 pass attempts and even adding in a TD pass and 27 yards on the ground. However, his two interceptions and four fumbles (only one lost fumble) were very costly. Frank Gore running for just 11 yards on 11 carries didn't help much either. In fact, O'Sullivan was San Fran's rushing leader... not good! Eli Manning threw for 161 yards and a TD while Brandon Jacobs ran for 69 yards and two TD's.
New Orleans Saints 7, Carolina Panthers 30
I can actually, truly say that I called this game! New Orleans really isn't what they appeared to be last week. Yes, Drew Brees may be one of the most effecient passers so far this season, but his supporting cast just isn't there. Reggie Bush is now out 2-4 weeks, and Jeremy Shockey and Marques Colston just returned to game action. Past Bush, the Saints really don't have much of a running game. I just think the Panthers will go on to win the NFC South. Jake Delhomme is as healthy as ever, and looks poised to win a division title. Steve Smith finally broke out with 122 yards and a TD catch on just six receptions for Delhomme's Panthers, and rookie Jonathan Stewart is back in the lineup!  Get used to Carolina being in the win column this year, they may just break out with 10-11 wins.
San Diego Chargers 14, Buffalo Bills 23
The 3-4 Bolts MUST be more consistent if they want to cruise to the playoffs this season. I think this was Buffalo's statement game, and they proved they are a force to be reckoned with in the east. Watch out, New England! Young QB Trent Edwards completed 25 of his 30 pass attempts for 261 yards and a 2-yard TD toss to WR Lee Evans in the second quarter. Again, Ladainian Tomlinson was ineffective, running for just 41 yards on 14 carries, and that allowed Buffalo to pressure Philip Rivers into two sacks, and three turnovers. Buffalo is now 5-1... weird!
Minnesota Vikings 41, Chicago Bears 48

This may have been the wackiest, and most puzzling game of them all this weekend. Minnesota scored 41 points on offense and STILL lost the game?! No way. Well actually, yes way. Adrian Peterson (the Vikings RB, not Chicago's) ran for 122 yards and two TD's while AP's backup, Chester Taylor, ran for 34 yards and one more TD. The difference? Turnovers. Minnesota's QB Gus Frerotte threw 4 interceptions, and Minnesota added a special teams fumble to the mix of things. All that added up to be 5 total turnovers. Chicago had just one as Kyle Orton threw for 283 yards and 2 TD's.
Tennessee Titans 34, Kansas City Chiefs 10
Not surprisingly at all, Tennessee remains the only unbeaten team left. And, Kansas City even had to use three different QB's. Brodie Croyle went down with an injury (and will be lost for the season) after starting out going 9 for 10 for 63 yards. Backup Damon Huard left with another injury after three quarters, so Tyler Thigpen finished the game for the one-win Chiefs, who only managed 10 total points (all scored in the final quarter of play).
Detroit Lions 21, Houston Texans 28
This was a rather surprising score. Who would've thought the Lions would score more than, lets see, zero?? Not me. But, they did thanks to a Kevin Smith 26-yard TD run, a 96-yard pass from Dan Orlovsky to Calvin Johnson (and the two-point conversion) and two Jason Hanson FG's. Johnson accounted for a majority of the Lions' total yards. In fact, 154 yards and a TD on just two receptions. Talk about yards after the catch! Matt Schaub looked great for Houston, completing 26 of 31 for 267 yards and 2 TD's. Wide receiver Andre Johnson caught 11 of Schaub's passes for 141 yards and TE Owen Daniels caught both of Schaub's TD tosses for 66 total yards. Detroit remains winless along side the Bengals.
New York Jets 13, Oakland Raiders 16 (OT)
This was an awful game for both teams.  The Jets nearly ran Oakland out of their own stadium (242 total rushing yards; 159 for Thomas Jones), but through the air? Brett Favre threw 2 INT's and zero TD's while young JaMarcus Russell threw one TD to Javon Walker. New York: 418 total yards yet no W? What's up with that? Well, the game was tied at 13 at the end of regulation, so they headed to OT. But, Favre failed to lead New York to even a field goal attempt in three overtime drives.  So, you let Oakland drive on you, and Sebastian Janikowski hits and unlikely game-winning 57-yard FG with 2:30 left. Wow. Lesson learned: The Jets are trash and will not win the AFC East; Janikowski has a leg! Even though I kinda already knew about both of those statements... oh well.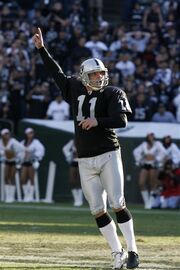 Cleveland Browns 11, Washington Redskins 14
This was a bit of a yawner. A 0-0 tie at the half!? Reminds me of the 3-0 Pittsburgh victory over Miami last year (minus the six inches of rain/mud littering the field). I really wasn't sure what to expect from this game. Was Cleveland for real? Will Washington bounce back from last week's stunning upset? Well, anyway, I knew Clinton Portis would have a big day, which he did. Portis had 175 yards on the ground and a TD--which came halfway through the third quarter. Derek Anderson had a nightmare of a day (14 of 37, just 136 yards passing and a TD). Let me just say, Cleveland is not for real, Washington is still a great team despite the scare.
Indianapolis Colts 14, Green Bay Packers 34
No one expected this. Whatever happened to all the "Peyton's back" from last weekend? I must admit, I was part of that crowd. Peyton Manning sure didn't look like Peyton Manning against this Packer defense. He completed just half his passes and threw two interceptions with zero TD's. The highlight? Dominic Rhodes: 73 yards and 2 TD runs. Aaron Rodgers was efficient and productive for Green Bay (21 for 28, 186 yards, 1 TD), and Ryan Grant finally broke 100 yards on the ground and added a second quarter TD run. Note: Both of Manning's INT's were returned for Packer touchdowns; Nick Collins 62-yard return in 3rd, Aaron Rouse 99-yard return in 4th.
SNF:
Seattle Seahawks 10, Tampa Bay Buccaneers 20
Tampa had a great night last night.  Of course you all know about the Rays' first-ever World Series appearance after defeating the Boston Red Sox, 3-1, at the Trop. But, Tampa's QB Jeff Garcia, starting for the injured Brian Griese, threw for 310 yards and a TD in their 20-10 victory over the 'Hawks. Tampa gained 402 total yards on their way to a 5-2 record in the South.  Seattle only turned the ball over twice, but continues to struggle.  They will head to San Francisco next week sporting a 1-5 record (1-1 in the Division).
Ad blocker interference detected!
Wikia is a free-to-use site that makes money from advertising. We have a modified experience for viewers using ad blockers

Wikia is not accessible if you've made further modifications. Remove the custom ad blocker rule(s) and the page will load as expected.