Well, a few qestions were answered during week 6 of the NFL season, but many other have yet to be answered.  The Cardinals are for real, and the NFC East may not be as great as we thought. 
ARI 30, DAL 24 OT
Dallas suffers their second loss of the season in OT, and Tony Romo and his crew really haven't played a solid game the past three weeks.  Romo was taken down by the Cards defense three times, and he fumbled three times as well (only 1 lost fumble).  Other than his three mishandlings, Romo's stats looked great (24/39, 321 yards, 3 TD's, 0 INT's), but all of that means nothing after the loss.  Just one minute into the extended time, Arizona defender, Monty Beisel, blocked a Mat McBriar punt and returned it three yards for the game-winner.
Not only did the Dallas Cowboys lose game number two after being upset by the 4-2 Arizona Cardinals, but they also lost popular (or, to many, not so popular) QB Tony Romo for at least a month due to a broken pinkie finger, which he sustained during overtime.  Not time to panic, Dallas??  HA, yeah right!  Brad Johnson may have a Super Bowl ring to his name, but that doesn't mean he can step in here and "save" the Cowboys '08 season.  Johnson is 40 years old, and hasn't played a game of football in quite a while...during the regular season, that is.  It's a good thing they have a great running game with Marion Barber, who ran for just 45 yards against the Cards, but DID accumulate 128 yards through the air, including a 70-yard TD catch from Romo in the fourth quarter.  I said this after yesterday, and I'll say it again...the Cardinals are for real!  During the preseason I picked Seattle to win the West.  But, as you can see, the 'Hawks are looking rather sorry and Kurt Warner and WR Larry Fitzgerald are carrying this offense to victory after victory.  It took just one minute for the Cards to stop the 'Boys on offense and return a blocked punt three yards for the game-winning TD in overtime.  One play before, Romo suffered that very big injury which may have spoiled the Cowboys chance at a division title.
The Arizona/Dallas game wasn't even close to the best game of the weekend.  Actually, five of Sunday's games were decided in the final minute or two of play (including the OT thriller in Dallas).  The disaster of the weekend??  My BIG fantasy mistake.  I forgot to bench Ben Roethlisberger, and left Kyle Orton on the bench, who went on to score 15 points in Chicago's 22-20 loss to Atlanta.
CHI 20, ATL 22
While we're on the subject, why not talk about rookie QB Matt Ryan's 300+ yard performance.  Yes, I know I don't believe that Atlanta is 4-2 either, and Ryan completed 22 of his 30 pass attempts for 301 yards and 1 TD.  Though kicker Jason Elam's four field goals is why the Falcons picked up the win.  Give Ryan credit, he had a fantastic fantasy day, and most importantly held on to the ball, which is what head coaches want young QB's to do best.  Personally, I think the Bears threw the ball a little too much.  Orton attempted 43 passes.  I think it would have worked out a little better if they gave the ball to the rookie RB, Matt Forte, who ran for 76 yards and a TD in the loss.
BAL 3, IND 31
Another thing I found out; the Colts are back!  Peyton Manning and the Colts took an early 14-0 lead over the number one ranked defense in the league after two long pass plays to his favorite targets, Marvin Harrison (67-yard pass), and Reggie Wayne (22-yard pass).  The score was 17-0 after the first quarter, and 24-0 after the first half.  This game just got out of hand and I thought it was just poor play-calling on the Ravens part.  Like Chicago, they threw the ball wayyy too much.  Why would you attempt 38 passes with a rookie QB at the helm?!  As a team, Baltimore ran the ball just 19 times.  Willis McGahee (8 carries, 18 yards) should have ran the ball 20+ times on his own.  Joe Flacco's three interceptions weren't necessary, and the problem could have easily been solved.  One thing's for sure, I don't think Baltimore has the number one defense anymore, especially after Peyton picked them apart piece by piece, throwing three TD's and zero INT's.
DET 10, MIN 12
The Minnesota Vikings narrowly escaped the still-winless Detroit Lions thanks to a short, 26-yard field goal nailed by Ryan Longwell with nine seconds to spare.  Adrian Peterson did run for 111 yards, but his two lost fumbles nearly override his hefty performance on the ground.  Bernard Berrian was finally a deep-threat for veteran Gus Frerotte (5 receptions, 131 yards, 1 TD).  Minnesota took the early 2-0 lead on a safety after Dan Orlovsky accidentally stepped out of the end zone, but they lost the lead in the third quarter after a 12-yard pass from Orlovsky ended up in Calvin Johnson's hands.  Late in the third quarter, Berrian and Frerotte hooked up for an 86-yard TD (I told you he was a nice option for deep passes!).  Finally Minnesota took the lead back for good after the Longwell GW FG.
OAK 3, NO 34
The Oakland Raiders/New Orleans Saints game was one of the three absolute blowouts on Sunday.  Oakland took the early 3-0 lead about six minutes into the game on a 24-yard Sebastian Janikowski field goal.  But, Drew Brees and the Saints came to play and quickly turned the game into an ugly one.  New Orleans dominated the time of possession (36:12-23:48), and Brees had just four incomplete passes out of 30 pass attempts.  Brees added 320 yards and 3 TD's to yet another fantastic fantasy day.  Young JaMarcus Russell, Oakland's QB, struggled nearly every drive, finishing with 13 completions out of 35 attempts and an INT.  The Saints' zero turnovers and Reggie Bush's 67 yards from scrimmage and 2 TD's (1 rushing, 1 receiving) easily gave the Saints their third win of the season.
CIN 14, NYJ 26
I think we ALL missed Brett Favre last week, didn't we??  Well it's all good, he and his 3-2 New York Jets team kept the Cincinnati Bengals' losing streak to six this season with a 26-14 win.  Carson Palmer sat out again and whoa, Chad Johnson/Ocho Cinco led the Bengals in receiving yards (5 catches, 57 yards, ZERO TD catches), but it didn't matter, obviously.  Harvard graduate Ryan Fitzpatrick (QB) fumbled twice (lost only one of them).  The Bengals lost and it looks like they may end up being the '07 Miami Dolphins.
CAR 3, TB 27
Jake Delhomme's inconsistency this season is starting to worry me.  I have the Carolina Panthers winning the NFC South this season, but Delhomme's three INT's to the Tampa defense doesn't look too good.  Tampa's QB Jeff Garcia threw for 173 yards and a TD in their 27-3 win over their division rivals.  The win means the Panthers, Bucs and Falcons are all atop the South with a 4-2 record.  This division, surprisingly enough, may be the strongest in the NFL right now.  The Saints are 3-3, and just as dangerous as the other three.  This division will be decided in the final few weeks of the season.
STL 19, WAS 17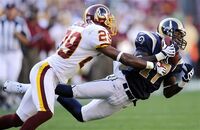 After this disaster, I am already starting to question the strength of this team.  Yes, the Washington Redskins dominated the one-win St. Louis Rams in nearly every category--except--the score.  Oh, I almost forgot, it was the turnovers that lost the game.  Jason Campbell didn't throw a single INT, but a few (3) lost fumbles allowed the poor Rams offense to stay in the game.  Campbell may not have made any mistakes, but he sure didn't get anything going on offense, either.  Clinton Portis, fantasy stud, produced two TD runs (3-yarder, 2-yarder), and ran for 129 yards on 21 carries.  Key to St. Louis' victory: O.J. Atogwe's fumble recovery returned 75 yards for TD in second quarter, Josh Brown's four FG's, including the 49-yarder with no time left on the clock.
MIA 28, Hou 29
Both Matt Schaub and Chad Pennington dominated through the air (Schaub: 22/42, 379 yards, 1 TD, 2 INT/Pennington:19/25, 284 yards, 2 TD, 1 INT), and the Houston Texans gained 485 total yards en route to their first win of the 2008 season.  Many wouldn't have thought this would be a good game, but it was far from boring.  Halfway through the first quarter, Miami pulled a little trickery on a 53-yard TD pass from Pennington to RB Patrick Cobbs.  Early in the second quarter, Pennington and Cobbs hooked up again, this time from 80-yards as Miami took a 14-3 lead.  But, the game was far from over for Schaub and his Texans.  Houston went and scored 17 unanswered points in the second and third quarters, and took the 20-14 lead after the route was capped by Schaub's only TD toss to Pro Bowl wideout Andre Johnson from 12 yards away.  Ricky Williams, yes that's right, Ricky Williams scored on a 5-yard run a little while later as the Miami Dolphins took the lead back.  A Kris Brown field goal separated the Williams TD and a 6-yard run from superstar Ronnie Brown.  Brown's TD came with 1:45 remaining in the game, but Schaub led his team down the length of the field and capped the last-second drive with a QB draw with :03 left.  29-28 Houston.  What a game!
JAC 24, DEN 17
One thing is for sure, Maurice Jones-Drew had one heck of a day against the rather weak defense of the Denver Broncos.  MJD ran for 125 yards, and accounted for two of the Jags' three touchdowns in Jacksonville's 24-17 win Sunday.  David Garrard had a pretty solid day himself, throwing for 276 yards and a TD, as Denver's QB (and possibly the best QB in Fantasy Football) Jay Cutler threw for 2 TD's on the other side of the field, but his one interception may have been the key to the game, and his 192 passing yards apparently weren't enough.  Yes, Denver is now 4-2, but they still have a one-game lead over the 3-3 Chargers, but that may not last long.  Cutler needs to be more consistent for the Broncos, and the defense is obviously going to have to step it up.
PHI 40, SF 26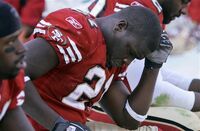 San Francisco kept it close for about 3/4 of the game, and may have had the Philadelphia Eagles fans on the edge of their seats for a majority of the game.  But Donovan McNabb was able to step it up and get the job done even without Brian Westbrook in the lineup.  Frank Gore made a huge impact for San Fran, running for 101 yards and a third quarter TD run, but J.T. O'Sullivan's two interceptions hurt their chances.  At the end of three quarters, Philly was in the hole, 26-17.  But, McNabb threw his 2nd TD pass of the day early in the fourth.  Three straight David Akers field goals put the Eagles up by 7 points.  Philadelphia defensive end, Juqua Parker, put the game away with a 55-yard interception returned for a TD with under a minute left.  Yes, McNabb had a great fourth quarter, but the Eagles' wouldn't have pulled off their third win of '08 without the left leg of Akers, who hit four of five field goals, finishing with 16 of the Eagles 40 total points.  Oh, and we cannot forget about Westbrook's replacement, Correll Buckhalter, who has been a long-time benchwarmer for Philadelphia (eight years, to be exact).  Buckhalter had a good game for the second consecutive week, running for 93 yards and a TD from one yard out.
GB 27, SEA 17
This one's for you SSR, haha, I know you don't want to hear about this game, but you're gonna have to anyway.  With Matt Hasselbeck out of the lineup due to a knee injury he sustained earlier this season, Charlie Frye, the former Cleveland Browns QB, made the start.  Green Bay's defense picked Frye off twice, and Seattle's offense was held to just 2.8 yards per pass attempt.  Green Bay picked up 20 first downs, dominated the time of possession (about 37 of the 60 minutes) and Aaron Rodgers threw for two TD's while running for one more.  Green Bay is still right in the middle of the NFC North title race with the win (3-3), I would expect them to still be in it come December/January.  As for Seattle...not so much, unfortunately.
NE 10, SD 30
Without Tom Brady in the lineup for the New England Patriots, and Ladainian Tomlinson still struggling with that toe injury, it seemed as though the mini-rivalry between the San Diego Chargers and Patriots has lost it's meaning.  Well, last night it sure did look that way after the Bolts put the pressure on QB Matt Cassel, who was sacked four times and picked off once by cornerback Quentin Jammer.  Philip Rivers picked on former Cincinnati Bengals cornerback, Deltha O'Neal, passing for 306 yards and 3 TD in the process.  Who needs LT when you've got a QB playing like Rivers played in the Bolts 30-10 victory last night??  If Rivers keeps this up, I think they can put 30+ points on the board against nearly any defense in the NFL.
Yes, it was quite a weekend of NFL action.  Last-second stunners, big-time playmakers, key injuries and even BIG fantasy mishaps.
I wouldn't expect any of that in tonight's game.  This was supposedly going to be a shoot-out, but that was before the Cleveland's "high-powered" offense struggled, and produced just one win in the first five weeks of the season.  Eli Manning and his 4-0 New York Giants are first on numerous NFL power ranking charts, and I don't expect anything less than a "Giant" blowout over the scum of the AFC North, the Cleveland Browns.  NYG 38, CLE 10.
Ad blocker interference detected!
Wikia is a free-to-use site that makes money from advertising. We have a modified experience for viewers using ad blockers

Wikia is not accessible if you've made further modifications. Remove the custom ad blocker rule(s) and the page will load as expected.