Another week of NFL action is nearly in the books, and there's plenty of questions still needing answers.
First off, the San Diego Chargers fell to 2-3 after a 17-10 loss to none other than the Miami Dolphins as Ronnie Brown ran for 125 yards and a TD.  Former New York Jets QB Chad Pennington threw for 228 yards and a TD, but more importantly, didn't throw any interceptions.  Miami outgained the Bolts 390-202, and committed just one penalty throughout the entire game.  Once again, LT  failed to make an impact, rushing for just 35 yards on 12 carries, failing to get into the end zone.  Philip Rivers failed to even complete half his pass attempts (13 for 28), and the Bolts offense just could not produce against Joey Porter, who had a half a sack, and the Dolphins defense.
Seattle, Kansas City and Detroit continue to struggle
All three of these teams were blownout by their opponents on Sunday.  The now 0-4, Matt Millen-less Lions put up just 7 points against the Chicago Bears, and benched QB Jon Kitna halfway through.  Kitna went 8 for 16 for 74 yards passing.  His backup, Dan Orlovsky, completed 13 of 23 for 97 yards and an INT.  Rookie RB Kevin Smith gave  Detroit their only score on a 12-yard run halfway through the third quarter.  Unexpectedly, Chicago QB Kyle Orton had a career day at Ford Field.  Orton threw for 334 yards and 2 TD.  Chicago's very own rookie RB, Matt Forte out of Tulane, added a TD run in the third quarter.  It was smooth sailing for Chicago, who improved to 3-2 on the season, as trade talks surrounding Detroit wideout Roy Williams continue to swirl.
Is Jake Delhomme back for good?  Well, he looked pretty good on Sunday, despite their weak opponents, the Kansas City Chiefs.  "Jake the Snake" threw for 236 yards and 2 TD's in Carolina's blowout victory, 34-0.  Running back DeAngelo Williams helped the cause, running for 123 yards, and adding 2 TD's, resulting in a whole lot of fantasy points for his owners.  Once again, Kansas City had to use two different QB's, which has been their main problem this season, right next to the inconsistent play from Larry Johnson.  Johnson ran for 100+ last week, but gained just 2 yards on 7 attempts, giving him an average of 0.3 YPC.  Starting QB Damon Huard threw 2 interceptions, and fumbled twice (one was recovered).  Poor offensive and defensive play for Kansas City results in a 1-4 start.  But, Carolina looks good at 4-1.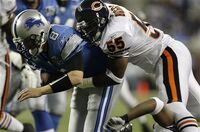 Pretty much everyone expected the New York Giants to stay undefeated against the struggling Seattle Seahawks.  But did anyone think Eli Manning would put up 44 against the usually defensive-oriented 'Hawks?  Well, you can believe it now.  Manning threw for 267 yards and 2 TD's as New York's offense produced 27 first downs compared to Matt Hasselbeck's 13.  Actually, Hasselbeck threw for just 105 yards and an INT.  New York's offense was unstoppable, gaining 523 total yards, 136 of those yards went to Brandon Jacobs who also ran in for two short-yardage TD's.  New York is, without a doubt, the best team in the NFL right now at 4-0.
Trio of Young QB's Make Impact
Rookie Matt Ryan led his 3-2 Atlanta Falcons to their first road victory at Lambeau Field, outdueling Aaron Rodgers in the process.  Yes, Rodgers' stats may have been a lot better than Ryan's (25/37, 313 yards, 3 TD's, 1 INT compared to Ryan's 16/26, 194 yards, 2 TD's, 1 INT), but the Falcons virtually came out with the win, 27-24.  The difference was the running game, and lack of mistakes made by Atlanta.  Former San Diego RB Michael Turner ran for 121 yards and a TD, as Ryan Grant ran just 18 times for 83 yards.  The Falcons took the pressure off Ryan by running the ball 36 times while Green Bay pretty much put the ball in Rodgers' hands, running just 23 times.  Plus, the Pack committed a devastating NINE penalties compared to Atlanta's two.  Green Bay falls below .500, and look to be in a little bit of trouble.
Wow, really?  Another big Division win for young Jason Campbell and his Washington Redskins.  The Skins defeated the favorites, the Philadelphia Eagles, 23-17 in Philly.  Fantasy "stud", as you may call him, Brian Westbrook, suffered another big blow, fracturing two of his ribs.  His status is uncertain right now, but that may be a bigger loss than the loss itself.  Versatile wideout, Antwaan Randle El, gave Washington their only TD through the air for 18 yards to TE Chris Cooley.  The Skins' 203 rushing yards made the difference, as Clinton Portis gained 145 of those 203, and added a late 4-yard TD run which gave them the 4-1 record, and second place in the NFC East.  Philly still has plenty to do to get ready for next week's game against, yes that's right, the San Francisco 49ers.
Tom Brady's replacement, Matt Cassel, led the New England Patriots to a nine-point victory over the San Francisco 49ers on the day Steve Young's number 8 was retired at Candlestick Park.  Cassel's 2 interceptions were offset by Niners' QB J.T. O'Sullivan's 3 interceptions.  New England controlled the ball nearly 40 of the 60 minutes, and their 377 total yards is what allowed them to pick up their third victory, their first one in San Francisco.  Kevin Faulk had just his second career two-TD game, one coming on a direct snap on fourth and goal to go.  Veteran Isaac Bruce's two TD catches kept the game close, but in the end, the Niners fell below .500 (2-3).
Titans, Colts Complete come-from-behind Victories
Future Hall of Fame QB Peyton Manning found his team down 27-10 to their Division-rivals, the Houston Texans, with just about 4 minutes remaining in the game.  But, Manning being Manning, Peyton found 59463468-string TE, Tom Santi, in the end zone on 4th down.  The TD cut Houston's lead to 10.  All Sage Rosenfels, Matt Schaub's replacement, has to do is pick up a few first downs by, let's see, giving the ball to rookie  fantasy stud Steve Slaton, and Houston would be on their way to their first win on the season.  But, the 30-year old Rosenfels feels the need to run for the first down, and is hit, fumbles the ball, and Colts LB Gary Brackett returns it 68-yards for the TD.  27-24 Houston.  The pressures on now.  But, once again Rosenfels fumbles the ball with just over three minutes remaining, and deep inside Houston-territory, Manning finds Pro Bowler Reggie Wayne for the 31-27 lead.  Wayne made a tremendous one-handed catch, and the Colts go on to win the game with another Rosenfels mistake.  Defensive back Melvin Bullitt picked off a Rosenfels pass with a minute remaining, it was Rosenfels first--and only--INT of the game.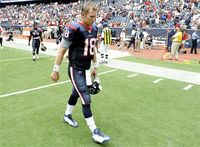 Who needs Vince Young when you have Kerry Collins??  The 35-year old vet may have thrown 2 INT's in Tennessee's fifth win of the season, but his late TD pass to former Atlanta Falcon TE, Alge Crumpler put the finishing touches on the Tennessee Titans 13-10 victory over the Baltimore Ravens, and rookie QB Joe Flacco out of Delaware.  Tennessee is now 5-0, but their main concern should be all those personal foul penalties they committed which nearly costed them the game.  Tennessee committed 10 penalties, but Baltimore's 11 helped the Titans, as well as their two interceptions on defense.  One of the interceptions came with a minute and a half left in the game.  Ending the Ravens potential GW drive, and their hopes at improving to 3-1.
Denver, Pittsburgh Take Control over respective Divisions
The Denver Broncos narrowly held off the fiesty Tampa Bay Buccaneers, in a 16-13 victory. Jay Cutler threw for 227 yards and a TD, but the Broncos failed to get a whole lot going on the ground. But, Denver's 333 total yards were enough to get it done on the offensive side of the ball. The major concern for Jon Gruden right now, is the Bucs' QB situation. Starter Brian Griese left the game in the third quarter, and he is still unsure of his condition, and whether or not he will start Jeff Garcia next week. What the Bucs need to do is get the running game established if they want to win many more games this season. As a team, the Buccos averaged 6.3 YPC yesterday, but ran the ball just 22 times (11 carries for Warrick Dunn, 10 for Earnest Graham). The two-headed monster at RB doesn't seem to be working, and they need to figure out their number one guy in the backfield. Look for an exciting next few weeks for the 4-1 Broncos as they look to pull away with an AFC West title.
The Pittsburgh Steelers put their past behind them as they faced off with the Jacksonville Jaguars Sunday night. The Jags won both matchups last year (one in first round of playoffs), but Ben Roethlisberger, sore shoulder and all, had a career day passing for 309 yards and 3 TD's. Mewelde Moore made his first start as a Steeler, filling in for the injured Willie Parker, rookie Rashard Mendenhall, and Carey Davis, and his first start proved a good one after he ran for 99 yards on 17 carries (and 3 catches for 17 yards). Big Ben threw an early INT, which Jacksonville's CB Rashean Mathis returned 72 yards for a TD. But, he came back out and led the Steelers to a 13 unanswered points in the second quarter, including a 48-yard bomb to Nate Washington. Pittsburgh led 20-14 at the half, but looked to be in trouble after a [[David Garrard]] 24-yard pass to TE Marcedes Lewis early in the fourth quarter. Big Ben kept his cool though, and threw a short 8-yard TD pass to none other than Hines Ward with 1:53 to play. The two-point conversion failed, but the Steelers went on to take the win, 26-21. Improving to 4-1 on the season heading into their bye week.
T.O./Chad Johnson Showdown
This game was expected to be a Dallas blow-out, but proved to be a pretty decent game. Chad Johnson made little impact for his Cincinnati Bengals, catching just 3 passes for 43 yards. But, Dallas' superstar wideout Terrell Owens caught just two passes, though one went for a 57-yard TD early in the fourth quarter, giving Dallas the 24-16 advantage. Surprisingly, Carson Palmer and his Bengals offense stayed in the game until the end. His two TD passes to T.J. Houshmandzadeh helped my fantasy team, and kept the Cowboys on the edge of their seats. Rookie RB Felix Jones really impressed, running for 96 yards on 9 carries, including a 33-yard first-quarter TD run. But, Tony Romo's late 15-yard TD pass, his third of the game, to Patrick Crayton is what downed the still winless [[Cincinnati Bengals]]. Ocho Cinco was unable to kiss the star, like he said he would earlier this week. HAHA.
Arizona: Team to beat out West??
The Arizona Cardinals stopped the Buffalo Bills from going undefeated through five games, dropping 41 points on them. Buffalo's young QB Trent Edwards left the game early after suffering a concussion, his status for the Bills' next game (after week 6 bye) has yet to be determined. Arizona's Kurt Warner threw for 250 yards and two TD's on 42 pass attempts. Matt who?? The Edge ran for 57 yards and a TD while Tim Hightower ran for 2 more TD's in the Cards' big win on Sunday. Marshawn Lynch disappointed many, running for just 55 yards on 13 attempts. Buffalo is still the team to beat in the AFC East, but is Arizona now the team to beat in the NFC West? I sure think so, despite their 3-2 record.
Tonight's Winner??
The disappointing 1-3 Minnesota Vikings will face off with the NFC South favorite, 2-2 New Orleans Saints tonight at 8:30 PM ET. My prediction: Adrian Peterson hasn't done as well as expected so far this season, and with Gus Frerotte at QB, I think the Vikings offense will continue to struggle, whil Drew Brees passes for 250+ yards and threw TD's for New Orleans. Saints win 31-14.
Ad blocker interference detected!
Wikia is a free-to-use site that makes money from advertising. We have a modified experience for viewers using ad blockers

Wikia is not accessible if you've made further modifications. Remove the custom ad blocker rule(s) and the page will load as expected.