It is now August 22 nd, meaning that week 3 of the NFL preseason kicked off last night, with the San Francisco 49ers defeating the Chicago Bears 37-30. The third week of the preseason usually means the position battles get even tighter, and two-a-days are nearly complete. So far, we know of just one QB battle that has clearly been complete. Head coach Lovie Smith named Kyle Orton Chicago's opening-day starter, shooting down any ideas that Rex Grossman could return as starter. Lovie stated that he decided to end the battle early to eliminate any inter-locker room rivalries that may take place. Very smart move on Lovie's behalf, and I believe it was the right choice.
Rex got his chance, and clearly came up short. Injuries devastated him early on in his NFL career, and lack of a Super Bowl ring has forced fans to simply give up on him. No matter what he did in last night's game in Chicago, Illinois, Rex was hit with boos from fans. Orton has won QB battle number one this preseason. Who will win the other major six?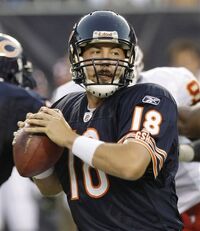 Matt Leinart v.s. Kurt Warner
Obviously Leinart is Arizona's future, and he will eventually win the starting role. But, is he ready to shoulder the entire offense, just yet? That's what we're unsure of as of right now. Leinart has showed improvement during training camp, which is always a good sign. But the veteran Warner looks to land the opening-day starting role. Depending on how Leinart fares in the final two preseason games, Warner may be starter on day 1, but I certainly don't expect that to last.
Matt Ryan (R) v.s. Joey Harrington v.s. Chris Redman
The depth charts say Redman is the leader right now, but this one may not be decided until a few days before that first Sunday. The only thing weighing against Ryan is that he's a rookie, and rookies don't have a very good chance at succeeding right off the bat. Harrington, and Redman are the veterans, and Harrington has already failed to produce for the Falcons. I think the job will land in Redman's lap come week 1.
Kyle Boller v.s. Troy Smith v.s. Joe Flacco (R)
Chances of the rookie, Flacco, being the starter come opening-day are now slim, but Smith's hopes are running high. New head coach John Harbaugh named Smith the starter for Saturday's preseason matchup against the St. Louis Rams. Smith managed pretty well in his rookie season last year, just one year after winning the Heisman Trophy. Kyle Boller started out looking like the favorite, but Smith has impressed during camp, and it's likely he is named the team's starter to start the season.
Trent Edwards v.s. J.P. Losman
The second-year QB Edwards is the favorite in this battle. Losman, like many other NFL quarterbacks that are out there, has failed to bring the Vince Lombardi trophy back to Buffalo, and it looks like they need a change. Edwards had a pretty solid rookie season compared to Losman's '07 stats. Both threw more interceptions than touchdowns, but it looks like Edwards is the fan favorite, and the Bills' future. Trent wins the starting job.
Chad Pennington v.s. John Beck v.s. Josh McCown v.s. Chad Henne (R)
The situation down south in Miami didn't look as clear before Pennington came to town. Now, I think Beck, McCown, and the rookie Henne are all fighting for the second-string position. Pennington's arm strength is obviously a problem, but I think he'll do just fine under center in Miami as long as he learns the system rather quickly. Chances of beating last year's win count looks pretty high right now…which is always a good thing when a team won just one game the year before.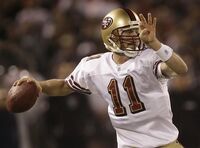 Alex Smith v.s. J.T. O'Sullivan v.s. Shaun Hill
Right now this battle comes down to the 4 th year QB out of Utah, Alex Smith, and the journey-man O'Sullivan. J.T. looked fantastic in last night's win over Chicago, but he was pulled from the game after just one quarter, which was much earlier than expected. Smith has had plenty of chances in his short career, but has had a different system to learn in each of his four seasons. Looking at what Mike Nolan did last night, it looks like Alex Smith will once again win the starting job. But both Mike Nolan, and Alex Smith will be on the hot seat this season. It's time to produce, Alex.
Other Notable Battles:
Aaron Rodgers v.s. Brian Brohm (R) v.s. Matt Flynn (R)
Likely Winner: Rodgers
Jeff Garcia v.s. Brian Griese v.s. Luke McCown v.s. Chris Simms
Likely Winner: Garcia
Brodie Croyle v.s. Damon Huard
Likely Winner: Croyle
Ad blocker interference detected!
Wikia is a free-to-use site that makes money from advertising. We have a modified experience for viewers using ad blockers

Wikia is not accessible if you've made further modifications. Remove the custom ad blocker rule(s) and the page will load as expected.