Yay, it's day four of our NFL PREVIEW SHOW EXTRAVAGANZA. Today is the final day that we focus on the NFC East. The three previous days focused on the top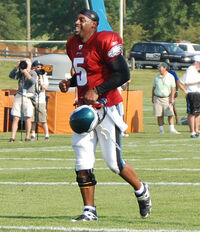 three teams in the NFC East. Today, we set our sights on the
Philadelphia Eagles
.
Will he stay or will he go? Well right now, it appears as though Donovan McNabb is staying in Philly. The bigger question that Philly fans are wondering is, will he stay healthy?
Right now, McNabb will be ready to go come training camp in a couple of weeks. Only time will tell if McNabb can stay healthy for an entire season. He hasn't played a 16 game season since 2003.
In 2007, McNabb had one of his better seasons, throwing for 3300+ yards and 19 touchdown. The Eagles had their highs and lows in 2007. One week would be a big win and the week after, not so much. The Eagles won their final three games to finish the season 8-8.
The Eagles made a huge addition to their defense when they added Pro Bowl cornerback Asante Samuel. The former Patriot gives defensive coordinator Jim Johnson another piece of the puzzle to work with. Johnson's defense reached top-10 status last season for the first time since the Super Bowl season in 2004.
The Eagles open up the regular season at home against the St. Louis Rams. They have notable home games against Pittsburgh, Arizona and Cleveland and road games against Chicago, Cincinnati and Seattle.
Now it is time for those burning questions (yearbook style):
Games McNabb plays this season: 15
Injuries for McNabb: A couple (can't specify)
Leading receiver for the Eagles: Brian Westbrook
Leading rusher for the Eagles: Brian Westbrook
Number of Brian Westbrook's: 1
In 2008, Asante Samuel will: Be another face in the Jim Johnson defense
Best word to describe Jim Johnson: Mad genius (I know, it's TWO words)
Andy Reid's best quality: The mustache (I will cry if he shaves it)
Coolest names (Top 3): Reno Mahe, Saverio Rocca, Joselio Hanson
80s song that best describes team: Livin' on a Prayer- Bon Jovi
In 2008, the Eagles will: Finish second in the NFC East, go 10-6