This week, our NFL Preview of the 32 teams is goin' South. We will profile the NFC South. Today though, our focus is on the
Carolina Panthers
.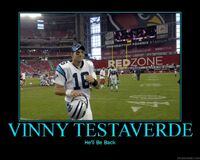 Is it me, or do we expect too much from the Panthers. It seems like every time somebody predicts them to win the Super Bowl, they always fall short. When we don't expect anything from the Panthers, they always do well.
Last season, the Panthers went 7-9, finishing tied for second in a weak NFC South. This happened after the Panthers started four quarterbacks for the season. These four were Vinny Testaverde, Matt Moore, David Carr and Jake Delhomme. None of these quarterbacks threw for 1000 yards in the season, or even 10 touchdowns.
This season, only Delhomme and Moore are back for this season. All signs point to Delhomme starting. Of course, it all depends on Delhomme staying healthy.
One starter on offense won't be playing for Carolina in 2008 and that is Deshaun Foster. This means that DeAngelo Williams will now be carrying the load for the Panthers this season. However, he won't be alone as rookie running back Jonathan Stewart will be playing second chair. If all goes well, this 1-2 combo can take pressure off of Delhomme.
The Panthers will open up the 2008 NFL season on the road as they travel to sunny San Diego to take on the Chargers. The Panthers have notable home games against Chicago, Kansas City, Arizona and Denver. Notable road games for the Panthers include some against Oakland, Minnesota and New York (Giants):\
Time for those burnin' questions (Yearbook style):
Starting quarterback in 2008: Jake Delhomme (I think)
Leading rusher in 2008: DeAngelo Williams- 1200 yards
Rushing yards for Jonathan Stewart : 786 yards
Leading receiver: Steve Smith - 1250 yards
Chances John Fox is fired at end of season: 0%
Number of sacks for Julius Peppers : 8 (Barring injury)
Coolest names (Top 3): Maake Kemoeatu, Toniu Fonoti, Brad Hoover ( Dan Conner gets honorable mention)
80s song that best describes team: Second Chance - 38 Special
In 2008, the Panthers will: Finish the season 9-7, in second place
Ad blocker interference detected!
Wikia is a free-to-use site that makes money from advertising. We have a modified experience for viewers using ad blockers

Wikia is not accessible if you've made further modifications. Remove the custom ad blocker rule(s) and the page will load as expected.