After previewing an NFL division each day for the last eight days, Whatifsports.com present final standings, leaders, award winners and playoff results. This analysis is part of a broader endeavor with FOXSports.com's Fantasy Football. For this analysis, each regular season and playoff game is simulated 1,000 times. Rosters and depth charts are up-to-date and as accurate as possible as of June 8th. A list of all NFL preview content is located here. '
Today we preview the Playoffs. First, we present playoff results with links to boxscores and play-by-play of each game. All games were simulated 1,000 times with the boxscores coming from example games with a similar result as the average outcome.
AFC Wild Card Games
- #6 Buffalo 17 @ #3 Indianapolis 30 - The Bills have a great season, but it ends here. The Colts are too powerful to allow this to stay close. Lucas Oil Field sees its first playoff victory.
- #5 Jacksonville 24 @ #4 Cleveland 28 - Despite the seeding and home-field advantage, this game can still be considered a surprise. Jamal Lewis tops 100 yards and Derek Anderson goes off for 325 yards and three scores.
NFC Wild Card Games
- #6 Green Bay 31 @ #3 Carolina 19 - Both NFC Wild Card teams could win the divisions of the teams they are playing in the first round. In this game, Aaron Rodgers is very efficient with his 19 pass attempts and Ryan Grant controls tempo on the ground.
- #5 New York 28 @ #4 Seattle 17 - The Giants are defending Super Bowl champs and the Seahawks are lucky to play in the NFC West. Mike Holmgren goes out with another division championship, but that's all.
AFC Divisional Games
- #4 Cleveland 24 #1 New England 31 - Romeo Crennel just does not have the man-power to overcome his former team. The Patriots roll in a game that looks closer than it actually is.
- #3 Indianapolis 23 @ #2 San Diego 20 - The Colts avenge last season's home playoff loss to the Chargers by taking a close one in San Diego.
NFC Divisional Games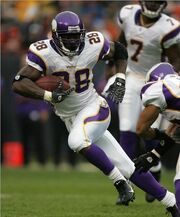 - #5 Green Bay 24 @ #1 Dallas 35 - Aaron Rodgers cannot find the magic of his 2007 showing in Texas. Young players James Jones, Jordy Nelson and Brandon Jackson score for the Packers, so the future is not so dim. They may be competing with Dallas for a while though, a Tony Romo, Marion Barber, Patrick Crayton and Felix Jones, who also have big games, are not exactly aging veterans.
- #3 New York 28 @ #2 Minnesota 31 - Adrian Peterson makes his first playoff game a memorable one. Of his 178 total yards from scrimmage, Peterson gains 38 on the Vikings' game-winning overtime drive. On a neutral field, these teams are dead even. In Minnesota, the Giants' remarkable run of road playoff wins comes to an end.
Conference Championship Games
- #3 Indianapolis 24 @ #1 New England 27 - Again? In the regular season, this game was a coin flip with New England on top just 52% of the time. In New England in January, the game is still close, but the Patriots have a little more of the edge.
- #2 Minnesota 21 @ #1 Dallas 28 - The Cowboys have to be glad that they do not have to see the Giants for the third time this season and sixth time in two years. Minnesota is putting together a good team, yet they are not on the same level as Dallas. Adrian Peterson tallies 352 total yards from scrimmage in two playoff games. Unfortunately for the Vikings, Tarvaris Jackson throws six interceptions in those games. Neither team is undefeated this year, but the top seeds from each conference (the last two years) will face each other in the Super Bowl in Tampa.
Super Bowl
New England 33, Dallas 31 - Super Bowl XLIII is quite the exciting nail-biter. The Patriots prevail for the fourth time this decade. Tom Brady earns MVP honors with 209 yards passing, three touchdowns and no interceptions. Tony Romo matches Brady in TDs, but throws an early interception that leads to the Patriots' second score and swings all of the momentum in New England's favor.
Regular Season Awards
NFL MVP: Adrian Peterson, Minnesota Vikings - 320 rushes, 1,620 rushing yards, 15 total TDs
Offensive Player of the Year: Tom Brady, New England Patriots - 354/531, 4,657 yards, 40 TDs, 13 INTs
Defensive Player of the Year: DeMarcus Ware, Dallas Cowboys - 90 tackles, 14 sacks
Offensive Rookie of the Year: Jonathan Stewart, Carolina Panthers - 243 rushes, 1,178 rushing yards, 11 total TDs
Defensive Rookie of the Year: Jerod Mayo, New England Patriots - 98 tackles, 1 INT, 2 sacks
Coach of the Year: John Fox, Carolina Panthers - Leads team to 10-6 record
To see final standings as well as league leaders in passing, rushing and receiving, click here.
Whatifsports.com specializes in answering the great "What if?" questions in sports by simulating games between historical teams and has exciting simulation games for MLB, NBA, NFL, NHL, college basketball and college football.
For more of Whatifsports.com's content, please visit Beyond the Box Score.
Ad blocker interference detected!
Wikia is a free-to-use site that makes money from advertising. We have a modified experience for viewers using ad blockers

Wikia is not accessible if you've made further modifications. Remove the custom ad blocker rule(s) and the page will load as expected.