This is a continuation of the Crackajg and Shrubbery NFL History 101 series.
Most NFL fans love to see high powered and dominant offenses.  And these scoring machines are inevitably powered by skills player packages that leave defenses reeling.  After all, what defense can stop a triple or quadruple threat offensive machine?  So belly up to the bar for a dose of the Best Collections Of Offensive Talent Ever…
San Francisco 49ers-Joe Montana, Jerry Rice, Roger Craig, John Taylor…1987-90…Half of this quartet are generally regarded as the best ever at their respective positions.  One was arguably the best run-receiver threat the running back position ever saw.  One was named to the NFL 1980's All Decade Team. Together they were the nitrous injected fuel of a scary offensive machine.  Who do you concentrate on?  Try and blitz and Montana picks your defense apart.  Double team Rice and Taylor carves through your defensive secondary.  Stop the pass and Craig scoots for 100 yards on the ground.  Don't try to stop them; they'll just make you look silly.  Witness the two Super Bowls this group owns.  You couldn't hope to stop them or even contain them; you just had to hope your defense could withstand the psychological trauma of having this offense do whatever and whenever it wanted.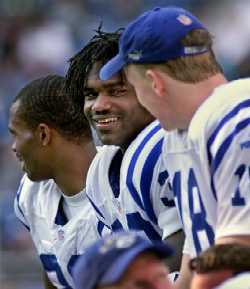 Indianapolis Colts-Peyton Manning, Edgerrin James, Marvin Harrison…2001-05…for a glorious five seasons this trio wreaked havoc on every defense they faced.  Manning was surgically precise.  Harrison may be the best receiver in NFL history not named Jerry Rice.  James was the heartbeat and a dynamic threat from a rushing and receiving perspective.  They came at you from a dizzying array of angles.  Blink and they are 30 yards downfield.  They were simply the best unit in football for half a decade.
St. Louis Rams-Kurt Warner, Marshall Faulk, Isaac Bruce, Torry Holt…1999-01…Their panache set them apart.  Their flair dazzled and destroyed opposing defenses.  Kurt Warner rose from supermarket bagboy to NFL MVP in five years, a true Hollywoodesque type rags-to-riches story.  Holt and Bruce were a deadly duo, one that continually confounded defenses.  But the real engine of this attack was the brilliant Marshal Faulk, a guy who is always named as one of, if not the best RB the game ever saw.  The "Greatest show On Turf" netted a Super Bowl ring and two NFC titles and should propel Faulk and Bruce all the way to Canton, followed closely by Holt if the HOF selection committee has a brain between them.
Denver Broncos-John Elway, Terrell Davis, Shannon Sharpe, [Rod Smith]]…1995-98…This quartet were a methodical machine, capable of steamrolling opponents with ease.  Elway may be the best ever at his position, as is Sharpe.  Smith rose from an undrafted free agent to eight straight seasons of 70+ catches and 1000+ yards.  Davis didn't so much run through defenses as he punished them, demoralizing them for trying to tackle him.  This group would sap the will of defenses, turning them into sieves.  They played offense like most defensive players ply their trade, with a tangible mean streak that reveled in victory through demoralization.  And they rode this mean streak to two Super Bowl titles, two AFC Championships, two AFC West titles, and a legacy as a take no prisoners unit.
Houston Oilers-Warren Moon, Ernest Givins, Haywood Jeffires, Drew Hill…1988-91…Flashy, fast, precise, devastating are but a few adjectives to describe the Houston Oilers offenses of the late 80's and early 90's.  They put up points in bunches and treated every possession like a track meet.  They scored early and often, with the wildly prolific Moon entering the Hall.
Buffalo Bills-Jim Kelly, Thurman Thomas, Andre Reed…1988-96…These guys ran the no-huddle offense to perfection.  They were the first and only team to make it to four straight Super Bowls, and their fortunes rode the wave of their dynamic offenses.  Kelley and Thomas are already in Canton and Reid should rightfully join them someday.  Their longevity and cohesiveness sets them apart from their contemporaries.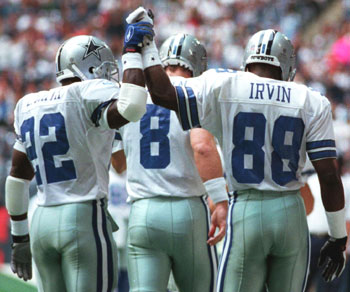 Dallas Cowboys-Troy Aikman, Emmitt Smith, Michael Irvin…1990-98…Much like the Broncos' quartet of Elway, Davis, Sharpe, and Smith, this trio played with a sizeable chip on their collective shoulders.  They were dominant and ruthless.  You generally knew what was coming, Emmitt for 30 carries, Irvin for 10 catches of mostly suicidal crossing routes, and Aikman throwing darts, you were just powerless to stop them.  These Dallas offenses rammed the ball down the throat of any and all defenses they faced, imposing their will to drain the spirit of those whose job it was to stop them.  Smith ran the ball with a raw fury while Irvin braved the middle like no receiver ever.  Aikman was perhaps the most accurate passer of his or any era.  All three are deservedly enshrined in the HOF and have the honor of wearing three SB rings.
Minnesota Vikings-Daunte Culpepper, Randy Moss, Cris Carter…2001 & 2002…Culpepper was a brilliant rookie, Moss was an unreal athlete, and Carter was straight money.  The duo of Moss & Carter is arguably the best receiving tandem in league history, an honor that should land them in the Hall eventually.  Culpepper was a strong armed kid whose job it was to lob the ball deep for Moss, hit Carter over the middle, and pilot the offense to touchdown after touchdown.  They combined forces to make a mockery of an opponent's defense.
Green Bay Packers-Bart Starr, Jim Taylor, Paul Hornung, Max McGee…1959-62…Together this group won two NFL Championships and terrorized defenses.  Starr, Hornung, and Taylor are HOFers and McGee was a rock at fullback.
Pittsburgh Steelers-Terry Bradshaw, Franco Harris, Lynn Swann, [[John Stalworth]…1975-79…Umm, yes, all four are in the HOF.  All four own four Super Bowl rings.  Enough said.
Dallas Cowboys-Roger Staubach, Tony Dorsett, Drew Pearson…1977-79…Staubach was a general, the heart and soul of a fabulous offense.  Dorset was an impossibly gifted runner who routinely made defenders look silly.  Pearson was named to the NFL 1970's All-Decade Team. 
Oakland Raiders-Ken Stabler, Fred Biletnikoff, Cliff Branch, Dave Casper…1976-78…They were the first Showtime type offense the sport saw.  Stabler was a gunslinger quarterback, Biletnikof was a swashbuckler with the softest hands, Branch was a blur, Casper was seemingly always open.  Casper & Biletnikof are HOFers and Brach deserves enshrinement.  Their philosophy was simple, go through or over defenses.
Cleveland Browns-Otto Graham, Marion Motley, Mac Speedie…1946-52…Motley and Graham were otherworldly talents, true greats who could play in any era.  Speedie was a gifted receiver, arguably the best of the era.  They won four AAFC titles and the NFL Championship in 1950.
Detroit Lions-Bobby Layne, Doak Walker, Cloyce Box…1950-53…The HOFers Layne and Walker were high school teammates and helped turn around the franchise, winning NFL Championships in 1952 and 1953.  Box was a great TE who had a brief career, earning Pro Bowl honors twice and led the league in TDs in 1952.
San Diego Chargers-Dan Fouts, Kellen Winslow, Charlie Joiner, Wes Chandler, John Jefferson…1981-86…This high octane group was the catalyst behind one of the most innovative and dominant offenses in NFL history.  They rarely ran the ball, or needed to, not with HOF players Winslow and Joiner to catch passes from fellow Hall inductee Fouts.  Chandler and Jefferson were no less dangerous, even though the erstwhile JJ was traded in 1981 to Green Bay.  Air Coryell did things on offense few even contemplated.  During their tenure this group AVERAGED a gaudy 300 yards passing per game and 8.5 yards per attempt, mind blowing numbers when you realize the not exactly offense friendly rules regarding pass interference and illegal contact.  What these guys accomplished at the time was unreal, which is why Fouts, Winslow, and Joiner are in their comfy Hall Of Fame spots.
Ad blocker interference detected!
Wikia is a free-to-use site that makes money from advertising. We have a modified experience for viewers using ad blockers

Wikia is not accessible if you've made further modifications. Remove the custom ad blocker rule(s) and the page will load as expected.