Tonight is the possibly historic Patriots-Giants game on NFL Network, NBC, and CBS at 8 P.M. ET.  Going into week 17, the final regular season week, there are a few headliners.  Here's this week's headliners:
Denver Broncos WR, Rod Smith's career may be over.  Smith will have to undergo hip replacement surgery on his surgically repaired knee.
"It has not healed," said Smith, who's been out all season. "It's not healing at all.
"Honestly, I don't even like walking on it," he said. "It's that bad right now to me, and it's a matter of the hip socket has been bone-on-bone for a while. That's [difficult], especially trying to play pro football on it. And, honestly, I think I did for a while without knowing it was probably doing more damage to it than good."
"I was always told you play this game as long as you can and if I've played my last football game, I did that," Smith said. "And so I'm OK with that."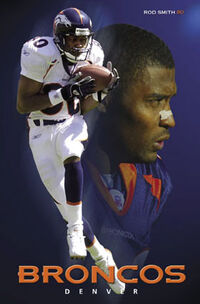 Indianapolis Colts safety, Bob Sanders, becomes the NFL's highest paid safety in the NFL.  Yesterday Sanders signed a contract extension worth $37.5 million over 5 years, which includes $20 million guaranteed.
"I got a call late in the evening yesterday from my agent and he said he was hoping to get it done, Sanders told the AP. "I'm excited, very excited about it -- knowing they want me around here makes me happy.
Colts wideout, and future Hall of Famer, Marvin Harrison practiced Friday, and will likely start against the Titans on Sunday.  Harrison suffered a knee injury against the Broncos during their week 4 game, and hasn't played since week 7 against the Jacksonville Jaguars.  Right now he's listed as questionable, but Dungy says he'll play.
"But he'll start the game and we'll see how it goes," he said before the practice.
The Colts will be without DT Raheem Brock (rib), and OT Ryan Diem (knee).
"I'll tell you what, I've never seen anything like that in all my years," Packers coach Mike McCarthy said. "I didn't see the whole thing but I thought the official was totally out of line the way he grabbed Nick around the neck and pulled him out of there.
"There was a lot going on throughout the game on both sides of the ball after the play was over. Their offensive line was getting after Nick a bunch down the stretch. And that goes on in these types of games. I didn't see all of it but I saw the end of it. I thought it was totally unprofessional. I thought it was totally out of hand," McCarthy said.
NFL QB CAROUSEL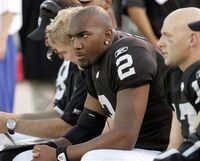 With the Russell, Weinke starts this weekend, the number of different 2007 starting QB's reaches 63, the highest in a non-strike season since the NFL changed the regular season to a 16-game season.
Ad blocker interference detected!
Wikia is a free-to-use site that makes money from advertising. We have a modified experience for viewers using ad blockers

Wikia is not accessible if you've made further modifications. Remove the custom ad blocker rule(s) and the page will load as expected.