The first two rounds of the 2008 NFL Draft were full of surprises, intrigue and many perplexing decisions involving the wide receiver crop. Some players were taken where they were projected, others not yet taken at all. There were reaches, big trades and even a little tension between Mel Kiper Jr. and Chris Berman. What more could you ask for? Oh, grades of the first two round picks for each team you say? Alright, here you go.

Teams are in alphabetical order because I figured if we're going to be giving out grades, we might as well keep it school oriented. Oh and there are no F's in my class, although some teams were pretty close.
Picks: Round 1 - Dominique Rodgers-Cromartie (CB), Round 2 - Calais Campbell (DE)
The Cardinals filled in two key weaknesses by landing a CB and a DE with their first two picks. Cromartie also gives them a return specialist while Campbell has the potential to finally give their defense a legitimate pass rush threat.
Grade: A
Picks: Round 1 - Matt Ryan (QB), Sam Baker (OT), Round 2 - Curtis Lofton (ILB)
After kicking themselves in the ass after giving away Matt Schaub, the Falcons decided the time was now with the third pick in the draft and selected Matt Ryan from Boston College. Ryan is generally regarded as the best QB in the draft and along with Sam Baker and second round pick Curtis Lofton, should make an immediate impact.
Grade: A
Picks: Round 1 - Joe Flacco (QB), Round 2 - Ray Rice (RB)
Everyone knew the Ravens needed a QB and apparently, so did they. After trading down and acquiring more mid round picks, the Ravens selected Delaware QB Joe Flacco, perhaps the most accurate QB of the bunch. Ray Rice was selected in Round 2 to spell McGahee and the two give a great upgrade to what otherwise was an anemic offense last year. They still need receivers, though.
Grade: A -
Picks: Round 1 - Leodis McKelvin (CB), Round 2 - James Hardy (WR)
The Bills get the top rated CB in McKelvin who should sure up their defensive pass attack and James Hardy, a second round receiver with the potential to be great.
Grade: A -
Picks: Round 1 - Jonathan Stewart (RB), Round 2 - Jeff Otah (OT)
The Panthers decided to continue the trend of two-back systems by taking Oregon running back Jonathan Stewart. He will be a fine power compliment to DeAngelo Williams speedster style. The Panthers also landed Jeff Otah in at pick 19, which is amazing considering some had him going as high as the Top 10.
Grade: A
Picks: Round 1 - Chris Williams (OT), Round 2 - Matt Forte (RB)
Why the Bears didn't take a QB is completely beyond me. Rex Grossman and Kyle Orton? Come on! Brian Brohm and Chad Henne both fell to them and they failed to pull the trigger. Chris Williams however, is a great offensive tackle and Matt Forte will usher in the end of the disappointing Cedric Benson era. I'll give the Bears the benefit of the doubt and assume they're going to take a Woodson or Brennan later on in the rounds.
Grade: B -
Picks: Round 1 - Keith Rivers (OLB), Round 2 - Jerome Simpson (WR)
Keith Rivers is going to be a great linebacker and will finally fill the void of a playmaking linebacker that was left after the departure or Takeo Spikes. Jerome Simpson in Round 2 perplexed the shit out of me, however.
Grade: C -
Picks: N/A
Picks: Round 1 - Felix Jones (RB), Mike Jenkins (CB), Round 2 - Martellus Bennett (TE)
Reports said Jerry Jones wanted Felix Jones in the first round and it turned out to be true. In fact, it turned out to be really true because the Cowboys probably could have waited until their twenty-eighth pick to get him. Instead, they took Mike Jenkins -- a curious decision considering the amount of corner back depth they already have at the position. The round two selection of Martellus Bennett will go well in two TE sets along with Jason Witten.
Grade: B +
Picks: Round 1 - Ryan Clady (OT), Round 2 - Eddie Royal (WR)
As with the Bengals selections -- the Broncos first round selection of Ryan Clady was a good one (if a little puzzling due to his size) however their second round pick of Eddie Royal while many of the top receivers were still on the board? Um, what?
Grade: C -
Picks: Round 1 - Gosder Cherilus (OT), Round 2 - Jordon Dizon (OLB)
I'm not going to knock the Lions first and second round picks of Cherilus and Dizon, respectively, however I am going to knock the fact that they failed to take Rashard Mendenhall after he fell to them twice. Hey, at least they didn't take a wide receiver.
Grade: C +
Picks: Round 2 - Jordy Nelson (WR), Brian Brohm (QB), Patrick Lee (CB)
A lot of people were surprised with the Jordy Nelson pick but I don't think he was that much of a stretch. He's going to be a good player. You got to feel for Aaron Rodgers, though. After finally ridding himself of Brett Favre and the starting job in his sights, the Packers go and select a supreme talent in Brian Brohm. So now he has the constant worry of Packers fans calling for his head after he throws two consecutive picks in a game. Poor kid. Patrick Lee was the best available pick at corner for the Packers.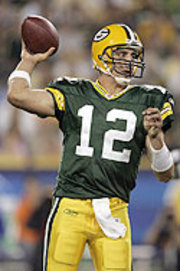 Grade: B -
Picks: Round 1 - Duane Brown (OT)
The Texans had a need for an offensive tackle and Duane Brown will fit the bill. Simple enough.
Grade: A -
Picks: Round 2 - Mike Pollak (C )
The Colts are apparently planning for the future at the center position and Mike Pollack was considered by many the best one in this years draft.
Grade: A -
Picks: Round 1 - Derrick Harvey (DE), Round 2 - Quentin Groves (DE)
With the departure of Marcus Stroud the Jaguars didn't want to lose their reputation of having a fearsome offensive line to go with a smash mouth offense. They did just that by obtaining Derrick Harvey (in some what of a reach) in round one and Quentin Groves in round two.
Grade: B
Picks: Round 1 - Glenn Dorsey (DT), Branden Albert (OG), Round 2 - Brandon Flowers (CB)
The most impressive first day out of any team, I think. They had three high profile picks and they stuck to their game plan and didn't take what they didn't need. Some thought they would take a QB early but there are still plenty available. Glenn Dorsey could be a franchise corner stone, Branden Albert must have Larry Johnson smiling and Brandon Flowers will make their secondary better.
Grade: A +
Picks: Round 1 - Jake Long (OT), Round 2 - Phillip Merling (DE), Chad Henne (QB)
Another great first day, the Dolphins selected Jake Long who could anchor their offensive line for the next decade, Phillip Merling (who freefell to them for some strange reason) and Chad Henne who will battle for the starting job and most likely get it.
Grade: A +
Picks: Round 2 - Tyrell Johnson (S)
The Vikings filled a need with a great safety here. Done and done.
Grade: A
Picks: Round 1 - Jerod Mayo (OLB), Round 2 - Terrance Wheatley (CB)
I'm not going to lie, me and my friends were flipping out after we traded up to number ten and the Bengals took Keith Rivers. After the selection though, we all began to calm down and realized Mayo is just as good if not better than Rivers. Belichick does know a thing or two about defensive players. Terrance Wheatley, while not one of my top choices is a great athlete who should do just fine in the system.
Grade: B +
Picks: Round 1 - Sedrick Ellis (DT), Round 2 - Tracy Porter (CB)
Trading up to the number seven pick, the Saints made an immediate upgrade to their defensive line with Sedrick Ellis. Does the selection of Tracy Porter in round two suggest that the Saints are no longer in the running for Lito Shephard?
Grade: A
Picks: Round 1 - Kenny Phillips (S), Round 2 - Terrell Thomas (CB)
The defending Super Bowl champion Giants upgraded their weaknesses with Kenny Phillips, the best safety in the draft and Terrell Thomas, a great athlete with the potential to make an impact.
Grade: A -
Picks: Round 1 - Vernon Gholston (DE), Round 2 - Dustin Keller (TE)
Again, I won't lie. I'm jealous. Not for the Dustin Keller pick, although it was a good one -- but for the fact that Jets fans get to enjoy Vernon Gholston for the next couple of years. I got a little too attached to Gholston over the past few weeks and while I knew he wouldn't fall to the Patriots, I just wish he hadn't gone to the Jets. I'm still a fan, though.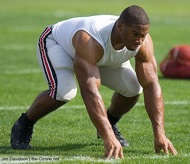 Grade: A
Picks: Round 1 - Darren McFadden (RB)
You can't knock the Raiders for taking the best running back in the draft, but you can knock them for doing it after giving Justin Fargas a three year deal and having Lamont Jordan and Dominic Rhodes on the roster. Still though, he's a prime talent and they made a good decision. Or should I say Al Davis did.
Grade: A -
Picks: Round 2 - Trevor Laws (DT), DeSean Jackson (WR)
The Eagles upgraded their defensive line with Laws who should be a great professional player. DeSean Jackson gives them a playmaker, but they still don't have a tall, physical possession receiver. Plenty of picks left to get one.
Grade: B+
Picks: Round 1 - Rashard Mendenhall, Round 2 - Limas Sweed (WR)
Although I think Willie Parker is one of the few backs in the NFL who should not be a part of a RB by committee, he has been an injury risk and Mendenhall fell right to them. It was a good pick and will be a fearsome duo. They also aimed to please Big Ben with the selection of Limas Sweed, a big tall receiver to replace the void left by Plaxico Burress.
Grade: A
Picks: Round 1 - Antoine Cason (CB)
I thought they might take an offensive lineman with this pick, but Antoine Cason is a great cornerback.
Grade: B+
Picks: Round 1 - Kentwan Balmer (DT), Round 2 - Chilo Rachal (OG)
I thought the 49ers would take one of the top tier QB's early since Alex Smith has been a disappointment, instead they improved their offensive and defensive lines -- something they sorely needed to do. Still many QB's left on the board for them to select.
Grade: B
Picks: Round 1 - Lawrence Jackson (DE), Round 2 - John Carlson (TE)
Why they didn't take Phillip Merling is beyond me, but Lawrence Jackson is still a solid defensive end. John Carlson gives them a great catching and blocking tight end.
Grade: B -
Picks: Round 1 - Chris Long (DE), Round 2 - Donnie Avery (WR)
Chris Long was the obvious pick in round one but Donnie Avery in round 2? There were so many better wide receivers on the board! Did the teams know something we didn't about the top receivers?
Grade: C
Picks: Round 1 - Aqib Talib (CB), Round 2 - Dexter Jackson (WR)
Aqib Talib perhaps would have been the best CB available was it not for his off the field problems. Dexter Jackson in round two? The definition of reach. What were they thinking?
Grade: C -
Picks: Round 1 - Chris Johnson (RB), Round 2 - Jason Jones (DE)
No wide receivers for Vince Young? Seriously? Chris Johnson is a great running back and Jason Jones a very capable defensive end, but why oh why wouldn't you have taken one of the top receivers with the top two picks especially after every single one fell to the second round?
Grade: D+
Picks: Round 2 - Devin Thomas (WR), Fred Davis (TE), Malcolm Kelly (WR)
No Chad Johnson? No problem! The Redskins get the best wide receiver in the draft in Devin Thomas, the next best one in Malcolm Kelly and a fantastic receiving tight end in Fred Davis. Hey Tennessee, this is what trying to help out your QB by giving him weapons looks like.
Grade: A

<pollembed title="Which team do you think made out the best with their first day selections?"></pollembed>
Ad blocker interference detected!
Wikia is a free-to-use site that makes money from advertising. We have a modified experience for viewers using ad blockers

Wikia is not accessible if you've made further modifications. Remove the custom ad blocker rule(s) and the page will load as expected.