Before you get started in on this mammoth behemoth of an NFL Draft live-blog, there's two very important things you need to know. One, you're going to have to read it in reverse if you want to read it in chronological order and two, it's very, very, very, very long. Like very long. Although it gives some insight and opinion on each and every pick (and some Draft events) it is still pretty hefty to try and read in one sitting. You can definitely do it, but I'm at least giving you the warning not to expect it to be over too shortly.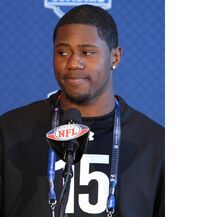 And since it's pretty important, I'll say this one more time: You need to read this in reverse. So right now, scroll alllllllllllll the way down to the bottom until you see PICK #1 and the corrosponding text. Then just read upward like it was the most common thing and the world and you'll be just fine.
Now, start scrolling down!
- - - - - - - - - - - - - -
PICK #32
7:31PM:  And the defending Super Bowl Champions take DT Evander Hood with the #32 pick. And yes, I agree with you that Evander Hood's name kind of sounds like Evander Holyfield but without so much going on...
Enjoy Round 2 -- perhaps I'll see you tomorrow should the circumstances prohibit it. Probably not though, as I cannot really feel my wrists at all right now. G'night!

PICK #31
7:27PM: Just when everyone thought he'd fall to his hometown Steelers, Chris "Beanie" Wells went juuuuuuuust before them to the most logical fit possible -- the soon to be Edgerrin Jamesless Arizona Cardinals.
Wells > Hightower
I had to get it on record. I had to.

PICK #30
7:17PM: Speaking of Kenny Britt, though! He's drafted in the #30 slot by the Tennessee Titans, effectively ending a drought in which the Titans, apparently, seemed to forget like they needed to field a competitive WR corps each year.

PICK #29
7:09PM: And the Giants don't waste much time finding the replacement for Plaxico Burress, taking Hakeem Nicks out of North Carolina -- easily the WR that resembles Burress the closest in this year's draft.
Too bad Kenny Britt will turn out to be the best WR out of the entire bunch this year when all is said and done.
PICK #28
7:04PM:  The Bills take center Eric Wood at pick #28 and show that they may just be concerned with fielding a competitive team for once this year! It's absolute craziness!
On a sidenote, Chris Beanie Wells is still very noticeably available to be drafted... wonder what's going on there.

PICK #27
7:01PM: And... didn't see this one coming. The Indianapolis Colts take RB Donald Brown out of Uconn in a move that looks very strange now but will probably look very smart down the road in the future.
PICK #26
6:55PM: And the Packers trade up with the Patriots (who back down yet again -- is Belichick just messing with Mangina right now?) and take OLB Clay Matthews from USC.
Matthews + Hawk = Wowza.

PICK #25
6:47PM: The Dolphins take CB Vontae Davis at pick #25. I'm starting to run out of things to say but... Vontae is the brother of Vernon Davis from the San Francisco 49ers.
The real question is... would he real-life hit-stick his brother if he came over the middle? I submit yes as my answer to that question.

PICK #24
'6:41PM: The Falcons continue to repair the small weaknesses of their juggernaut team and select Peria Jerry, DT out of Ole Miss. On a sidenote, I am very sad I traded away Roddy White in my keeper league.. I would have been quite excited about having him when news of the Tony '
Instead I get to roll the dice with Mr. Self-Proclaimed Madden Curse Breaker, Larry Fitzgerald.
Blech..

PICK #23
6:37PM: Patriots trade down, giving their #23 selection to the Ravens who select... Michael Oher, who arguably has one the greatest and most inspirational stories out of anyone ever drafted into the NFL. Ever.

PICK #22
6:27PM: Hey look, the Vikings finally have a legitimate WR1 contender to become their WR1! Amaz-za-za-zinggg! Percy Harvin from Florida is the pick and is definitely one of the first round picks that make the MOST sense.
Patriots up next! I trust in Bill Belichick's drafting IQ -- that is all I will say!

PICK #21
6:24PM: The Browns take everyone for a quick spin by A) Actually selecting and B) Taking Alex Mack, the center out of California.
All I'll say is that it's such a typical, "I'm a Man-genius" Eric Mangini pick.

PICK #20
6:17PM: And here is where we discover why the Lions haven't had a winning season in approximately 937 years. This is NOT the NFL Madden 09 Draft fellas! Your rookie, newly-crowned franchise QB needs TO BE PROTECTED! His cannon arm won't matter if he's crumpled in a heap on the turf, unable to remember the team that he plays for… the Lions take TE Brandon Pettigrew.

PICK #19
6:14PM: Wow, the Browns have done it again. This time they trade their #19 pick to the Eagles who slide up into the slot and take WR Jeremy Maclin out of Missouri. Too bad you're about three years late with the finally getting Donovan McNabb a decent WR1 Eagles organization. Nice one!

PICK #18
6:03PM: Ed Werder doesn't even try to disguise it -- he tells us this next pick WILL be Robert Ayers. Appreciate that, Ed. When is it that you tell your kids that San-- you know what, nevermind. I'm not going to stoop to your level GRINCH!
STOP SPOILING THE FRIGGING PICKS FOR GOODNESS SAKE!
And clear as the freshly driven snow.. or whatever that phrase is.. the Broncos second pick in the first round has them taking DE Robert Ayers from Tennessee. Hope you can sleep tonight Mr. Werder, what with the blood money on your hands and such..

PICK #17
5:57PM: Tampa Bay has just moved up to the #17 selection -- presumably to take a QB. You know, if normal things that go how they are supposed to in an actual reality go just as they're supposed to go. The Browns are just happily free-falling down the first round and taking all of the handouts like a frigging Draft whore. Not surprisingly, it's Eric Mangina Mangini leading the freefall! Go figure!
And the Bucs apparently feel that they don't have enough QB's as it is so dangerously close to the limit so they went and selected QB Josh Freeman at pick #17.

PICK #16
5:52PM: OLB Larry English goes #16 overall to the Chargers. Bravo and golf claps all around.
5:47PM: Erin Andrews just pretty much stole Brian Cushing from THE NFL COMMISSIONER to get an interview. I thought this needed to be recorded somehow. Definitely some kind of NFL Draft party foul, right there..

PICK #15
5:44PM: The Houston Texans are next up at the #15 pick and they're showing camera shots of Brian Cushing. And, oh snap! No curveballs there, they select the OLB out of USC, who's hair is also decked out kind of like a samurai ninja's would be. Not many OLB's could pull it off but Cushing is definitely one of them. Definitely one of them.
What's this? The beers are being called in from the fridge bullpen! Outstanding!

PICK #14
5:39PM: The Saints take CB Malcolm Jenkins at #14 despite the NFL Draft analyst guys trying to add mystery and intrigue by saying that we're not 110% sure they were going to pick him until he was picked. Even though hisentire  frigging living room was going apeshit on camera... I dunno, that was kind of a give away for the whole thing, IMO.
It's okay ESPN NFL Draft analyst guys -- I still forgive you as long as you keep Keyshawn around to piss Kiper off. Classic!

PICK #13
5:33PM: Brian Orakpo goes almost immedietely afterwards to the Redskins. I'm making dinner for the little one so will be brief at best for the next couple picks.
PS: My grilled cheeses could probably get me on Top Chef.

PICK #12
5:31PM: Aaaand even though my Patriots prediction went horribly awry, at least I nailed the possible RB  selection. The Broncos take the shifty and sheisty Knowshon Moreno at #12. Knowshon also wins the award for best first round first name by a mile.

PICK #11
5:27PM: The Bills take DE Aaron Maybin out of Penn State at #11, effectively leaving one more slot for the Patriots to slide into or I'll have gone a horrifically off-base 0/2 so far today with my can't miss predictions.
Former Patriots offensive coordinator Josh McDaniel is now the head coach over in Denver -- perhaps he'll be swapping some players and picks with his former mentor to make my prediction correct after all?
It's not THAT much of a stretch but if they don't do that I see perhaps a RB here.

PICK #10
5:20PM: Why do they even announce the picks when we know who's getting taken next thanks to ESPN's camera zoom-in of their "incredibly happy" phone call that occurs right before they are picked.
And right on schedule, the 49ers take definitely the best available player in WR Michael Crabtree, effectively ending the incredibly high comedy that was watching him pout after each pick in which he was not taken. Hopefully Singletary melds him into something more mature than he currently is. Well, not hopefully -- that's a frigging give-in!

PICK #9
5:10PM: Packers don't give into the peer pressure either and follow their draft strategy -- taking DT B.J. Raji and begging the question, what did Crabtree DO to deserve such disrespect? He must have REALLY been a dick to everyone... I hope the Patriots take him -- they'll get him in line real quick.
Up next are the 49ers and you have to wonder if Mike Singletary would want to take a player like Crabtree knowing you'll probably be yelling at him at every corner? I dunno... we'll see!

PICK #8
5:05PM: Jaguars are next up and it's not looking like they're going to go with Crabtree... It's Brady Quinn all over again but with an arrogant, selfish, pompous little dick of a rookie whom the ESPN STAFF DIDN'T EVEN LIKE!
THEY ARE PAID TO LIKE HIM BY THE WAY!
Jaguars take OT Eugene Monroe at the #8 pick and do not give into the peer pressure to take Crabtree just because he was there. Good job Jacksonville, good job!
4:59PM: Mel Kiper just got TOOOOOOOOOLDDDDDD by Keyshawn Johnson. I think I speak for everyone when I say, we still love you Keyshawn!
Wow that was amazing -- upstaging maybe even the Raiders surprise pick itself!
PICK #7
4:56PM: Wow. I just gave away all of the world's pizza! The Raiders decided to come out of the right field parking lot and take WR Darrius Heyward-Bey from Maryland. Even Mel Kiper is shocked! Michael Crabtree looks like he's about to cry!
THIS IS WHAT THE NFL DRAFT IS ALL ABOUT!
4:55PM: Okay -- where were we. Ah, yes! The Raiders are on the clock at #7 and I would bet all of the pizza in the world that they'll take WR Michael Crabtree. To expound on that last statement, I like pizza very much. VERY much.

PICK #6
That's a logical and improvement-minded selection right there! I didn't know Cincinnati could make those types of selections... I'd like to try and make a Chad Johnson joke here right now but feel it would be too easy.
The Raaaaaaiddddeeeeezzzzz are up next with the 7th pick. Five GAZILLION say that they take Crabtree...
PICK #5
We like the wheeling and dealing. It's good. It's great. It's not that great when I actually liked Sanchez and now he's going to the Jets, my beloved Patriots arch-rival...
But it's okay because it's still April and I really don't have to worry about that yet. Next up are the Bengals and their mess that is a football squad! Intriguing!
PICK #4
I like the pick but I never thought he would fall to #4. I really didn't. This has major reprecusions for the Mark Sanchez plot line because he's either going to go to the Jets or the Redskins may very well move up to get him (that's the rumor).
Let's see some trades! Everybody loves trades!
Also, going on record to predict the Patriots trade down to at LEAST the 8-12 picks. Also, Aaron Curry looks like he's like 37 -- just saying!
Next up: The Browns!
PICK #3
Is Jackson's incredibly quick and rapid rise up Draft Charts in like -- oh, I dunno the last 72 hours -- befuddling the shit out of anyone else as well? It is? Okay, good.
PICK #2
This wasn't much of a surprise either but what IS a surprise is that I'm going to be including these types of pictures for the rest of the night. I don't think ESPN  has this type of shit going on over at their Twitter draft analysis page now do they? Nuh-uh!
PICK #1
Hey, is anyone else having deja vu right now? Oh wait -- I forgot, our surprise over pick number one was Grinched by the NFL and the Lions desire to announce the pick entirely too early... Whatever -- the Rams are up next and I would bet both of my nuts that they take an offensive tackle. But then again, you never know with the NFL Draft so I'll scale that bet down to just my "left nut" if I can.
Ad blocker interference detected!
Wikia is a free-to-use site that makes money from advertising. We have a modified experience for viewers using ad blockers

Wikia is not accessible if you've made further modifications. Remove the custom ad blocker rule(s) and the page will load as expected.