I was gonna avoid this but seeing as there is like NO type of new writing aside from Sportsune Cookies and these lists. I figured I put my reactions on the Top 10, a couple of other random thoughts and well...i guess thats it
1st Pick: Matthew Stafford(DET) Goodell wants to make the NFL Draft such a premiere event(moving it way to 4:00 is just cruel) why not kill the element of surprise with leaking the top pick. But Stafford….enh idk. I think that he will never have a great career simply because the Lions are doomed for the next 4-5 years. Then he will end up a backup making some strides but Pro Bowler I think not.
2nd Pick: Jason Smith(STL) He has all the qualities of a great pocket protector but at the end of the day, he will never be Orlando Pace. But its tough to go against a good lineman though, he will give his all 4 downs at a time, at the end of the day you can't knock him.
3rd Pick: Tyson Jackson(KC) While many(myself included) had Curry right here, the Chiefs didn't exactly "Raider" this pick, yes from now on any ridiculous pick will be known as a "Raider" Jackson will have fun terrorizing QBs and will eventually be the cornerstone of a much improved Chiefs pass rush(yeah I said it)
4th Pick: Aaron Curry(SEA) Poor Curry, not the slight pay cut but the going to Seattle, tough break. People was thinking Sanchez, but I didn't see it. Seattle is going to ride Hasselbeck PAUSE til the wheels fall off and THEN they will grab the best prospect in the next draft and thrust him into the spotlight, Seattle's defense resembles one of the guy that only presses A in Madden, its cover 2 cover 2 blitz cover 2 blitz blitz blitz
5th Pick: Mark Sanchez (NYJ) Crack knuckles To whom it may concern, Mark Sanchez is not going to lead the Jets to the promised land. He probably won't last 3 years. If he wasn't coming from USC he probably wouldn't be in this conversation. You still lack a decent running game, the defense will improve under Rex Ryan and if you wanted to make good on your Browns/Jets alliance you should've tried to grab Brady Quinn, if anything. You tarnished Brett Favre's last year by not doing something about an O-Line that ran out of gas leaving him to heave and pray or have his 38 year old body be crumbled by 2-3 defensive linemen. Mark Sanchez will suffer the same fate. All New York biases aside, Sanchez won't win 25 games wearing Green and White. But have fun marketing the hell out this guy as if he's the Spanish Tom Brady.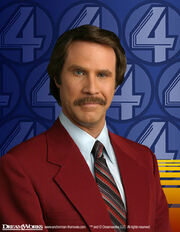 6th Pick: Andre Smith (CIN) Best player available, they need help EVERYWHERE, I still feel awful for Carson Palmer. He deserves better.
7th Pick: Michael CrabtreeDarrius Heyward-Bey(OAK) Of course the pick that has everyone going wtf. You would think they wrote Bey down for the next round and accidentally sent that card up to Goodell. OR maybe they fell for the fools gold that is Crabtree's injury. Whatever the reason may be they will have to live with it. Bey isn't a bad player, he has potential to be a great reciever, then again just about every NFL caliber reciever does.
8th Pick: Eugene Monroe (JAX) When the Raiders picked Bey, it seemed like Jacksonville was FINALLY going to get a big play receiver (a 2009 Holt doesnt count) in Crabtree and THEY passed. Maybe Crabtree isn't as healthy as he's claiming, or are the Jags also the worst drafting team ever. No, because they got Monroe who could've easily been a top 5 pick.
9th Pick:B.J. Raji (GB) Sort of like Andre Smith, best available THEY could've grabbed Crabtree as well seeing as Donald Driver is leaning into his "past his prime, can't bench him because he's Donald Driver" years. But they pretty much had Raji on their radar since day one.
10th Pick: Michael Crabtree (SF) FINALLY. Or as I said maybe Crabtree isn't 100%. I honestly don't even know who is the QB for the 49ers so thats a sign that Crabtree is going to have to do alot to make whatshisname look better. And Crabtree has that ability to turn the inaccurate passes into beautiful receptions.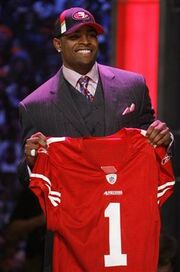 Other Thoughts
Why is everyone hating on Knowshon. While the Broncos are known for turning whathisfaces into 1000 yd rushers, Knowshon has that god given ability that complements any system. Kudos to Denver for not playing the maybe he'll fall to us later game and grabbing the guy they want. A dynamic player like Moreno can make any offense look good….Vikings, The 2002-2008 Chargers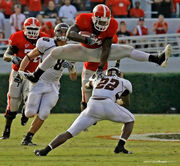 I wanted Pat White to be a starter somewhere, but he will be nothing more than a pawn in the over glorified Wildcat formation. Defenses all over is mastering it so I honestly think that its a dying fad, like cornrows or American Idol. Or a better example…scrambling quarterbacks in general. No wonder Tebow is grabbing his degree when he can.
The Patriots are getting deep. I've just learned to accept whatever they do as what's best. They are slowly closing the gap on the Celtics as my favorite sports team overall
I really like Josh Freeman. I think years down the line he will have a better career than Stafford and Sanchez. The Bucs actually have all the pieces, I think the NFC South is going to be fun to watch
Ziggy Hood….how can u not like someone with a name like that lol
Ad blocker interference detected!
Wikia is a free-to-use site that makes money from advertising. We have a modified experience for viewers using ad blockers

Wikia is not accessible if you've made further modifications. Remove the custom ad blocker rule(s) and the page will load as expected.