Article:NFL Divisional Playoff Preview
Talk

0
Ad blocker interference detected!
Wikia is a free-to-use site that makes money from advertising. We have a modified experience for viewers using ad blockers

Wikia is not accessible if you've made further modifications. Remove the custom ad blocker rule(s) and the page will load as expected.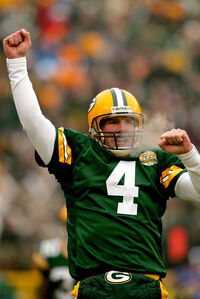 Green Bay Packers v. Seattle Seahawks
Is there any sporting event that is better than a January playoff game at Lambeau Field. I'd be hard pressed to think of one. With homefield advantage, many people are regarding the Packers as a virtual lock to advance to the NFC Championship game, but don't sleep on the Seahawks just yet. Seattle has an excellent passing attack that has challenged some of the league's best secondaries. When Green Bay faced Dallas back in November, Tony Romo and Terrell Owens had a big day against the Packers' defensive back so there is a possibility that Seahawks quarterback Matt Hasselbeck might also be able to exploit some mismatches. On the other side of the ball, Green Bay should be more than capable of scoring a bunch of points. With the sudden rise of Ryan Grant, the Packers now have one of the most complete offenses in the entire NFL. While not starting until mid-October, Grant was still able to rush for nearly 1,000 yards. With Favre having a career year, the Packers should be able to take care of business at home. Packers 34-21
New England Patriots v. Jacksonville Jaguars
Don't get caught up in all of the Jacksonville hype just yet. While they are certainly a pretty solid team, the Jags have too many holes to defeat an undefeated Patriots team.Last week against Pittsburgh, they showed some difficulty getting their offense going and playing with a big lead. If they are going to have a chance at upsetting the undefeated Patriots, David Garrard must be extremely efficient and sustain long drives that will keep Tom Brand and Randy Moss off the field. It also doesn't help that they're missing some crucial defensive personnel, and are not fully equipped to play the Patriots for all four quarters. Patriots 38-17.
Indianapolis Colts v. San Diego Chargers
When these teams faced off back in October, the Chargers caught Peyton Manning without his regular personnel (Dallas Clark, Marvin Harrison, and Reggie Wayne) and picked him six times. Despite the six interceptions, the Colts were a missed Adam Vineteri field goal from winning the game. If the Chargers have any chance to beat the Colts again, than they must get another great game from quarterback Phillip Rivers. Rivers will not have Antonio Gates playing this week so Norv Turner may end up calling this thing way too conservatively by pitching it to LaDainian Tomlinson too often. With a missing Gates, Indy should win in a close one. Colts 27-24
Dallas Cowboys v. New York Giants
I am definitely not buying this whole "Jessica Simpson is making Tony Romo suck" talk. What I do buy is the fact that neither Tony Romo nor Wade Phillips has ever one a single NFL playoff game, while the Giants are coming in off a big road victory. Historically, Phillips has been one of the worst signal callers in the postseason and the Cowboys' recent performances have not been very encouraging. They have a Pro-Bowl running back in Marion Barber but over the past few games, Phillips and offensive coordinator Jason Garrett have thrown the ball more than necessary. If they have Romo passing 40 times or more, Strahan, Umenyiora and the Giants pass rush will have a huge day. Once again, Eli Manning will throw little while Brandon Jacobs and Ahmad Bradshaw get the bulk of the carries. It's hard to imagine a team beating its division rival three times in one season so I'll take the Giants. Giants 27-21