I cannot emphasize enough how important tonight's Monday night matchup is when it comes to the playoff race.  Even the casual NFL fan will tell you tonight's game will be a great one.  If you are not intrigued by a Tampa Bay Buccaneers (9-3) and Carolina Panthers (9-3) showdown, then you should not be calling yourself a fan of the NFL.
Carolina may have gotten knocked out by Tampa, 27-3, back in their week six matchup, but they have gone 5-1 since then and DeAngelo Williams is having a career year.  The great duo of Williams and rookie RB Jonathan Stewart, out of Oregon, has helped Carolina the whole way, but my vote for comeback player of the year (Jake Delhomme) has backed them up well.
On the other side of the field, veteran QB Jeff Garcia has done a fine job keeping the 12th ranked offense together in close games.  In fact, four of the Bucs' nine wins have been by a touchdown or less, which includes two overtime wins over Chicago (27-24) and Kansas City (30-27).  Might I add that all three of their losses have been by four or less points; 20-24 @ NO, 13-16 @ DEN, 9-13 @ DAL.  As you can see, all three of their losses have come on the road (6-0 at home).  But, the game tonight happens to be in Carolina, meaning they are on the road (3-3 on road).  That last piece of information obviously points towards Carolina, and adds a little pressure to Jon Gruden's Bucs.
The key in this game will be Carolina's seventh ranked rushing attack game against Tampa's fifth ranked run defense.  Both teams will be favoring the run (Carolina is 19th run offense while Tampa's rushing attack is 11th).  So expect only around 20 pass attempts for both starting QB's, Delhomme and Garcia.
My pick?  Tampa is the obvious favorite; won last meeting and has the third ranked defense in the NFL.  But I believe John Fox's Carolina Panthers, led by fantasy stud DeAngelo Williams will upset the Bucs and go on to win two of the last three regular season games to clinch the NFC South.  Why not?  I picked the Panthers to win the division before the seasons started, why give up on them now?
One thing I know for sure, at this point, is that we are witnessing something great.  The NFC South has been having one of their best seasons in a pretty long time.  Housing the favorite to win the Rookie of the Year award (Matt Ryan, Atlanta Falcons QB) and home of TWO nine-win teams through 13 weeks.  Just last season Tampa Bay won the division easily with nine wins and Atlanta (currently standing at 8-5) was battling for the top pick in the '08 draft (4-12).  Their four-win season forced head coach Bobby Petrino to run back to the college game...before the season was even finished.
Prediction: Carolina def. Tampa Bay 35-28.  Williams rushes for 130+ yards and 3 TD's.
Sunday's Games:
Chicago stays in NFC North race with win over Jacksonville: Rookie Matt Forte (ROY candidate) gains 106 total yards as QB Kyle Orton goes for 219 passing yards and 2 TD's in the team's 23-10 victory to improve to 7-6, second in division.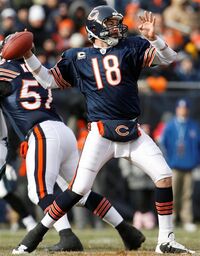 Detroit still winless: Minnesota's late comeback keeps the Detroit Lions without a win after out-passing the 8-5, division-leading Vikings. Last year's rookie of the year winner, Adrian Peterson, runs for 102 yards after QB Gus Frerotte left the game with a back injury.
Houston embarrasses Green Bay in their own house: Yes, I know. That's...different. The 6-7 Houston Texans barely edged the Pack on the Frozen Tundra. Matt Schaub returned for Houston and threw for 414 yards to his own receivers and only one pass to the opposing defense. Highly underrated rookie RB Steve Slaton ran for another 120 yards. Don't be surprised if Slaton slips into ROY contention. Slaton now has over 1,024 rushing yards and 8 TD's.
Titans improve to 12-1 after outrunning the Browns: Rookie RB Chris Johnson (yes, he's another ROY candidate) ran for 136 yards and a 25-yard TD, while LenDale White runs for 99 yards and a 3-yard TD. Tennessee clinched the division and at least a first round bye with the win.
Manning keeps Indy alive in Wild Card hunt: Peyton Manning and the Colts' 35-3 win over the Cincinnati Bengals yesterday kept them in first in the AFC Wild Card race. This is key considering it is virtually impossible for them to win the South since Tennessee has already clinched the South.
Brees, New Orleans too much for rookie QB: The NFC Wild Card race got a whole lot more interesting after the Atlanta loss, dropping them to 8-5 on the season. Matt Ryan played well, but the defense blew a late lead to Drew Brees and the Saints' explosive offense. The Saints are now just one game behind Atlanta in the Wild Card race.
Philly upsets New York, keeps playoffs hopes alive: It seems as though the Eagles are still able to make the playoffs after their 20-14 win over the 11-2 New York Giants, led by Eli Manning. But, they must win out the rest of their three games against Cleveland, Washington and Dallas.
Cutler leads Denver to late rally: Denver QB Jay Cutler did not let the early deficit get to his head. Instead, Cutler puts the offense on his shoulders and helps them score 17 unanswered points to defeat their rival Chiefs, 24-14 and improve to 8-5 on the season.
Phins part of a three-way tie in the East after defeating the Bills in Toronto: Miami was able to avoid the snowy weather in Buffalo, NY and took full advantage of it by defeating the Bills 16-3 indoors. Chad Pennington completed 23 of 29 passes for 181 yards and a TD. Miami, now 8-5, are tied with New England and the New York Jets for first in the AFC East.
Niners keep Favre, Jets in check: The 5-8 San Francisco 49ers held legend Brett Favre to just one TD (rushing), and took advantage of the Jets' silly mistakes (recovered fumble in end zone in first QTR). Favre failed to lift the Jets to the top of the East. Instead, they are currently sharing the lead with two others (read above paragraph).
Cassel's Pats rally for late win: Down 21-13 in a must-win game against a very poor 2-11 team, young QB Matt Cassel lead his New England Patriots to two fourth quarter scores to pull off the 24-21 shocker. With 12:19 remaining in the game, kicker Stephen Gostkowski pooches a short 27-yard field goal through the uprights to cut the deficit five. With 2:44 left, RB Sammy Morris caps the comeback with a 1-yard run. Pats win 24-21.
Arizona clinches first division title in 33 years: Kurt Warner has been having an MVP-worthy season and he finally proved it after he led the Cards to a 34-10 victory and the division title. St. Louis Rams' RB Steven Jackson coughed the ball up twice (team lost both fumbles), and the team's only TD came on a short three-yard pass from Marc Bulger to Jackson in the second QTR.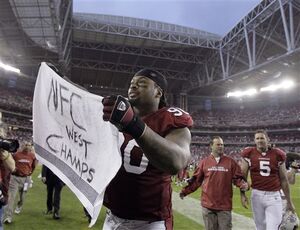 Roethlisberger redeems himself after awful first half: On offense, Pittsburgh could not get anything going against the Dallas Cowboys' defense. But, the number one defense in the NFL gave him a boost by forcing five turnovers, four of which came in the first half. The game was tied at three apiece going into the half, but Romo got the 'Boys a 13-3 lead early in the third. In the fourth QTR, Pittsburgh outscored Dallas 17-0, and went on to win thanks to a late Tony Romo INT, which turned into a pick-6. Pittsburgh improved to 10-3 and is just one win shy of a AFC North crown.
Reed's stout defense gives Baltimore the edge: High-flying Baltimore Ravens' safety, Ed Reed, picked off two passes and returned a fumble for a TD against the struggling Washington Redskins. Baltimore quickly took the 14-0 lead and never looked back. It was Reed's 22-yard fumble recovery for a TD that put Baltimore ahead, and rookie QB Joe Flacco's late TD pass to Derrick Mason (which went for 28 yards) put the game out of reach for the 7-6 Skins, who are on the brink of being eliminated from playoff contention.
Only three weeks remaining in the NFL season. Things will only get tighter from here on out. Enjoy tonight's game (I know I will)!
Ad blocker interference detected!
Wikia is a free-to-use site that makes money from advertising. We have a modified experience for viewers using ad blockers

Wikia is not accessible if you've made further modifications. Remove the custom ad blocker rule(s) and the page will load as expected.