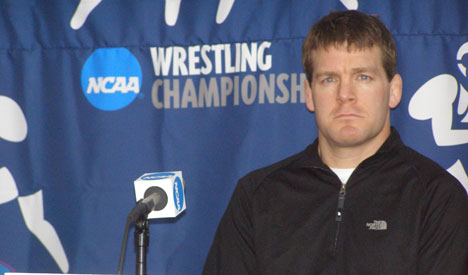 Of the four athletes who stood center stage at Wednesday's pre-tournament press conference at the Scottrade Center in St. Louis, Pittsburgh's Keith Gavin admitted he's having fun.
Ranked atop the rankings since the pre-season, the Factoryville, Pa., native comes into the start of the 2008 NCAA Division I Championships as the top seed.
But as the returning runner-up and undefeated top seed, Gavin doesn't feel any undue pressure.
"I don't think there is any more pressure," said Gavin. "I try not to think about those things. I just try to go out and have some fun."
And how much fun is Gavin having this season?
"Well it's a lot more fun to win than to lose. So this year, I'm having a lot of fun."
It's been almost 20 years since the Panthers crowned an NCAA champion. Gavin came close, reaching the finals last year before falling to eventual two-time champion Ben Askren of Missouri.
Carl Fronhofer made the finals as an unseeded senior in 2003 in Kansas City.
Gavin believes there's many positives to winning a title from a non-power conference like the Big Ten or Big 12.
"That would be huge for my school the last one to do it was Pat Santoro in 1989," said Gavin. "That would be big. We don't get a lot of attention because we aren't in the big conferences. It would be nice for Pittsburgh and the EWL."
As Gavin played off any pressure, second-year Iowa head coach Tom Brands is less worried about his team's expected performance than he is their actual performance.
"I don't think rankings mean anything right now, especially tomorrow morning," said Brands. "They may mean something now when you look at the season and total up the points they finish with and that's all fine for the thousand fans coming in and making predictions and friendly bets.
"But we have to take care of each individual match as it comes up, starting tomorrow morning with 125 pounds," he said. "If we get ahead of ourselves, not a lot of good can come from that. I can make no predictions but I think it's pretty safe to say we have nine guys here who believe in themselves."
While Iowa is the likely favorite in the eyes of many, Minnesota still is the defending champion, although coach J Robinson doesn't find much solace in that distinction.
"I don't think you have to think in terms of defending a title, you have to be here to win a title. The other part, for us, we don't have to worry about two more months of competition, after these three more days we're done. We don't have to worry about trying to get someone back in two weeks, it's our finale right now."
Robinson's Golden Gophers started the season as the unanimous #1 in the country and showed signs of regaining their top form at the Big Ten Championships two weeks ago before being overcome by Iowa's consolation tear.
Iowa State coach Cael Sanderson brings a wealth of youth, but experienced youth, to this year's event. He knows it will be a battle for the championship.
"It's going to be a tough race. It's going to be competitive, we have our work cut out for us and we need to wrestle above where we're seeded and that's what we're planning on doing," said Sanderson.
"Right now, we're wrestling our best. We're healthy and we're excited," he said.
Sanderson brings six sophomores with tournament experience to the show this year, and that added experience is something present this season that wasn't last season when the Cyclones made a run for the title.
"Last year, naturally there's a little uncertainty," said Sanderson. "Not about getting them fired up for it, but you have to keep them calm and relaxed and focused on the next match instead of the guys trying to decide on what they're going to score on in the national finals."
Like his talented sophomore class, Sanderson is prepping for round two as a head coach at the tournament.
"Last year, there was uncertainty as well. I'm confident," said Sanderson. "I know we're ready. I know we have to win some tight matches and have some gutsy performances and perform above our seeds if we want to compete for a title."
While much of the focus of the press has been on sophomore 149-pounder Brent Metcalf, Iowa has one of four returning NCAA champions in 165-pound senior Mark Perry.
Perry fell in the finals of the Big Ten to this weekend's top seed, Eric Tannenbaum of Michigan. Both are searching for their fourth medals at the national tournament.
Adjustments were immediately made.
"(Perry's) changed some things up," said Brands. "He led his off-lead leg and was protecting that knee and there was no reason to protect it. Maybe in the Big Ten, from his point of view, maybe there was because there is something bigger beyond that. That was the first adjustment we made.
"I know it came from his dad and I know it came from me and it came hard. Lead with your right leg and do what you do best. Just go out and execute," said Brands.
Come tournament time, Perry has answered the call, placing second as a freshman, beating returning champion Troy Letters of Lehigh and again last season, knocking off nemesis Johny Hendricks of Oklahoma State in the finals.
"When he just goes out to wrestle and execute his style and holds, good things happen for him. He's proven it," said Brands.
Coaches Tom Borrelli of Central Michigan, Robinson and Missouri's Brian Smith also echoed the thoughts of Brands and Sanderson about taking it one match at a time.
"You're staying in the championship bracket one match at a time and god forbid if disaster happens, you have to come back for the highest place," said Brands about his nationally-inexperienced group, led by Metcalf. "Whether it's what you wanted or not, there's still something honors and awards."
"We're here to win, we're not here only to win, but we're here to perform and win one match at a time," he said.
But is there a target for the favorite?
"It's not a favorite situation," said Brands. "Are we the #1 team coming in yes? I like that our guys are here, our guys are excited and our guys are ready. I like the fact we have guys that are eager and motivated. If the circumstances were different, we'd still have to get ready."
Two matches that could have an extreme impact on the team race for both Iowa and Iowa State will be at 133 and 141 later in the draw, should the seeds hold.
"I think they're all big matches," said Brands. "If you're referring to 141 at 8-9 and 133 at 4-5, it is down the road and you keep it in perspective."
With the Division II Championship coming down to a half a point last week in Cedar Rapids, every point and every wrestler is important.
For Minnesota 125-pounder Jayson Ness, it's about energizing his team and picking up bonus points. He hopes he can do what he can to give the Gophers a shot at a second consecutive title.
It'd be better to get three falls (rather than three decisions)," said Ness. "Anytime you get a fall, it's exciting, it gets the fans going, it gets the team going. Everyone's able to build off that."
Sanderson needs just as much from his returning starters as he does senior 174-pounder Aron Scott. Simply put, it's points.
"Aron Scott can play a huge role. It doesn't matter how many qualifiers you bring, it's about how many that can score points. Aron has shown he can go with anybody in the country. He wrestled well in the conference. We expect his best effort and will take anything we can get," said Sanderson.
Ad blocker interference detected!
Wikia is a free-to-use site that makes money from advertising. We have a modified experience for viewers using ad blockers

Wikia is not accessible if you've made further modifications. Remove the custom ad blocker rule(s) and the page will load as expected.