It has been a heck of a year for the NBA. There have been so many twists and turns so far in the NBA. Some general managers have done a great job with handling their teams, as you can tell by looking in the standings. Teams like the Toronto Raptors, the Boston Celtics, and the Washington Wizards have been rather surprising due to great managing, coaching, or other key factors. Other teams have been rather disappointing; i.e. the New York Knicks, the Miami Heat, and the Chicago Bulls. The general manager of every, single team needs to realize what they need to do in order to improve or stay red hot. The trade deadline has gone right by, and now there is (just about) nothing that the general managers can do right now that will change the team dramatically.
I must say that it has been quite a whirling February this year so far. I can't even keep track of who's on what team now. Eleven trades have been made since February. There's all this talk about the trades that have went on within the past 3 weeks, but there has hardly been much rave about the 3 trades that went down before Opening Day. I've decided to do a rather elaborate analysis on those three trades, how these teams affected the team as of now, as well as how they will affect the respective teams in the future. Did (or will, depeding on how you look at it) these acquisitions help or hamper the team? Let's find out.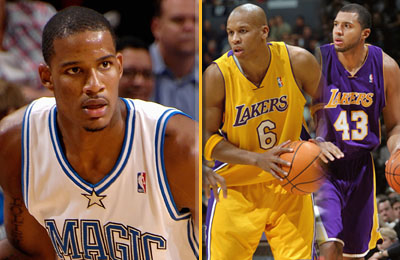 (November 20, 2007)
In the first trade after Opening Day of the 2007-2008 season, Orlando Magic was able to work out and agreement with L.A. by trading Trevor Ariza in exchange for two (former) L.A. bench players: Brian Cook and Maurice Evans. This was a pretty good trade for both sides, as Ariza is now a pretty good backup forward for Lamar Odom; he has a 52.4% field goal percentage, along with 7 points per game off the bench. On top of that, he's only 22 years old, which means that if he can get some playing time with L.A. now, they won't have to worry about acquiring any more forwards anytime soon. Getting rid of two "superfluous" players (so to speak) for someone who could be a huge amount of help off the bench to give Odom and [[Paul Gasol|a certain forward who I will mention later in my article a breather.
As for the Magic, it seems like they were just trying to acquire some players who have potential so that they could look at who they could rely on in the future. Cook is better than some of the other guards on the team, and has kept up with his numbers throughout the season. Evans has been getting a lot more playing time as a shooting guard. He can hit threes quite often (37.6% from beyond the arc) and is reliable when it comes to not turning the ball over.
Overall, this trade worked out for both teams, since the Lakers can now depend on a player on the bench, since Andrew Bynum is injured. The Magic got two players who will definitely bring an upgrade to the team, and you can tell. Unfortunately, since the trade, it hasn't worked out as well as they planned. Before the trade, the Magic were 10-2. Since then, they're 24-20. Not that great, but it's not like those two players are the cause of the minor downfall of the Magic.
(December 14, 2007)
Three weeks after the first trade of the season took place, two other teams decided to take initiative of a certain situation. The Bobcats were 8-13 when they decided that they needed another big man in order to shift Emeka Okafor over to the Power Forward position. They traded Primoz Brezec and Walter Herrmann for Nazr Mohammed, who I guess was the best center they were willing to get. Pistons GM Joe Dumars knew that they needed something, so he and Bobcats GM Rod Higgins talked and negotiated a trade that worked in the favor of the Pistons, but not so much for the Bobcats. Dumars got the upper hand because not only did he get rid of Nazr Mohammed, a center who only put up 3.3 points and 3.5 rebounds per game, but he was also able to get a hold of two players who are very worthy of keeping when it comes to a trade like this. Firstly, both of their contracts are over this year; hence, Dumars can do whatever he likes come this offseason. Secondly, he got Primoz Brezec, a 7 foot 2 inch center; he might not play well, but he's still a sub for the disposal of Nazr. Thirdly, and finally, Walter Herrmann is somewhat of a good player. His stats may not say so, but stats aren't everything.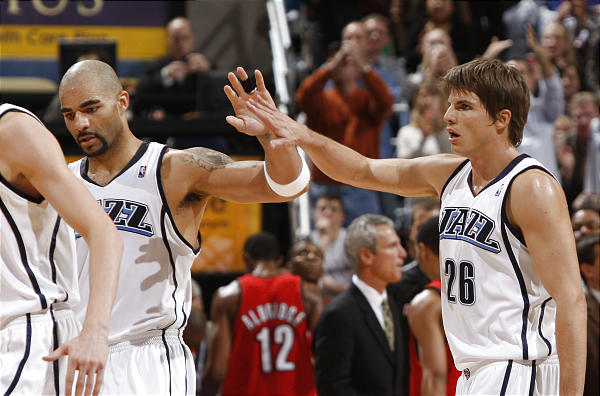 (December 29, 2007)
The year of 2007 was finally coming to an end when these two teams finally decided that it was time to make a change. Both teams weren't doing so well. And what was worse is that Utah was a playoff team coming into the season at a disappointing 16-16. So, the Jazz were able to pull off a trade that has definitely changed the standings over the past couple of months. The '6ers got rid of Kyle Korver and in return, they got Gordan Giricek and a protected first round pick. As for the future of the 76ers, this might have been a good trade, as they now have two first round picks that they get to choose heading into the next NBA draft. However, the Jazz are focused on winning a championship, and it sure looks like the 22 year old can help them get to (at least) the playoffs. He can help dramatically when it comes to zones and clutch 3 point shots. They are currently 1.5 games ahead of the Denver Nuggets, and they just keep on rolling.
As for the 76ers, it seems like they have lost their touch since Korver has been gone. They were 13-16 before the trade; from the 28th of December until February 4th, they've gone 5-14. Over the past week, it seems like they've done well, as they have won 16 out of their last 17 games. What 76ers GM Ed Stefanski is trying to do is focus on the future of the team. Since Allen Iverson has been gone, the basketball fans in Philly haven't been very pleased with the results in the standings. So, he decided to let Korver go because he was a bit too expensive ($5 million for each of his 3 years). Giricek is a rather mediocre player now, and he hasn't done much for Philly. He's a decent player from beyond the arc, but that's just about all he can do now. Overall, I think that this trade will have a positive effect on both teams. (If it doesn't have a positive effect this year for Philly, I'm almost positive it'll work out for them in the future, at least).
So there you have it. Those are my thoughts on the three trades before February. Be sure to read my thoughts on the trades that happened in February. (The article will be done as soon as I have time to finish it. Hopefully the first week of March).
Ad blocker interference detected!
Wikia is a free-to-use site that makes money from advertising. We have a modified experience for viewers using ad blockers

Wikia is not accessible if you've made further modifications. Remove the custom ad blocker rule(s) and the page will load as expected.