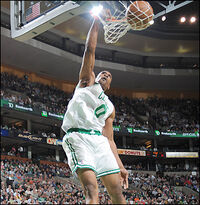 The stage was set.  Would Kobe and the Lakers get things together and come through, or would the Celtics continue to play hard nosed and deny the Lakers offensive rhythm?  More burning questions and random thoughts to follow (mostly thoughts as it turned out):
The people who called for more Leon Powe all season (me) are feeling very vindicated today.  Besides the points, rebounds, hustle plays, and back breaking dunks, he drew a charge about 3 seconds after entering the game.
Boston breathed a sigh of relief on Peirce's second touch of the game, he upfaked and drove hard to the left, getting to the hoop.  Saying it was good to see is an understatement.
Admittedly, the fouls were lopsided, but foul calls generally favor the aggressors and the elite defensive teams.  That's Boston and Boston right now.
Kobe said he hoped to get more of the same shots in game 2.  He did.  He made more of them, and the Lakers still lost.
The comment "Leon Powe looked like Dr. J in the '85 slam dunk contest" by Mark Jackson killed me.  Best color comment of the night.
Jeff Van Gundy has no ceiling for his commentary.  On some nights he can be the best in the business.  Sunday night was not one of those nights. 
And Van Gundy is pushing hard for an NBA team to wait around for the finals to finish so they can offer Tom Thibodeau their head coaching job.  I know he's your buddy and all Jeff, but I like him just where he is, so if you could cool of that a little, I'd appreciate it.
James Posey was phenomenal on L.A.'s final meaningful play.  As Mark Jackson correctly stated, they like to hand the ball off to Kobe on the inbounds.  Phil Jackson decided to fake that play, and have a backscreen set for Derek Fisher for hopefully an open 3 on the opposite side.  Posey jumped out on Fisher, leaving Gasol with the ball (and confused).  Then, when Peirce got his hand on Sasha's shot Posey crashed the boards, came up with the ball, got fouled, and then made two free throws to put the game on ice.  Like I said, phenomenal.
If Leon Powe played this well during a game where his story was the halftime feature, I'm hoping ABC tells us the story of Eddie House and his kid for Game 3.  ("Eddie couldn't even afford his son a second shirt until the Celtics reached the finals…")
Sam Cassell only played a few minutes last night.  He actually passed up two semi-open jumpers to pass the ball to open teammates.  I was amazed.
Did anyone see Lamar Odom score in the second quarter to cut the lead to 10, and then scream for no apparent reason?  What was that about?
I got a clear look at Sasha's bra strap head band this time. 
And I think it's awful.
A lot of people are talking today about how Kobe treats his teammates.  If the Celtics win game 3 we might be in for one of those "I'm not shooting for an entire half, see what I'm dealing with" games from Kobe, only this time, I'm not buying it.
And if the Celtics win game 3, it's over.  The Lakers need games 3 and 4 to have a chance.
I'm imaging at some point today Bill Walton called his son and said to him, using long adjectives, hyperbole, and many other useless grammatical devices that "I had to cover Kareem my entire career and you couldn't cover Leon Powe?"
It might have sounded something like this: "Never in the history of Western civilization has a Walton been so devastatingly humiliated.  In the tumultuous 70s and the excessive 80s I, your father, who crafted you from my own seed, had the impossible task of guarding the overwhelmingly gifted Kareem Abdul Jabaar, the best offensive center in the known universe, the master of the sky hook, and you, you could not cover Leon Powe, who glided past you with grace reminiscent of the Queen Sheba's gazelle.  That reminds me, did I tell you about the time I followed the Grateful Dead…"
I don't remember where I heard it first, but I much prefer calling Powe "The Grown Man" as opposed to "The Show".
The series moves to L.A. now as we all know.  But with the travel and only one day to regroup, it will be interesting to see if the Lakers can right the ship, or if the Celtics can close things down.  Two road wins in the Detroit series, and they were the best road team in the NBA this year after all, they're certainly capable of ending this thing swiftly.
Ad blocker interference detected!
Wikia is a free-to-use site that makes money from advertising. We have a modified experience for viewers using ad blockers

Wikia is not accessible if you've made further modifications. Remove the custom ad blocker rule(s) and the page will load as expected.