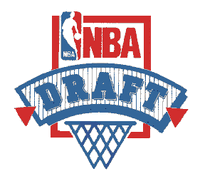 Well, well, well! The NBA Draft is here. At this time every year, Sam Bowie and Blazer fans everywhere die a little more inside. The Chicago Bulls have the #1 pick this year and can possibly draft a player that will take them back to the promised land. That promised land being of course a water-downed NBA Finals because the (L)Eastern Conference sucks a left nut. Whenever the NBA or NFL draft come around, I always like to imagine that I am a badass like my friend Marty McFly (uncontrollable shaking aside) and can time travel. That way, I can go back in time and help out these teams that have the #1 pick. I will now go back in time 11 years and either change that #1 pick or let it ride... much like when I'm in Vegas and have had one too many alcoholic beverages and seem to think that hitting on 19 is a great idea because the dealer is showing a 4. Without further ado, to the Delorian!
2007 Real #1 pick: Greg Oden
Marty's #1 pick: Kevin Durant. If Greg Oden's health problems were not an issue, this would have been a lot tougher. Instead, Durant is the smart pick here because he can play 3-4 positions depending on the team the Sonics are playing that night. Durant has great length and can score at will. He will be a stud for years to come.
2006 Real #1 pick: Andrea Bargnani
Marty's #1 pick: Brandon Roy. Is it just us, or do you get Brandon Roy, Randy Foye, and Rudy Gay mixed up? Anyway, Brandon Roy is a certified badass. His Rookie of the Year statue says so.
2005 Real #1 pick: Andrew Bogut
Marty's #1 pick: Chris Paul. He might go down as one of the best point guards to ever play the game. He can score, he can pass, he can defend, and he could probably steal your wife/girlfriend/boyfriend, even though he isn't gay.
2004 Real #1 pick: Dwight Howard
Marty's #1 pick: Dwight Howard. Let it ride baby! Dwight Howard is a double-double machine and will continue to be for the rest of his career. Plus, if we picked him, we could dress him up like Dwight K. Shrute. FACT: Dwight Howard eats bears. Bears. Dwight Howard. #1 Pick.
2003 Real #1 pick: LeBron James
Marty's #1 pick: Dwyane Wade. I think people just started laughing at me. Oh well, laugh all you want. Dwyane Wade is the anti-NBA player. No tattoos, no bitches on the side, no illegitimate children. For Christ's sake, this guy took out a loan in college to pay for diapers so he and his now ex-wife could take care of their son. BAAAAAAAAAAADASS! That and Dwyane has a little something-something on his ring finger from taking it to the Dallas Mavericks. LeBron doesn't, and most likely never will have one of those on his finger.
2002 Real #1 pick: Yao Ming
Marty's #1 pick: Amare Stoudemire. Is it the player or the system that makes Amare awesome? Maybe we'll get that answer if he is dealt to the hell-hole in Atlanta. Plus, didn't he nail Brandy? Isn't she in jail for vehicular homicide? Talk about boosting your street cred! "My boo's in jail."
2001 Real #1 pick: Kwame Brown
Marty's #1 pick: Tony Parker. Sacre bleu! Oui oui! Wave that white flag, Frenchie!
2000 Real #1 pick: Kenyon Martin
Marty's #1 pick: Michael Redd. Is there a better stroke in the NBA today? He's a lefty, so that means he is like Rocky Balboa. He also went to THE Ohio State University, which actually makes him one of God's children.
1999 Real #1 pick: Elton Brand
Marty's #1 pick: Elton Brand. Let it riiiiiiiide! We almost went with Wally Szczerbiak because of his Miami of Ohio connection. Marty told me that sometimes he lays awake at night thinking of how much tail Wally got while in Oxford. It's safe to say that he definitely had a mythical 12-some with the Delta Gamma's.
1998 Real #1 pick: Michael Olowokandi
Marty's #1 pick: Dirk Nowitzki. Anyone that gave an Oscar-worthy performance in Like Mike deserves the first pick in the draft. It's THAT simple.
1997 Real #1 pick: Tim Duncan.
Marty's #1 pick: Tim Duncan. Let it ride on one condition: whenever we see him, we get to say, "Timmmmmmmmmmmmmmmmmmmmmaaaaaaaaaay!" and he is not allowed to get mad or yell at us. Seriously, that would never get old.
Ad blocker interference detected!
Wikia is a free-to-use site that makes money from advertising. We have a modified experience for viewers using ad blockers

Wikia is not accessible if you've made further modifications. Remove the custom ad blocker rule(s) and the page will load as expected.