First a lil recap...
Most of you recall a lil while back when Wizards guard Deshaun Stevenson called LeBron James overrated after the King missed a potential game winner against the Wiz. LeBron has responded by basically bringing his A+ game to just about every Wizards game and downplayed any sort of media hype saying that him attacking Stevenson would be like Jay-Z dissing Soulja Boy. As Mike Tirico would tell you, Soulja Boy is a 17 year old one hit wonder(how many times did he say that during the game). But anyway Soulja Boy was offended by LeBron's comments and started rambling off to anyone who would listen. Stevenson then goes ahead and invites Soulja Boy to Washington for Game 3 of the playoffs where Soulja Boy played cheerleader as his song blared through the arena.
So would LeBron follow suit and bring his mentor, Jay-Z to Washington for Game 4. No Jay-Z had other ideas, a diss record. Yada yada yada the record is played in a Washington club and then to make things worse, witnesses at the club said that the DJ gave the microphone to Cavaliers reserveDamon Jones. Jones allegedly made some unsavory comments about Stevenson and the Wizards, according to people in attendance. And just before 2 a.m., the song was played. It was played five times back to back and Wizards player Caron Butler happened to be there and now vows to protest the club.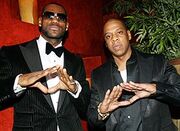 Stevenson was flabbergasted by this record but luckily Gilbert Arenas was there to save the day and downplay this whole situation. "It's Hova," Arenas said. "It's the big dog. It's not like it's somebody else. If I had three people to talk about me in a song it would be Jay-Z, Michael Jackson and Prince. And Tupac and Biggie, let's be for real. Jay-Z had the time. That means he sat down somewhere, three minutes out of his time he had to write something."
Stevenson didn't have the best reaction until Arenas convinced him that having Jay-Z mention him in a record was an honor. "Jay-Z doesn't mention too many names," Arenas continued. "There's LeBron, Jordan and a couple of years ago he mentioned Yao and T-Mac. If I'm DeShawn, 'Thank you brother. Appreciate you brother."(actually Jay-Z doesnt mention Stevenson at all he says "i dont even know yall names") Arenas and James are good friends off the court so the whole issue has been avoided and the King has continued to say there is no "beef".
Stevenson does have an issue with the club playing the record being as it is a D.C. club and Jones grabbing the mic. "I'm not worried about what he did. But for Damon Jones to get on the mic. And I heard he was saying foul stuff about me and stuff like that, they're taking it beyond basketball to me." So whats next a Soulja Boy diss record at Damon Jones....stay tuned lmao. You see, this would've never happened if the Nets had made the playoffs.
For those intrigued heres the song....actually pretty funny "This chess know the difference between a King and a pawn" lol classic
http://www.zshare.net/audio/111831894219e4c3/
Ad blocker interference detected!
Wikia is a free-to-use site that makes money from advertising. We have a modified experience for viewers using ad blockers

Wikia is not accessible if you've made further modifications. Remove the custom ad blocker rule(s) and the page will load as expected.