So I was getting ready to write about my Marvel Villians Football Team, a sequel to the Heroes team. I was thinking about the many articles going through my mind. Such as the ArmChairGM WIS Football Season, There's More than the MLB, and trying to keep up on my San Francisco Giants. I realized I was pretty much in over my head, especially with my Senior Project speech coming up and all these plans for graduation. I also can't forget about working and saving up to move out when I turn eighteen. Of course there is that whole college thing too. All my thoughts flew around in my head as if they were seagulls ready to swoop down and eat the leftover food on the ground. Out of nowhere I got this inspiration though, I wanted to just write about ME. Always directing my attention on all the other subjects, maybe it's time for some Agent0 time.
So I begin with my earlier days.
The Easy Life
Back in the Little League and Pop Warner days of life. Was it so
easy
though? Sure I was going out and playing sports, which is the thing I thrive on. I need sports to keep my life going. Life gets boring without sports, I can't imagine watching
MTV
or
VH1
all day. There was always that one factor though: impressing the parents. Whether it be the father or mother, you were playing out there to impress one of them. Now I understand it's not always the same; sometimes kids just play to have something to do. Most kids have a dream of being a ballplayer...then there is that breed of kids/parents. You all know what I'm talking about: the parent that lives his dreams through his kids. That parent didn't succeed, so he wants to live the dream through his kid. Don't get me wrong, I'm the happiest person on the face of the earth thanks to my dad getting me into sports. Greg Lee is a great father and I love him with all my heart, but I do know that the mistakes he made in college forced him out of the game of baseball. The next best thing is for his son to live the dream and he hounded me all the time to do better.
My dad grew up in Sacramento, California. Playing stickball in the streets as a kid. He grew up the small kid his whole life, as have I (thanks to his damn genetics). He was around five foot five his senior starting at second base. He believed he was a shortstop, but his small size gave him no power to his arm. After a great year in high school he decided to attend Sac City College to play baseball. His coach wanted him to workout during summer and all my dad did was go to the river and swim. He returned to the team in the fall and had not put on any weight, which meant no more strength. He ended his baseball dreams by quitting the team thanks to him being overshadowed heavily by starting second basemen Fernando Vina. My dad now plays slowpitch softball (he is contemplating retiring) and is damn good at it. I have learned everything from him and cherish every moment we have had together. My dad did a great job teaching me the game. I was always steps ahead of kids which helped me produce an error-less little league career (from ages 9-12). It also helped me hit 3rd best in majors my last year. I know, I know, it's little league. Anyways, he taught me everything about the game.
You see, I have this mind that doesn't want to work for school books and doing all that boring writing, but when it comes to baseball it has to be one of the greatest minds around. For reading, I would read baseball books such as The Science of Hitting by Ted Williams, Maybe I'll Pitch Forever by Satchel Paige, and many others. It gets my brain turning in ways I couldn't imagine. I have a book on every World Series, a book on all the greatest hitters, a book featuring the greatest pitching performances, and many others. I can keep stats in my head for years. When I would go to my grandparents' house in Sacramento, to rid my boredom, I would read the boxscores of the sports sections (not the articles, but the numbers). I would play imaginary games with myself using my dream team line-ups and facing the greatest pitcher ever. Of course I would always bat lead-off with Ty Cobb following and a possible Barry Bonds-Babe Ruth combo proceeding. I never could get my mind to work like that in school however...school has made me a failure...whether my parents admit it or not it has, but I'm not whining about it because life works in weird ways and you have to work through hard times.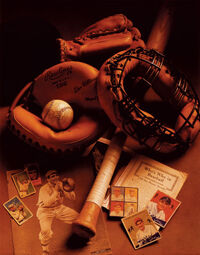 I began my high school career with on goal in mind, and that was to play high school baseball. During my freshmen year, I wasn't able to play due to a tear in cartilage in my knee. So I looked forward to next spring. I didn't make grades, but I could use a
waiver
to play. At my high school, you get a chance to use this form one time to let you play sports without making grades, it was meant for kids who missed exponential time from school. Anyways, I used it and halfway through the season, and I was cut due to third quarter grades. One teacher turned in the wrong grade; he went to change it to the right grade, but being the hippie he was, he procrastinated. He turned it in four days after I received grades. The Eastern Athletic League has a 3-Day grade change rule. Peace to my season. Then came summer ball, in which grades didn't matter because the team wasn't associated with the school. I had a great summer batting around .400 and I was growing. As a freshman, I was five foot nothing and present day I am five foot eleven. Getting back on track, I am going to make a long story short. I slacked off my junior and currently my senior year and wasn't able to play baseball. Once again, the word
failure
always is ringing in my head. I have no excuses for it; I just had to face the fact that I didn't do what I was supposed to. My brain just doesn't work for school...no matter how hard I want to try, I can't. It's not that I'm not able to, trust me...they tested my IQ. After taking a STAR test and not trying (playing bubble bingo), I scored below average,
way below
. They made me go through all these tests to find out if I had a learning disability and I ended up with an IQ of 120, or somewhere in that range. Right now, I just want to get off my chest that not playing baseball to me is devastating. I try to play it off like it's nothing so I don't look soft and all that bull****, but it eats at my insides. I have been a spectator at
one
baseball game since I have been in high school. After that game, I vowed to never go again. Watching kids play the sports I bled for just made my sick to my stomach.
I know you are all wondering about where this is leading to...it's like the never ending story that probably makes no sense.
You see, one reason my grades haven't been the greatest these last two years is because my best friend moved away December of my junior year. That was my dad...He moved away because my step-mom wanted to move next to her family. She was going to (most likely) leave him if he didn't move, which made me feel as if he chose her over me and my sister. I know there is more adult stuff to it, but it just tore me up. I have cried over injuries and all that jazz, but I have never cried because of a moment. Well, not until I sat next to my dad in his car, we were in front of my grandparents' house in Sacramento. Even though this happened about a year in a half ago, I remember like it happened two minutes ago. He turned off the car and looked at me and said, "Casey I'm thinking about moving". As naive as I was, I wondered where in town he was moving. He then continued to talk about moving down to the Sac area. I couldn't hold it back, the tears flowed and that was a moment in time that I think me and my dad really bonded: both in tears. After that, I really had anger built up inside of me I wanted to lash out, but had nothing to lash out on. To this day, I say without regret that I hate my step-mother for taking him, but it is something I can live with. That anger was released some few months ago when my dad and I got into an argument. It was a stupid one about me throwing a basketball and walking to get it instead of hustling to get it. I was wrong, and he was right. He asked what was going on and I couldn't take it, I teared up and told him I needed him and our relationship since then has never been better. Why is this relevant to me becoming a journalist? It has everything to do with it.
Growing up, I shared all my baseball thoughts with my dad. All of them. I'm pretty sure I tortured him with everything that ran through my sports mind. We shared great moments together, such as my Tampa Bay Buccaneers beating his Oakland Raiders in the Super Bowl, the San Francisco Giants' NLCS run, and most of all, every Barry Bonds moment as a Giant. That's what you guys don't understand about me being a Bonds fan: he brought my father and I close because of all the moments he had that brought us together. Anyways, once my dad moved, I had no one to share my thoughts with. Well, why not write about sports? So I did and here I am at the greatest sports community on the web: Armchair GM. I have taught myself my writing skills and have taken constructive criticism from all of you. I earned an internship at my paper and I want to spend the rest of my life writing about sports! Not only that, but this makes me feel like I'm not a failure as I was in school. When my articles hit that front page it really means something to me. As I'm sure it does to most of you who are passionate about your writing. So I end by saying thank you everyone for being such a supportive community. Sorry if this makes no sense or rambles, I wrote as a I thought and we all know how much of a mess that can be.
I also want to end on saying thanks to my dad for being... My Dad


Ad blocker interference detected!
Wikia is a free-to-use site that makes money from advertising. We have a modified experience for viewers using ad blockers

Wikia is not accessible if you've made further modifications. Remove the custom ad blocker rule(s) and the page will load as expected.