My Day at M&T Bank Stadium
Yesterday the Baltimore Ravens defeated the playoff-bound Pittsburgh Steelers in a thriller at M&T Bank Stadium.
My dad was able to get two tickets to the game, and after I got off work yesterday, we left for an hour long drive to the lightrail, wherewe rode a half hour to the stadium.  There was alot more fans there then I thought there would be, and many of them had there Terrible Towels with them.  Before the game we had to pick up our two tickets from a guy who work for my dad, and since the guy was a Ravens fan, we had to walk through hundreds of Ravens tailgaters, we got booed.  Some of those guys I just felt like punching in the face, they would get right in your face and yell Steelers suck.  I just asked him where they would be next week, and he shut his mouth.
We got in, and had to take a long hike ALL the way up to section 532, the nosebleed section.  But, hey, they were cheap $60 tickets and we could see the whole field, just we weren't close enough to hear the ref's whistle.  It rained the entire first half, so I wasn't having much fun at the begining, especially since the Ravens had a 20-7 lead at the half, thanks to a Willie Reid fumble on the opening kickoff, which Baltimore recovered and got a TD after Musa Smith ran the ball in from 2-yards out.  Baltimore's kicker Matt Stover kicked a 28-yard FG to cap their next drive off with a 10-0 lead, and after a Pittsburgh turnover on Downs after Charlie Batch threw an incomplete pass on 4th & 1, Baltimore took a 17-0 lead on Cory Ross 32-yard run.
Pittsburgh did score on their next possession though, with a 6 play, 75 yard drive capped by a NAJEH Davenport 1-yard run.  After that the Terrible Towels were flying high, especially after Yamon Figurs fumbled the following kickoff, but unfortunately, Baltimore's Cory Ross recovered.  After 3 straight punts (2 BAL, 1 PITT), Pittsburgh got another shot at the end zone, starting from their own 44.  But, on the first play Charlie Batch threw an INT to David Pittman, which was his first of two on the day for the second-year CB.  The turnover lead to a 31-yard FG attempt for Matt Stover, which went through the uprights for a 20-7 Baltimore lead at the half.  Which didn't make me very happy.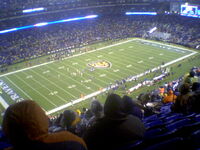 At halftime, we went to the concession stand to get something to eat, and dry off a little.  Drunk Ravens fans were all over the place.  Isn't it a little early for drunk fans???
Well, after I had to pieces of pizza, and a coke, we headed back up for the second half.  It wasn't raining as hard as it was in the first half, and I noticed that when I went back up to my seat, that there were now more Steelers fans, than Ravens.  Pittsburgh's defense did a little better in the 3rd, stopping Baltimore to just one TD, instead of 2.  Baltimore fumbled the ball on their first drive of the 3rd QTR, and Pittsburgh LB Clark Haggans recovered the ball.  Pittsburgh ended up punting anyway, though.  The lone score came on a 15-yard pass from rookie QB Troy Smith (known as "Heisman" to the fans around me), to WR Devard Darling halfway through the QTR, fr a 27-7 lead.
Five minutes into the fourth QTR, the score was still 27-7, and Baltimore had the ball, we thought about leaving, but decided to stay longer after the 59-yard TD pass from Batch to Santonio Holmes halfway through the QTR.  Somehow we recovered the onside kick, and 8 plays later we found ourselves in the end zone again, this time a 7-yarder to Cedrick Wilson.  Coach Mike Tomlin decided NOT to go for the onside kick again, instead, kick it long, hoping for a fumble.  We got it back with 1:36 to go, and out of timeouts.  After going 18 yards in 4 plays we went deep, and David Pittman recorded his 2nd INT of the game to go along with his 7 tackles.  By that time, we were out of our seats, and watching the last 2-3 minutes on a TV right next to the exit, so we could beat the crowd, which we did, and got the first train home.
After the INT, a drunk Steelers fan said "Oh well, we're still going to the playoffs", and I thought it was funny, because she was really, seriously out of it.
Well, altogether I had a pretty fun day in the very rainy weather in Baltimore, but it would have been better if we had won. 
Ad blocker interference detected!
Wikia is a free-to-use site that makes money from advertising. We have a modified experience for viewers using ad blockers

Wikia is not accessible if you've made further modifications. Remove the custom ad blocker rule(s) and the page will load as expected.