I'm tired of rooting for the team to lose like last season. Even when I'd want them to tank it's not like I would get all excited after a loss the same way I would if I wanted them to win and they surprisingly did. I'm not gonna sit through a whole sportscenter episode just to watch a five second highlight of a loss the same way I would after a win in case the anchors might say something decent about the Bucks.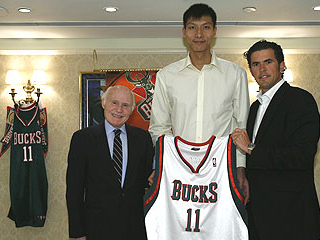 And do people really want the team to tank on purpose. The thing I care most about is that the players give 100% everytime. If they were actually trying to lose why would I even bother watching them? All it brings is the bad karma since it doesn't guarentee anything. Who knows but maybe we'd would end up with the first pick anyways. Just look at the Trailblazers, who had the worst record two years ago, and had fans petitioning to take Adam Morrison if they had the chance. But they ended up with the fourth pick and took LaMarcus Aldridge after Morrison was taken third by the Charlotte Bobcats. A year later they lucked out after having the sixth worst record and still getting Greg Oden with the first pick anyways. Maybe if they would have gotten Morrison the previous year they would have lost more games and wouldn't have had the sixth worst record and, in turn, wouldn't have gotten that pick. How'd that work out for them?
And I don't think that a couple more losses would ensure that a much needed trade would occur. I don't think that a couple more meaningless wins could convince anyone, including Ron Walter and Herb Kohl, that the Bucks alright, that is unless they are commited to mediocrity and if that's the case, we would be screwed anyways. Changes will be coming in the offseason anyways, since Larry Harris is already on his last rights and a new general manager will come in to make the changes since what would be the point in bringing in a new GM if they werent going to make changes anyways. You mide as well not even have a GM then.
I also think that some of the wishes for tanking come from just being tired of the losing that is associated with being a Bucks fan. Fans get tired of getting upset after every loss that a lot of people convince themselves that they won't get as mad if they didn't want the team to win in the first place. However, you're only fooling yourself if you actually want them to lose. Just think of your mood after a team you really want to lose blows it. Packer fans know this as we all united to become Colts fans for the Super Bowl two years ago as the last thing any of us wanted was to see the Bears win it.
Becoming better won't just happen overnight though; it'll take years. If you say you want them to get better for the future, what good is that if we don't support them now? Otherwise there might not be a future for the team if management doesn't find a way to get a new arena in Milwaukee.
My advice: just support the team when they need us the most and root for them to win. Just don't get as upset after a loss.
Ad blocker interference detected!
Wikia is a free-to-use site that makes money from advertising. We have a modified experience for viewers using ad blockers

Wikia is not accessible if you've made further modifications. Remove the custom ad blocker rule(s) and the page will load as expected.