This one's a breeze. Heavyweights only (Pound-for-pound and "Best Boxers, any weight" are different lists).
Here's the nine guys who didn't make the cut - and one standing eight count (no particular order):
Evander Holyfield, James Corbett, Ezzard Charles, Mike Tyson, Riddick Bowe, Gene Tunney, Floyd Patterson, Jim Jeffries and Jersey Joe Walcott. Note - Sonny Liston might have been on this list just because of his name, and he was that good of a boxer early in his career. But he was a quitter.
9 - Lennox Lewis. Lennox was the biggest guy on this list and in any other era would have been remembered as a true great champion. Lewis was champ when the sport was awash in controversy and waning in popularity. He was a hell of a fighter though. He had size, power, surprising mobility and was very underrated for his boxing intelligence. But he also had the weakest chin of any guy on this list.
8 - Larry Holmes. If Larry would have never spoken to the media, he'd be remembered much better. Early on he was Ali's sparring partner until Ali got tired of getting beaten up. Holmes was a superb tactician who had a devastating jab and reigned the division when it was perhaps at it's weakest. Then again, maybe he just made his competition seem so weak because he was so masterful? By the time Mike Tyson came along, Holmes was far too over the hill to even put in a respectable effort.
7 - Muhammad Ali. Called himself "the greatest", but he wasn't even the greatest of his time. He is certainly the most overrated of all time. Maybe he was the greatest at standing up while getting the crap beaten out of him? He wasn't a hard puncher as history portrays (only 37 KO in 56 wins) and he wasn't even a smart fighter most of the time. He had stamina and toughness, no doubt and he also missed his prime with the mess in avoiding the draft or we'd never know how many more fights he would have lost, would we?
6 - Joe Frazier. Quite simply, he won "the Thrilla in Manila" but only took the loss because his corner threw in the towel first. Ali didn't want to go another round. Smokin' Joe did. It was perhaps the best fight in history and under today's rules, with 12 rounds instead of 15 would have gone to Frazier every time. He's ahead of Ali because he was a better boxer than Ali.
5 - George Foreman. He ruled two eras twenty years apart, there's something to be said for that. He also cashed in on his fame more than any boxer ever. Big George is perhaps the hardest hitter of them all and if not for all the controversy surrounding his "mysterious" illness in Zaire, he might have been champ for a long, long time.
4 - Rocky Marciano. 49-0. Undefeated is undefeated. Sure he didn't have the competition as some of these other guys and at 5'10, 185 lbs, Rocky wouldn't likely beat anyone else on this list, toe-to-toe but he was as tough as they came. He took on all challengers and sat them all down. That's what gets you only to fourth on this list.
3 - Jack Dempsey. When scientists name a species of aggressive fish after you, you made an impact in your field. Dempsey was a hard puncher, an aggressive attacker and was hands down the most punishing boxer of all time. He was a brutal savage who would destroy an opponent whenever he choosed. He fought like a starving tiger.
2 - Jack Johnson. Allegedly had an official 89-2 record but also fought perhaps hundreds of exhibition fights. He was everything Ali wanted to be. Jack was brash, loud, braggadoccio and had the skills to back it all up. Like Ali, Johnson missed some time defying and fleeing from American law. He was also the motivation behind the search for "The Great White Hope" - an effort to dethrone the black champion with a white boxer. By today's standards, Johnson would be a sloppy fighter as he had the tendency to just stand in the middle of the ring and slug away. He also tended to prop up opponents to extend matches because he was being paid by the round. Then again, Johnson sometimes fought 50 or more rounds with handfuls of opponents in a single night. He helped popularize the sport world wide, wore fur coats and fancy hats creating the "pimp" look and even notched a few U.S. patents in his spare time. There are still ongoing efforts to get his record exonerated for the crime of defying the Mann Act.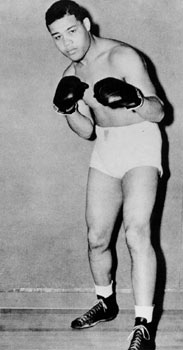 1 - Joe Louis Barrow - 69-3 (or 68-3 depending on who does the counting) career record. The Brown Bomber was so good, he is remembered only by his first two names. He could put anyone on their butt anytime he wanted to. If the media coverage of boxing when Louis fought was equal to the attention Mike Tyson got, Louis would be bigger than Babe Ruth in American lore. In one round, he altered the world's consciousness when he defeated Max Schmeling in front of Adolph Hitler in Nazi Germany. And he galvanized the nation during WWII when he said "We will win because we have God on our side". He was as close to "the perfect fighter" as you could dream up. He had the speed, the power, the will, the chin and absolutely ran the show once the fight started. He was also champion longer than any other heavyweight fighter in history. A great American and also the Greatest Heavyweight Champion ever.
Ad blocker interference detected!
Wikia is a free-to-use site that makes money from advertising. We have a modified experience for viewers using ad blockers

Wikia is not accessible if you've made further modifications. Remove the custom ad blocker rule(s) and the page will load as expected.