Real Basic. The 13 best rivalries among teams in the four major pro sports leagues.
Thirteen just missing the list (no particular order):
New England Patriots v. Indianapolis Colts,
New York Rangers v. New York Islanders,
New York Giants v. Washington Redskins,
Cleveland Browns v. Baltimore Ravens,
Edmonton Oilers v. Calgary Flames,
New York Mets v. Philadelphia Phillies,
Chicago Cubs v. Chicago White Sox,
Montreal Canadiens v. Boston Bruins,
Los Angeles Lakers v. San Antonio Spurs,
New York Yankees v. Los Angeles Dodgers,
Cincinnati Bengals v. Cleveland Browns,
Washington Capitals v. Pittsburgh Penguins,
New York Yankees v. New York Mets.

13. Chicago Bulls v. Detroit Pistons - It started in the late 60's when the Bulls joined the Association. It jumped up several notches with the Jordan Rules, it continues today. Chicago and Detroit are natural rival cities based on geography and American history. The Bulls and Pistons always battle it out.
12. Los Angeles Lakers v. Boston Celtics - As storied a rivalry as there is in sports. These two teams have met in the NBA Finals so many times, no one even counts any more. These teams started as rivals since the days when the Lakers team name made sense as they were still in Minneapolis. For a rivalry across divisions to remain intact this many years is indeed remarkable.
11. Kansas City Chiefs v. Oakland Raiders - In the mean AFC West, these two teams have battled the hardest for the longest. Both teams were stalwarts of the old AFL and no matter their records, they always fight, tooth and bone, blood and guts.
10. New York Yankees v. Boston Red Sox - It's by far the most overblown rivalry in sports history, but it is a rivalry for sure. It originates with the sale of Babe Ruth. The recent history and perhaps the location of a certain cable sports network smack dab between the two franchises have magnified the true nature of this rivalry. But it gets people talking, that's for sure.
9. Pittsburgh Steelers v. Cleveland Browns - In the AFC North, all the teams hate each other, but few things will get a donnybrook rolling faster than a Steelers-Browns game. There's nothing worse in Cleveland than someone calling your mother a Steelers fan - and vice versa in Pittsburgh.
8. San Antonio Spurs v. Phoenix Suns - It seems the Spurs and Suns are always making moves not just to top the Western Conference but more importantly, top each other. They seem to meet every year at a critical juncture and beat the crap out of each other until the better team is left standing and the losers retreat bloodied and bruised - literally AND figuratively. Lately, it's been the Spurs in the driver's seat but this rivalry goes back much further than Robert Horry shoving Steve Nash.
7. Philadelphia Flyers v. New Jersey Devils - How many teeth have been lost over this match up? I mean in the stands alone, not just on the ice. Philly fans are notoriously tough customers and Jersey sports fans are prideful and easily provoked. A good percentage of Flyers fans are South Jersey natives. Once the Colorado Rockies were moved cross country to the Meadowlands and renamed the Devils, the state was split in two and all Hell (pun intended) broke loose! The Flyers and Devils have other hated rivals (see: New York Rangers) but they seem to find the keys to the reckless abandon more easily when facing each other.
6. St. Louis Cardinals v. Chicago Cubs - There's no love lost for these two teams. Each fan base views the other with disgust and seething hate. It's pound for pound as good as just about any rivalry in all of sports - around the globe. When these teams match up, you know you're getting your money's worth.
5. Green Bay Packers v. Chicago Bears - The NFL's longest running rivalry. These teams go to war every time they meet. The Bears could lose 14 games a season as long as those two wins came against the Packers. That sentiment goes both ways.
4. Detroit Red Wings v. Colorado Avalanche - "I can't believe I shook his hand." Throw the records out when these two teams meet up. It doesn't even matter who is on the rosters. The sight of each other's logo incites fire in every fan in Michigan or Colorado - and beyond.
3. Philadelphia Eagles v. Dallas Cowboys - Pick any NFC East matchup in this slot and you can't go wrong. The NFC East is the home of football rivalries. But Eagles and Cowboys is the best of them. These teams don't just hate each other, they circle their calendars as soon as the schedule is set. If you ever want to get a quick ass kicking, wear a Cowboys jersey in Philadelphia - on any day of the year, not just game day! There's a reason why the Cowboys are still in the NFC East instead of getting geographically realigned like every other team in the NFL. Rivalries!
2. Toronto Maple Leafs v. Montreal Canadiens - if a civil war ever breaks out in Canada, it'll be because the Leafs and Habs are playing each other. This is more than just history, tradition and sportsmanship. This is a battle of cultures. The underlying current on this match up grows hotter each year. It's English vs. French, it's social, it's political and it's pure hatred.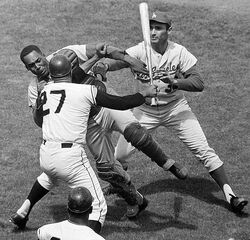 1. San Francisco Giants v. Los Angeles Dodgers - This is the longest, most storied and bloodiest rivalry of them all. These teams duked it out for supremacy of New York from the 1880's through the 1950's and over California ever since. These two teams are international icons. To say fans of these teams hate each other is an understatement. Radical Giant and Dodger fans routinely beat, stab, shoot and yes, kill each other in squabbles. That's not what makes this rivalry so strong though. It's that both teams truly derive joy from the sufferings of the other. Unlike most of these other rivalries, there is an equal balance in fortune and heartbreak between these rivals, which helps make it the best rivalry of them all.
Ad blocker interference detected!
Wikia is a free-to-use site that makes money from advertising. We have a modified experience for viewers using ad blockers

Wikia is not accessible if you've made further modifications. Remove the custom ad blocker rule(s) and the page will load as expected.