A pretty self explanatory list. The greatest and most storied players from the greatest and most storied sports franchise of all-time and its 26 best players (one for each championship, duh) - in descending order.
27: Twenty-seven players not making the list (in no particular order): Tino Martinez, Willie Randolph, Dave Righetti, Bob Shawkey, Bobby Murcer, Paul O'Neill, Al Downing, Tommy Henrich, Roger Maris, Hank Bauer, Phil Rizzuto, Herb Pennock, Red Rolfe, Bill Skowron, Waite Hoyt, Hideki Matsui, Catfish Hunter, Wally Pipp, Gil McDougald, Allie Reynolds, Earle Combs, Bob Meusel, Tony Kubek, Mel Stottlemyre, Charlie Keller, Jack Chesbro and Mike Mussina.
26: Andy Pettitte - Fourth All-Time on the Yankees win list and should move into #3 this year. One of the many players that define what Yankee Class really means.
25: Jason Giambi - How is Giambi on this list when Hall of Fame players like Phil Rizzuto, Catfish Hunter, Jack Chesbro and aren't? Because Giambi was 10th in franchise HR (209) coming into this season (he was one ahead of A-Rod and Jeter). It's easy to miss Giambi played 7 seasons with the Yanks and posted some pretty hefty, yet quiet quality numbers.
24: Thurman Munson - Like far too many of the Yankees greats, we will never know what he was fully capable of. He certainly left a lasting impression on the organization.
23: Ron Guidry - "Gator" had one of the finest seasons by any pitcher ever in 1978 going 25-3 with a 1.74 ERA including NINE shutouts. He had a career .651 winning percentage with the Yankees over his career.
22: Dave Winfield - After hitting .045 (1 for 22) in the '81 World Series, George Steinbrenner called him "Mr. May" but he had at least 97 RBI in every season he spent with the Yankees (not including strike-shortened 1981). Winfield gets remembered for killing a seagull as much as anything else he did as a Yankee, but make no mistake; he was great.
21: Tony Lazzeri - The Yankees' best second baseman in team history. He's a Hall of Famer and had extraordinary power for a middle infielder for his era. He drove in over 100 RBI seven times during his Yankee tenure.
20: Jorge Posada - Few catchers have the credentials of Posada and he is perhaps the best switch hitting catcher ever. The Yankees sure have had a ton of great catchers.
19: Goose Gossage - Goose was a handful when he was in pinstripes. On and off the field. His exploits on the mound were Hall of Fame caliber and his quotes and squabbles with Mr. Steinbrenner and the media are simply legendary. Throw in one of the best mustaches in sports history and you almost wonder why he isn't higher up this list!
18: Elston Howard - An MVP, gold glover, a team player, maybe not Hall of Fame worthy but still a solid player for a long time in New York.
17: Graig Nettles - He could field as good as anyone to play the game and was a fine hitter as well. Perhaps history has not been kind to Nettles but he is certainly regarded by most knowledgeable Yankees fans - as well as true baseball buffs - as one of the finest third baseman ever to step on the field.
16: Red Ruffing - Second in most Yankee all-time pitching categories to Whitey Ford. He amassed 261 complete games as a Yankee. Wow.
15: Bernie Williams - Bernie is not only a hitting aficionado but was also an excellent defensive centerfielder. He anchored the late 90's Yankee Dynasty and is one of the game's best switch hitters ever. Extra points for being such a talented and refined musician.
14: Roger Clemens - Perhaps the greatest and most accomplished pitcher ever to don the pinstripes and easily one of the 2-3 best pitchers since WWII. Clemens only spent 5 seasons with the Yanks but was entirely dominating
13: Bill Dickey - Another Yankee great who lost a part of his career due to WWII, Dickey was the Bridge spanning the Ruth, Gehrig and Di Maggio eras. He was a stalwart behind the dish and was the team's driving force on the field and in the clubhouse. He is often overshadowed in the annals of time by the other great Yankees but on many other MLB teams, he would be thire greatest player in franchise history.
12: Lefty Gomez - Gomez was a two time pitching triple crown winner and the ace of the Yankees through the 30's. The Yankees won all 5 World Series he went to and he was 6-0 with 4 complete games in his seven World Series starts.
11: Don Mattingly - "Donnie Baseball" dominated the game for a 3-4 year span during the Yankees' most futile run in the organization's history. One of the slickest fielding and sweetest swinging first sackers ever to play the game. If not for health issues, Mattingly would have easily been a Hall of Fame player and is still regarded as one of the Yankees' finest players ever.
10: Alex Rodriguez - A-Rod was well on his way to becoming the greatest shortstop of all time when he joined the Yankees and slid over to third base. His numbers with the Yankees are easily among the greatest of any third baseman ever. He will likely retire as the all-time career Home Run leader.
9: Reggie Jackson - Mr. October. The Straw that stirs the Drink. Few players will ever carry such an immense ego so well. When he said they would name candy bars after him, it didn't take long before he was proven right. His 1977 World Series gets him on the top 26 list alone. his body of work was quite impressive. Few players hit a ball as hard a Reggie.
8: Joe DiMaggio - You know your team is loaded when Joltin' Joe is only #8 on the list. He missed a few years acting as a great American patriot in two wars. The Yankee Clipper was a contact machine and an American Icon in an important time in baseball history and the American Culture's history.
7: Mariano Rivera - Easily, the Greatest reliever of all time, not just Yankee reliever. His cutter is one of the 3-4 most devastating pitches in baseball history. No reliever has ever meant as much to his franchise as Rivera does.
6: Derek Jeter - The only player with 200+ HRs and Steals in pinstripes. Jeter has done it all. Gold Glove, Mr. November, 4 rings, 9 All-Star games (so far) and he's the Captain. He's going to end up with the most hits in a Yankee uniform. Instant Hall of Famer, class act and not just the Yankees' ambassador, he's baseball's ambassador!
5: Whitey Ford - Hands down the greatest Yankee Pitcher. Records upon records, regular and postseason. .690 winning percentage. Hall of Fame. If you needed to win a game, Whitey was the guy for you.
4: Mickey Mantle - What could have been? Easily the most physically gifted of any baseball player ever. Mick put up filthy numbers during his healthy prime and one can only wonder how good he really could have been. The fact that his teammates and Yankees employees named 13 of their offspring "Mickey" after him is indeed a fitting tribute.
3: Babe Ruth - #3 on the uniform, #3 on this list. Why? He might have been the greatest thing to ever happen to baseball but imagine if he didn't spend so much time pitching early in his career or partying throughout his career. His numbers dwarf most mortal Yankees' numbers but they could have and should have been even greater.
2: Lou Gehrig - Mr. Yankee. Perhaps the greatest gentleman ever to grace a baseball diamond. He's ahead of Ruth because he batted behind him in the lineup. For Gehrig to accumulate the numbers he did batting AFTER Ruth, it's simply amazing - He came up to bat several hundred times with the bases empty. He lost a good chunk of his career to ALS or his numbers would have been more gaudy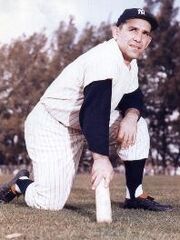 1: Yogi Berra - Count the rings. Lawrence Peter Berra was the heart and soul of the Yankees during their most dominant run. He was a general on the field and one of the best hitting catchers of all time. He was very underrated as a defender as well. Catching is the most important every day position and Berra exemplified what it meant to be a Yankee. The numbers don't tell the whole story of Yogi's greatness, he is the reason the Yankees were so great for so long.
Ad blocker interference detected!
Wikia is a free-to-use site that makes money from advertising. We have a modified experience for viewers using ad blockers

Wikia is not accessible if you've made further modifications. Remove the custom ad blocker rule(s) and the page will load as expected.