Straightforward. These are 21 great and very, very valuable players who never won an MVP during their career.
Notes - for the NFL, only the AP MVP award is recognized in this construction of this list, not the PFW MVP or any other subpar annual award. For the NHL the Hart Memorial Trophy, not the Lester B. Pearson Award is used for the comprisal of this list.
First, here's the 21 players who just missed the list:
Eric Dickerson
Jari Kurri
Greg Maddux
Larry Csonka
Clyde Drexler
John Riggins
Kirby Puckett
John Bucyk
Jim Thome
Peter Stastny
Stan Mikita
Warren Moon
Pedro Martinez
Ray Bourque
Mike Piazza
Dave Winfield
Dale Hawerchuk
Pavel Bure
Jim Kelly
Eddie Murray
Rick Barry


21. Steve Yzerman – As a stalwart with the Red Wings franchise, Stevie Y missed out on his closest MVP shot in the '88-'89 season when Mark Messier won his first MVP award as Yzerman earned the player's votes and the Pearson award. Oddly enough, The Captain was a 1st team NHL selection only once in his career, but his value went far beyond statistics. His contributions to his team were his leadership, attitude and professionalism. His efforts helped resurrect a once proud franchise from the dregs back into "Hockeytown".
20. Patrick Roy - Goalies, like baseball pitchers don't get the same consideration for MVP voting as other players. Still, it's hard to think that Roy wasn't the league's most valuable player at least once in his storied career.
19. Franco Harris - When Harris retired, he was second among the game's all-time leading rushers. It's hard to believe the Steelers would have won four championships without him. He is the most valuable player for one of the NFL's all-time great highlight plays, "The Immaculate Reception".
18. Tony Gwynn - Mr. Padre is the National League's only player to win 8 batting titles and not take home an MVP award. His best seasons always came during another player's better best season. A lack of glossy power numbers may have hurt his cause but fans of San Diego couldn't imagine the Padres without him.
17. Troy Aikman - The Quarterback that carried the Cowboys Dynasty back to glory never got much respect from the voters. Perhaps it was the weapons he had at his disposal in Emmitt Smith and Michael Irvin. Perhaps it was his lack of passing TD that subdued his totals to the voters as the Cowboys were a punch-it-in with a back type of team under Jimmie Johnson. He didn't throw many interceptions, either. Make no mistake, Aikman chucked it too. He gathered 2,500 plus passing yards in every season he played 12 or more games. In 1993, he had a remarkable 69.1 completion percentage.
16. Al Kaline - Kaline finished in the top 3 in MVP voting 3 times - twice finished 2nd - but never took home the award. Mr. Tiger won 10 Gold Gloves, was the youngest player ever to win the American League batting title (one day younger than fellow Tiger Ty Cobb was when he won his first title) and amassed more than 3,000 career hits. He was voted in to the Hall of Fame with 88.3% of the votes on the first ballot. Kaline was very consistent throughout his career but never had that one season with enough to get him an MVP award.
15. George Gervin -"Iceman" was as pure a scorer as has ever been. But even in his ABA days he was never an MVP. In 1979-80 Gervin poured in 33.1 points per game amidst his string of four scoring titles in a five year span. As the game transitioned from the NBA-ABA days to the new wave of talent in the Magic and Bird show, Iceman was the bridge.
14. John Stockton - Karl Malone took home two NBA MVP awards. He wouldn't have sniffed them without the passing of the game's all-time assist leader. Stock enjoyed 10 full seasons in a row averaging more than 10 assists per game and scoring more than 14 points per game. Stockton wasn't just a dump it down low and get the assist player, either. Stockton was an excellent defensive player and finished his career as the all-time steals leader too – by a wide margin – nearly 30% more than second place Michael Jordan's career totals. Stockton could score when he wanted or needed to, as well. He split share of the 1993 All-Star game MVP award with fellow Jazz great Karl Malone, but he probably deserved his own hardware a few times in his own right.
13. Dominique Wilkins – James Dominique Wilkins had one of the best nicknames in Sports; "The Human highlight Film". 'Nique made the term "posterized" commonplace in the NBA. His high-flying acrobatics and ability to take over a game with aggressive scoring helped usher in the new era of "Above-the-Rim" basketball as much as any player, including Air Jordan. History says MJ beat 'Nique in their famous showdown in the 1988 All-Star Dunk Contest but knowledgeable fans know the ledger was slanted and the home Chicago crowd was handed a gift – Jordan got the trophy but 'Nique was the real winner of that contest. He was a prolific scorer, even after suffering a devastating Achilles' tendon injury and enjoying his waning days in the NBA as a journeying vagabond. If Mike wouldn't have come along and made everyone want to be like him, we'd all be wearing a high top fade and talking about how many more MVP awards The Human Highlight Film should have won.
12. Eddie Mathews - Twice the runner-up, both times in a season in which he led the N.L. in HR, he lost out in '53 to Roy Campanella and in 1959 to Ernie Banks. One of the small handful of third basemen in the history of the game that can be argued as the best ever at the position, the argument against Mathews was that he never took home the hardware, but he certainly deserved it. His 1953 season at age 21 years old is an all-time great season with a .302 avg, 47 HR and 135 RBI.
11. Manny Ramirez - Ramirez probably gets the least respect from baseball writers among any of today's players. Nine seasons he has finished in the top 10 in voting yet twice he has finished in the top 4 but behind a teammate. Since 1998 he has been an absolute hitting machine. In 1999 he led the A.L. when he drove in 165 RBI, in 2002 he led the league with a .349 avg and in 2004 he won a HR title with 43 long balls. He might well have deserved the N.L. MVP award in 2008 (he did finish 4th in voting) despite playing only 53 games with the Dodgers.
10. Mike Bossy – His career was cut short by injuries but he scored 50+ goals in all of his full seasons. Another victim of "playing most of his career at the same time as a legend", Bossy missed the MVP award despite leading the NHL in goals twice. He had a career shooting percentage of 21.2, good for fourth all-time in NHL history. He was a master of the power play and had a knack for clutch scoring. Perhaps if he would have played well into his 30's he might have earned an award but alas, we will never know.
9. Dan Fouts – Fouts came along at the right time. As the head honcho and lynchpin of "Air Coryell" along with relaxed passing rules, Fouts put numbers on the board like few had ever seen before. The Chargers went on a run with talented Wide Receivers like John Jefferson and Charlie Joiner (later Wes Chandler) and Hall of Fame Tight End Kellen Winslow plus punishing running back Chuck Muncie. Fouts distributed the ball and as field general had his finest season in 1982, the strike season. The Pro Football Writers thought he was worthy of MVP yet the Associated Press gave their prestigious award to kicker Mark Moseley of the Redskins, instead. It is one thing to be worthy of an MVP and have another player get voted to win, but it hurts extra when that other player is a special teams player.
8. John Havlicek – He was one of the game's 50 greatest players ever. "Hondo" changed many things about the game of basketball. He revolutionized the sixth man role. He played ferocious defense and he helped anchor the Celtics Dynasty for 8 championship titles. He wasn't just effective, he was very valuable. Yet no matter how important he was to the Celtics, he never won the league's hardware. Havlicek averaged 20.8 ppg, 6.3 rpg and 4.8 apg for his career. In '70-'71 he averaged 28.9 ppg, 9.0 rpg and 7.5 apg. Though Hondo was the man behind one of the most famous announcing calls in NBA history, he simply played in the wrong era to "steal" an MVP award of his own.
7. Derek Jeter - Mr. Clutch came very close in 2007 and it's hard to believe that was the closest he ever came. As the Captain of Sport's most storied franchise, you'd think the late 90's run would have cemented his place on the MVP roll call. He had his better years at the wrong time and voters never seem to be able to properly quantify his clutch ability and other intangibles. Now, at this stage of his career, he might never win an MVP but he is a lock for the Hall of Fame without doubt.
6. Jerry West - "The Logo" never won the MVP award, either. He played in 14 straight All-Star games. He led the league in ppg in '69-'70 an the next season led the league in assists! He is fourth the association's career points per game list at 27.0. Despite scoring nearly ten more points per game than Willis Reed in '69-'70 and finishing 4th in the league in assists per game, it was Reed who took home the hardware. The next season, West was just as deserving but that was the same season that a young center named Lew Alcindor changed his name and began to start his charge at the record books.
5. Jerry Rice - Arguably the best football player ever and certainly the best Wide Receiver ever to catch a pass should have won at least one MVP award but he did not. In fact, only thrice did the Associated Press hand out an MVP award to a position player that wasn't a QB or RB, so Rice had that going against him. Also, the guy throwing all those passes to Rice might have been slightly more valuable after all. In 1987 (a strike season), Rice caught 22 TD in a mere 12 games and the Pro Football Writers vote gave the MVP award to Rice, but the AP believed John Elway was the more appropriate choice. His 1995 season was his finest with 122 catches for 1,848 yards and 15 TD yet the MVP that season went to Bret Favre. Rice can take consolation that Joe Montana and Steve Young couldn't have won their 2 MVP awards each without him.
4. Marcel Dionne - Fourth all time on the NHL's career goals and ninth in career assists list, Dionne was twice voted by the players as the Most Outstanding Player ('78-'79, '79-'80) but never garnered the MVP award from the writers. Dionne never led the NHL in goals or assists in any one season and only once ('79-'80) led the NHL in total points. He lost out to Bryan Trottier in '78-'79 and then in '79-'80 to some young 19 year old rookie named Wayne Gretzky. Dionne had 12 seasons with 90+ points and made the Hockey Hall of Fame in 1992 but never played in a Stanley Cup Finals game.
3. Elgin Baylor - Ten times Elgin Gay Baylor, a 6'5" Forward was a 1st Team All-NBA Player. He was in the top 5 in league scoring 7 times, in the top 10 in rebounding 7 times and top 10 in assists four times. But he also played his prime during the same time period as Wilt Chamberlain, Oscar Robertson and Bill Russell. Baylor averaged 27.4 ppg and 13.5 rpg for his career but never led the league in either category. He won All-Star Game MVP and Rookie of the Year in the same season and he was inducted into the Hall of Fame in 1977, but he never won an MVP award. Despite playing his entire 14 year career with the Lakers, they never won a championship with Baylor on the court, either. An enigmatic career, indeed.
2. Mark McGwire - As even a casual fan of sports circa 1999 and they know Mark McGwire's name and face. He was everywhere yet magically, mysteriously it was Sammy Sosa that walked away with the MVP award. Perhaps the voters just felt sorry for the longsuffering Cubs and rewarded their playoff appearance more than appoint McGwire the award. Steroids, PEDs, Andro, whatever, McGwire was as big to the game as he was big. He definitely deserved MVP consideration for his 1997 but was traded between leagues midseason resulting in a mess for the voters to unscramble. In which league was he Most Valuable Player when he only played half a season in either? There are also decent arguments to be made that he was the MVP in 1987 and even 1988 when his fellow bash Brother took home the honor. Looking at his career, it's pretty hard to fathom how he didn't win at least one MVP.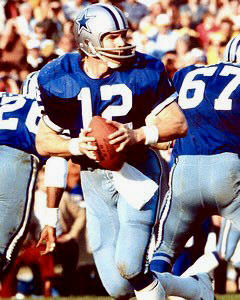 1. Roger Staubach - "Captain Comeback" was the heart and soul of "America's Team" during the 70's. More appropriately, HE was the reason they became America's team as his team won 75% of the games he started during his career! Perhaps regarded as the game's finest leader and a tremendous athlete, Staubach gave his prime years to the United States Navy in a tour of Vietnam instead of starting his NFL career. Staubach was the NFL's #1 rated QB 4 times in his 8 full seasons at the helm (naval pun intended). He became the first Heisman Trophy winner to win a Super Bowl MVP award and was voted as the Bert Bell Award winner in 1971 but the AP chose Alan Page - the only time a Defensive Player won the MVP award - and Roger never won an MVP award.
Ad blocker interference detected!
Wikia is a free-to-use site that makes money from advertising. We have a modified experience for viewers using ad blockers

Wikia is not accessible if you've made further modifications. Remove the custom ad blocker rule(s) and the page will load as expected.