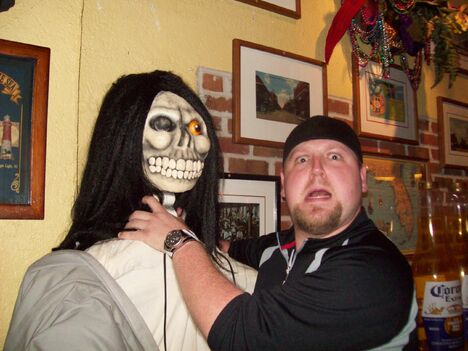 Sometimes covering sports for a living makes you choke the hell out of your friends and co-workers. I'm going to miss Fred.
The news went out yesterday that I was leaving my post here at the National Wrestling Coaches Association as the Director of Media Relations and "InterMat Guy." Even though the second part isn't an official title, it's basically what I have to explain to folks when they might not recognize me or the name, pretty standard, really.
Well, here's some backstory, for those that might be curious. If not, the Four Points will be in full force tomorrow.
Growing up, my dream was to be a sports broadcaster. I obsessed about sports, watched ESPN constantly, played a litany of sports — baseball was my best — and did the things kids did, but I knew at a very early age what I wanted to be "when I grow up."
Enter a move to Poquoson from Newport News and the opportunities started to rise. Miffed about getting cut from an AAU basketball team, the new kid said screw it and quit sports in this little town. It was another sport that brought me back to competitive athletics — wrestling — and it was Poquoson's fault. Not to mention wrestling coach Billy Ruff. Well, during high school, I was announcing eight sports, going to wrestling practice, getting the crap beat out of me, doing stats and then as a senior, I started working at the Daily Press, the local daily paper that serves Hampton, Newport News, Williamsburg, York County, etc.
In college, I assumed roles as the Sports Director for the campus radio station AM 1570 WODU. Broadcasting took hold, but at the same time, so did a little web site I created in Whitehurst Hall, room 440B on October 25, 1997.
Through wrestling, I got more chances to get on the mic — one love was facilitating the other — so I was getting the best of both worlds. As my writing progressed, my mic skills honed and my behavior calmed, things started going well with work.
After seven years at Old Dominion, I moved into a full-time position at the Daily Press. I was a solid page designer, a pretty fair copy editor and I was the only one willing (and eager) to continue the wrestling beat. Rankings hadn't been in the paper in over 20 years until the "Mat Talk On-Line/Daily Press Peninsula Wrestling Rankings" made their appearance. Yeah, that little Mat Talk web site, which was derived from my old radio show on AM 1490 WXRE in Hampton, took over.
I'd love to tell you I was one of those kids who went to class and knew how to balance work, responsibility and hobbies — yeah, I didn't learn that until year five.
Anyway, the Mat Talk thing got me freelance gigs with USA Wrestling. I was cheap to hire and would usually be at these events anyway. A chance trip to Fargo was a big reason there — Mike Newbern calls me up and goes "Hey Twinkie, want to go to Fargo?" I never competed in Fargo, but my teammates had.
That was where the USAW folks saw me working, about to turn 19, on Mat Talk On-Line, fighting over phone lines with the folks at NCMat (just kidding Sara). That led to freelance work and chances to cover the 2003 World Championships and the 2004 U.S. Olympic Trials.
All the while, I'm still broadcasting 2-3 basketball games a week, working nights, doing wrestling rankings and of course, being a college student.
When the NWCA approached me, it was basically to cover college wrestling for InterMat as a freelancer. I swapped freelance duties and my education in college wrestling really began. I knew it before, but now I had to "know" it.  That year was also my first real gig with television. I'd been a spotter/stats guy for ESPN at the 2004 Championships and had a slew of radio time, but this Comcast deal was the chance to see if I could handle the camera.
The CAA launched that idea and it eventually showed up in the NCAA News (my mug and all). Then came another TV gig doing the actual play-by-play on a local TV station. Yes, I'm still active in wrestling while doing all this.
In St. Louis that year, I got a heads up that Tom Owens was leaving his position and the NWCA was curious if I'd be interested in the position. I'd quit the newspaper in November of 2004 and the night I finished up, I was in a van heading to Lock Haven the next day to cover Mat Town.
Wrestling was going to be a factor. I left my last job because they cut my wrestling off. My trips to the Beast, gone, Fargo would mean taking vacation. Yeah, wasn't too keen on that.
Well, fast forward, I took the InterMat job, moved to Pennsylvania, started announcing some sports at F&M like wrestling and women's lacrosse and now this.
It's hard to write a press release about yourself. Even harder to come across humble in a blog, but if anything, I'm thankful to all those wrestling fans out there who enjoy what I write, how we present news on the website and the overall level of coverage. It's a lot more work than people think it is. It's a lot of long hours and late nights.
So now I'll have the opportunity to again have one love facilitate the other — wrestling has pushed me into the television medium. How I handle it remains to be seen, but it's just that much closer to achieving my childhood dream. Wrestling has provided me those avenues.
So this job basically won't be much different in terms of traveling to events, but instead of writing for a web site or a publication, I'll have a hand in producing, writing, managing content and some on-air and voiceover work. I'm pretty excited about the opportunities that are ahead.
My sister sent me a myspace message last night and it made things clear … I have been staying the course and following what I want to do with my life. Thankfully, I've had people around me and a good support system that have helped me along the way.
I'll miss some things and there's some things I won't miss, but at least I'm still here doing what I can to not just self-servingly help myself, but do something to help wrestling in the process.
Ad blocker interference detected!
Wikia is a free-to-use site that makes money from advertising. We have a modified experience for viewers using ad blockers

Wikia is not accessible if you've made further modifications. Remove the custom ad blocker rule(s) and the page will load as expected.