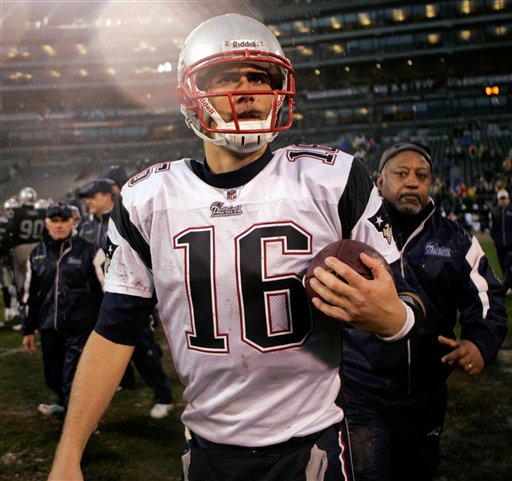 At the end of New England's 49-26 victory over the wallowing Raiders, quarterback Matt Cassel weaved through the crowd of players, coaches, and media swarming the field. He held the Game Ball tight to his side, clutching it to his side as if he were rushing through a wall of linebackers, and not walking through a calm sea of post-game minglers.
Cassel was rewarded the Game Ball because of an outstanding. He threw for 218 yards on 30 attempts, and tallied a career high 4 touchdowns, 3 of which came in the 1st half. He threw an interception that was the result of a pass tipped by his own receiver.
Cassel didn't run to the locker room, he didn't dawdle. He didn't avoid conversation, but he didn't seek it. His helmet was still on. A few Raiders greeted him as he passed. None of them wanted to hold him up from wherever it was that he was going.
Bill Belichick encountered Cassel, opened his arms, and embraced him. Belichick is the Ebenezer Scrooge of hugs, almost never giving them away. The only other post-game hug I can remember is the spiteful one he sprung on Eric Mangini. Habitually a miser with his emotions, he hardly ever displays them for all to see. Even anger has difficulty seeping through his aluminum sided face.
Cassel stayed in California while his teammates flew back to New England. He still had more business on the West Coast. He had to bury his father, who died last Monday in San Bernardino.
Four years earlier, on the same field, Brett Favre played his famous Tribute Game on Monday Night Football. He threw for 399 yards and 4 touchdowns. 311 of those yards came in the 1st half, as did all four TDs.
Favre's game will forever be the more famous of the paternal homages. The Packers were on Monday Night Football. Favre's father died the day before the game. His numbers were better. He became the 2nd most prolific TD passer in NFL history that game. He's Brett Favre.
There are some strange similarities, however, between the two games. Both were played in December. For both the Packers and Patriots, the victory was their 9th of the season. Both times, the defeat was Oakland's 11th. The Pack and Pats both needed wins in order to remain tied atop their divisions.
I'm normally a cynical, by the numbers, winning is everything kind of sports fan. I missed the 1st half due to work and didn't think too much about Cassel as anything but a QB having a great day. But when I saw him holding onto that Game Ball for dear life, and saw other players saying "Good game" knowing that those words conveyed so much more, I saw him and the rest of the athletes on the field in a more human light.
In other words, Henry Russell Sanders was wrong. Winning isn't everything, and it is far from the only thing.

Photo credit: AP Photo/George Nitkin
Ad blocker interference detected!
Wikia is a free-to-use site that makes money from advertising. We have a modified experience for viewers using ad blockers

Wikia is not accessible if you've made further modifications. Remove the custom ad blocker rule(s) and the page will load as expected.