Whoever says "this is going to be a boring game," when speaking of tonight's Monday night matchup between the resurgent Arizona Cardinals (5-3) and San Francisco 49ers (2-6) must not be a true NFL fan.
Yes, yes, I understand that San Fran's defense isn't exactly most people's cup of tea, but they have a new leader.  Mike Singletary.  You know, the Hall of Fame linebacker who helped Mike Ditka's Chicago Bears to a Super Bowl title in the '85 season.  And for those who didn't know all that...now you do.  We have already learned that Singletary has enough guts and firepower to lead an NFL team despite him being winless as the team's head coach.  In fact, they are currently on a five-game skid (last win: week 3 over the winless Detroit Lions).
Singletary is all about defense and I'm pretty sure he lives by the saying "defenses wins championships."  Only problem is, the Niners' defense is currently ranked 20th in the NFL in total defense.  There just isn't enough talent on the defensive side of the ball for San Francisco.  Say the personnel spends their big bucks on a few playmakers (and a decent QB, of course), and it may be a whole different story out west.
Bring in a QB who can protect the ball and who knows how to get the ball to his playmakers and maybe San Francisco will score a little more than their 21.4 points a game (19th in NFL).  Running back Frank Gore hasn't been getting as many carries as he should be getting (136 on the season; 17 per game).  If only the 49ers staff/front office will run the team the same way Singletary's 1985 championship team was run (run-oriented, smash-mouth defense).  It would be a pretty good idea to stop wasting all the good money on guys like Nate Clements and pick up some proven, experienced players on defense.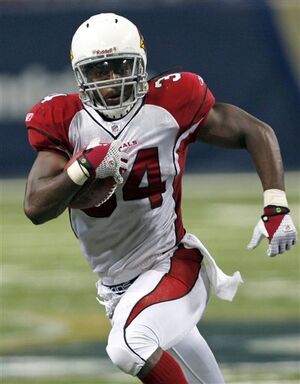 All I'm gonna say is...Build the defense around young LB Patrick Willis.  He is a tackling machine and has several Pro Bowl seasons in him.  Make him your leader and build the defense to fit his description.  That's is all I'm gonna say about their situation, it's time to talk about the game.
Kurt Warner has, surprisingly, put up Pro Bowl numbers for Ken Whisenhunt's number 13 ranked offense.  Warner has put this offense on his shoulders and carried them to five 30+ point games, which included big wins over Miami, Buffalo and Dallas (OT).  The three losses??  Well, they are excusable, I guess.  Washington's offense was on a hot streak at the moment (week 3: 24-17).  Brett Favre passed a career-high six TD's, and Arizona's offense still scored 35 points with Warner's 472 passing yards and 2 TD's (week 4: 56-35).  And, Warner threw for 381 yards and 2 TD's in the team's close loss to the 6-2 Carolina Panthers (week 8: 27-23).
I'm sure the name Edgerrin James puts a little fear in defenses, but it has actually been the young Tim Hightower who has done the most damage in the Cards' run game, which is ranked a dismal 30th in the NFL.  James has the yards (108 attempts, 380 Yards, 3.5 YPC), but Hightower, the rookie out of Richmond, has the TD's.  Hightower has made a name for himself in the red zone with 7 rushing TD's on the season, and is usually the guy Arizona goes to when they need to pick up a first down.
As you can clearly see, the Cardinals haven't had much trouble on offense, scoring 17 or more points in all eight of their games in 2008.  Had the Cardinals' defense been able to keep opposing offenses out of the end zone, they would most likely be up there with the Titans.
Any casual NFL fan would say the 49ers have no shot.  Especially when you add in the "idea" that Arizona is motivated this week after Singletary pulled down his pants during halftime of last week in an attempt to motivate his 49ers team.  I really have no idea where that "idea" came from, but if it's true then it just adds even more on to the Cardinals' side of things.  I am going to go on record and say the Cardinals' second-ranked pass game will destroy the Niners' 19th ranked pass defense.  Warner will throw for 330 yards and 3 TD's in Arizona's big win over their division-rivals.  Do you think Singletary will pull his pants down again?  Oh I don't know, but he just may have to if Warner lives up to my expectations.
Hightower will run for 100 yards while adding 2 TD's.  San Fran QB Shaun Hill--if he still is SF's QB--will throw two or more interceptions against Arizona's 18th ranked passing defense (5th in overall defense).
Ad blocker interference detected!
Wikia is a free-to-use site that makes money from advertising. We have a modified experience for viewers using ad blockers

Wikia is not accessible if you've made further modifications. Remove the custom ad blocker rule(s) and the page will load as expected.