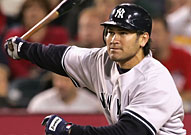 Johnny Damon graces the list twice this week as well as one appearance by teammate Bobby Abreu.  Sexson, Griffey, and Manny all continue their own chase for home run milestones.  Troy Percival also tries to break into the top 10 all-time in saves.
This list contains the 15 most likely milestones to be achieved in the upcoming week.
The list includes either general milestones or surpassing players in the top 10 all-time of a statistical category.
The top of the list shows the most likely to happen in the next week, the further down the list, the less likely it will happen this week.
PLAYER-TEAM-MILESTONE-CURRENT#
Johnny Damon-Yankees-1300 Runs-1298
Richie Sexson-Mariners-300 Home Runs-299
Todd Helton-Rockies-1000 Walks-996
Johnny Damon-Yankees-400 Doubles-397
Arthur Rhodes-Mariners-1000 Strikeouts-997
Dmitri Young-Nationals-300 Doubles-296
Ken Griffey, Jr.-Reds-600 Home Runs-597
Juan Pierre-Dodgers-400 Stolen Bases-395
Greg Maddux-Padres-350 Wins-349
Manny Ramirez-Red Sox-500 Home Runs-496
Troy Percival-Rays-331 Saves(10th)-329
Luis Gonzalez-Marlins-1400 RBIs-1395
Bobby Abreu-Yankees-1100 Walks-1094
Ivan Rodriguez-Tigers-1200 RBIs-1193
Brad Ausmus-Astros-1500 Hits-1492
Ad blocker interference detected!
Wikia is a free-to-use site that makes money from advertising. We have a modified experience for viewers using ad blockers

Wikia is not accessible if you've made further modifications. Remove the custom ad blocker rule(s) and the page will load as expected.