The Lions proudly introduced Mike Martz as their new offensive coordinator in 2006, but Martz's two-season tenure here, by any measure, has been a disappointment.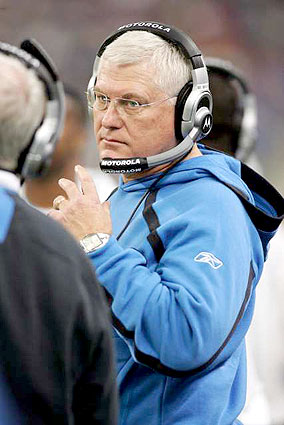 The only way Mike Martz could possibly be able to keep his job, is to get at least 1000 yards on offense today against the Green Bay Packers. If he can't do that, he can kiss his job good bye. The Detroit Lions are expected to fire the offensive coordinater after today's game.

The Lions will replace the veteran coach with receivers coach, Kippy Brown. The head coach Rod Marinelli and Mike Martz have two different mindsets when it comes to coaching. Martz is more of the "air-it-out" type of coach, while Marinelli is more of a "grounded" person (hahahaha). The Lions rank near the bottom in several offensive statistical categories, including rushing and interceptions and they have lost six of their last seven games.

This season, Detroit ranks 19th in the NFL in offensive numbers (eighth in passing, 30th in rushing). They have more interceptions (20) than passing touchdowns (18), a major reason they are in third place in the NFC North. Martz had quarterback, Jon Kitna looking good in the first half of the season, but since then, he has looked pretty flat. I don't know if Martz was to blame for the Lions struggles though.

Martz was a guy who ran a high powered offense in St. Louis with the Rams, but coming to Detroit just destroyed his reputation. One team that was said to pursue Martz was the San Francisco 49ers.
This is a good move for Martz rather than it is the Lions. I mean, Martz is(was) the best coach they probably have(had) in the organization. He can now go on to find a team with some decent players. Martz wouldn't ever be able to have the same offense in Detroit like he did in St. Louis. He was the architect of the high-scoring "Greatest Show on Turf" offense that featured Warner, running back Marshall Faulk and receivers Isaac Bruce and Torry Holt.
It's funny how an organization can ruin your whole career. He can go on to another town and try to succeed. Having Martz in Detroit was bad for the team. The chemistry never seemed to work between Marinelli and Martz. Many would call Martz a failure, but it's not his fault that the offensive line is as soft as cotton. It's not his fault that Kitna is almost as old as Brett Farve, but he doesn't have his talent. Thank Matt Millen for that.

Kitna said that firing Martz would be a mistake.
"I hope he's back," Kitna said Wednesday. "That would be a hard thing for me to get over, not having him."
Who cares? Why have him ruin his career by staying in Detroit? He could use a little change of scenery. I hear the West Coast is nice.
Ad blocker interference detected!
Wikia is a free-to-use site that makes money from advertising. We have a modified experience for viewers using ad blockers

Wikia is not accessible if you've made further modifications. Remove the custom ad blocker rule(s) and the page will load as expected.