FLUSHING, NY -- The Mets announced today that they are retiring the letter "K" in honor of former Met pitcher Dwight Gooden, affectionately known around these parts as "Dr. K."
"In our team's history, we've reserved retired numbers for the real icons of the team -- Casey Stengel, Gil Hodges, and Tom Seaver. But fans have clamored many times for us to include a member of the 1986 New York Mets over the left field fence," said Jay Horowitz, Mets director of public relations. "Unfortunately, that team was made up of Gary Carter, Keith Hernandez, and a bunch of drug addicts. So we didn't know what to do."
Horowitz attributed the idea to a WFAN caller identified merely as Rob from Brooklyn. Rob from Brooklyn called Steve Somer's show one night, drunk off his ass, and said "you know what Steve? The Mets should honor Dwight Gooden by retiring his letter." Somers waxed poetic about it for the next 90 minutes, pointing out how Ray Knight would still be pronounced "Ray Night", but he'd be "night" as in "not day" as opposed to "knight" as in "guy in shining armor". And Dae Sung Koo would be Mr. OO.
In order to implement the change, Omar Minaya quickly changed his mind to bring Brady Clark up to the bigs instead of Fernando Tatis. "We really need a righty bat off the bench, and my original intention was to go with Clark," Minaya said. "But with these new uniform rules in place, I really didn't want to have a guy with the wrong name on his back. So I quickly called up Tatis' agent and asked if he was still available. Turns out he was, because no one wants a guy who obviously sucks as much as Tatis does.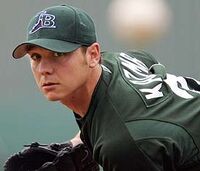 Jim Duquette, however, was not amused. "I've known about this forever," protested Duquette. "It was supposed to happen in April of 2004, honoring Gooden's 20 year anniversary of the day he made the bigs. We decided to push it off until August because we were going to promote this kid from AAA, and we didn't want to have "Azmir" on his back. So I quickly traded him for some guy named Zambrano instead. That Dr. Z guy, he's a pompous ass, and there's no way we're retiring his letter!"
"Anyway," continued Duq, "Then all hell broke loose and I was the fall guy."
Minaya refused to comment on Duquette's accusation.
Ad blocker interference detected!
Wikia is a free-to-use site that makes money from advertising. We have a modified experience for viewers using ad blockers

Wikia is not accessible if you've made further modifications. Remove the custom ad blocker rule(s) and the page will load as expected.