The
New York Mets
suffered a "blowout" from the New York Yankees and to add assault to injury,
Yankees
third baseman
Alex Rodriguez
hit his 564th home run,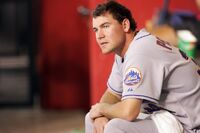 which passes former Yankee
Reggie Jackson
.
"Reggie's a close friend and a mentor," Rodriguez said. "Reggie is an American icon."
Jackson believes the negative attention surrounding Rodriguez won't be remembered forever. Jackson is happy that Rodriguez admits he made a mistake.
"The negativity that surrounds the steroids is certainly not something that I carry over to him," Jackson said. "I do appreciate the fact that he admitted his mistakes, so from here we move forward. Judgment on him will be passed with the next 7 1/2 years of his time with the Yankees."
Yankees center fielder Brett Gardner had three runs, five hits (including one home run), and two RBIs. Shortstop Ramiro Pena, went 3-for-5 with one RBI and two runs. First baseman Mark Teixeira, third baseman Alex Rodriguez, right fielder Melky Cabrera, and starting pitcher C.C. Sabathia all finished with one run.
Sabathia finished with seven innings pitched, one earned run and eight strike outs. Sabathia gets the victory and he's currently 7-4 on the season with an ERA of 3.55.
Mets manager Jerry Manuel believes the team's been struggling because of injuries. "We played a bad game. It was just one of those nights," Manuel said. "I think probably some of it is due because of the amount of players that we have missing."
Mets starting pitcher Mike Pelfrey pitched a nightmare game. He allowed two earned runs with three strikes and five innings pitched. Pelfrey suffered the defeat and is now 5-3 on the season with a 4.67 ERA. "There was a point there, I started laughing," said Pelfrey. "You want the ball to get hit to those guys. They make great plays all the time. That was just weird."
Right fielder Gary Sheffield provided the Mets' only run with a home run.
Yahoo Quotes
Ad blocker interference detected!
Wikia is a free-to-use site that makes money from advertising. We have a modified experience for viewers using ad blockers

Wikia is not accessible if you've made further modifications. Remove the custom ad blocker rule(s) and the page will load as expected.