The
New York Mets
defeated the
Baltimore Orioles
, 6-4. The Mets still remain second in the NL East, trailing the
Philadelphia Phillies
.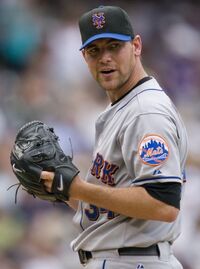 "It's a tough game. We've all been there," Mets third baseman, David Wright said. "I've dropped popups; I know how tough it is when you start backpedaling and that ball starts bouncing. That's the beautiful and sometimes the terrible thing about this game. It's very humbling. Just when you think everything's going good and everything's going well, something like that happens."
Wright finished with two runs and one hit. He had one RBI with five at bats.
Short stop, Alex Cora, had one run with three hits. Fernando Martinez, left fielder, had two runs with one hit.
Center fielder, Carlos Beltran, had one run. Catcher, Brian Schneider, went 2-3 and had one RBI.
Pitcher, Mike Pelfrey, finished with two earned runs and two strike outs. He received the victory and is currently 5-2 on the season.
Baltimore Orioles pitcher, Jeremy Guthrie, allowed three earned runs and six hits. He finished with four strike outs and two walks. Guthrie didn't get the victory and is 4-7 on the season.
Center fielder, Andrew Jones, had one run and one hit. Nick Markakis, right fielder, had one run, two hits with two RBIs. Melvin Mora, third baseman, had one run with one hit. Left fielder, Luke Scott, had one run with one hit.
Yahoo Quotes