This is the 29th edition of the popular Meet the Users series, where The Beast will be interviewing a particular ArmchairGM user. The goal for the series is to allow all users to know each other better. The 29th edition goes to Trizz
1. How did you learn about ArmchairGM? Why did you decide to join?
So like most here, it all began with a little blog, the now defunct Trizzknowssports.com, Dan sent me a message and I ignored it, I simply couldnt believe anyone actually read my blog. Then I put it to the test and put a different email in my next post and again Dan sent me a message so I came on here, and the rest is history...
2. What do you think of the Stephon Marbury acquisition?
I'm not concerned at all because as with most troubled superstars, winning cures all. I like him running the point for the second unit leaving Eddie House at the 2 where he can see alot more shot opportunities. House is a very underrated scorer in my opinion. I just hope come playoff time, Doc doesn't do the same thing he did with Sam Cassell and start taking the ball out of Rondo's hands.
3. Who do you think wins the tough A.L. East this year with the Rays, Red Sox, and Yankees, all among the best in baseball?
I'm a hometown guy so I really want to say the Sox but I think the Yankees are the favorite to at least take the division. Their rotation mirrors one of a fantasy team and of course they're known to drive in runs. If they can hold it together and stay healthy I think the Sox may have to settle for another wild card. What concerns me about the Sox this year is that they did nothing to boost their offense, which is what cost them the ALCS in my opinion. Varitek is on the decline, Papi is always a question mark, if the Sox want to compete with the Yanks they should've tried to grab a slugger. The Bay Rays can possibly build on last years success or simply fall beneath the high expectations set for them.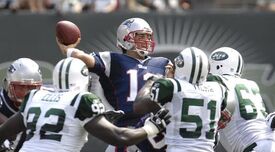 4. Are you the least bit concerned about Tom Brady's knee?
I've learned to trust the Patriots organization, trading Cassel was a bold move saying "Tom is back". It all comes down to protection, with enough of it anyone can succeed. I think Tom might have a year like Peyton did last year, a bit rusty at first but will soon get back into himself, so no I'm not worried
5. I remember my junior year of high school (2007-2008) was especially kind to Boston sports. The Red Sox won the World Series, the Patriots went 16-0, and the Celtics won the NBA Finals. There were a lot of great moments. What has been your favorite moment as a Boston sports fan?
My favorite moment had to be 2004, while I loved seeing my Celtics return to relevance nothing topped Game 7 of the ALCS and of course the Patriots cementing their dynasty. It revived a city and suddenly Boston sports wasn't known for who they were, but rather who they are.
Ad blocker interference detected!
Wikia is a free-to-use site that makes money from advertising. We have a modified experience for viewers using ad blockers

Wikia is not accessible if you've made further modifications. Remove the custom ad blocker rule(s) and the page will load as expected.