This is the 28th edition of the popular Meet the Users series, where The Beast will be interviewing a particular ArmchairGM user. The goal for the series is to allow all users to know each other better. The 28th edition goes to Pittsburgh Gunny
1. How did you learn about ArmchairGM? Why did you decide to join?
I learnt about ArmchairGM through reading that Uniwatch blog. There was a link one day on that blog to some kinda uniform related article posted here. I read the article and began to explore this site and really liked what I found here. After boning up on my editing skills I started to add information mainly with the hockey and soccer end of things. I still enjoy this site immensely it truly is one of the top quality sports site on the intertubes.
2. Last season, the Pittsburgh Penguins made it all the way to the Stanley Cup before losing to the Detroit Red Wings. However, this year, they have struggled and are just 4th in the Atlantic Division and 10th in the Eastern Conference. What has been the primary reason for their decline?
Oh dear, where to begin? Obviously the Flightless Ones did have some turnover in the squad. Ryan Malone was a force in front of the net on the power play and that has not been replaced. The loss Marian Hossa was huge as well because I think he was really starting to gel with Sidney Crosby. The third big loss was Jarkko Ruutu. The dear Fin had that wonderful knack to get the other team so mad at him that they sometimes left themselves vulnerable to the Penguins. A second thing I would say has been addressed, the coaching. While Therrien did a fantastic job up until this year I think his failings were exposed. He is not a micromanager of the game. For example he did not use his players to create the best opportunities for them on the ice. He would never take a time out near the end of the period in order to get Sid and Evgeni Malkin that extra bit of rest. Instead he would just roll his lines. Lastly it comes down to execution. One of the biggest problems the Pens have had is turnovers in neutral ice. Too many turnovers creates too many chances for the other team.
3. You are a pretty been hockey fan, but ever since the lockout it seems as if the NHL has taken a nose dive in terms of its popularity among the average Americans. If you were the commissioner, what changes would you make to return the sport to its once prominent place?
I guess that makes me an un-average American. Anyways, I think the NHL right now is the most entertaining sports league in North America. The changes made after the lookout were the right ones so I say don't change a thing. What needs to be addressed is making sure that the league has stability in its franchises. Problems in Phoenix, Atlanta and Nashville have shown that they may not be viable NHL cities. That's fine, but somehow I think those cities can support NHL hockey. Figure that out and the league will be in top shape.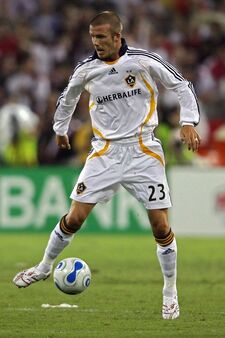 4. As a European soccer fan, what's your take on this whole David Beckham-LA Galaxy-AC Milan saga?
I would first classify this as the first baby steps an MLS team has taken in the real world of football transfer sagas. This type of positioning is pretty common amongst European clubs but it is new to clubs in MLS. Given that I am always of two minds on these types of situations. Firstly Beckham is under contract with the Galaxy so he should honor that committment. On the other hand, if the player is happier somewhere else and feels he is getting a better challenge in that situation then perhaps it is better for all concerned that he stay with AC Milan. I like the way the Galaxy is handling this, hold out for the rightful sum from the big club in Italy. Eventually I expect Milan to pony the dollars, euros or whatever over to the Galaxy and Becks will stay in Milan. While it was nice to have Becks come over here and play, he is not MLS. The league will survive just fine with or without him.
5. Lastly, after Ben Roethlisberger's game-winning drive in the Super Bowl, where would you rank his clutch performance among the all-time greats?
I don't really like to rank these types of things. To me it implies what happened in this game was in some way better or more accomplished or less than what happened in the past. I would rather appreciate these types of moments on their own merit. Big Ben's performance was amazing though and the touchdown throw to Santonio Holmes was the capper to a marvellous game. I was watching the game with Mrs Gunny and right after Larry Fitzgerald caught and ran the Cardinals into the lead she was very upset. I remember quotes from her sounding something like, oh they're going to lose now! She finally looked at me and asked how I could be so calm. I replied "just sit back, relax and watch Ben." Truly something special that one.
Ad blocker interference detected!
Wikia is a free-to-use site that makes money from advertising. We have a modified experience for viewers using ad blockers

Wikia is not accessible if you've made further modifications. Remove the custom ad blocker rule(s) and the page will load as expected.