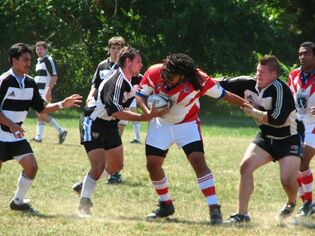 This is the eighteenth edition of the popular Meet the Users series, where The Beast will be interviewing a particular ArmchairGM user. The goal for the series is to allow all users to know each other better. The eighteenth edition goes to BigPPup
1. How did you learn about AGM?
I first learned about AGM when DNL spammed my blog. I should have reported him then, but I guess he was a good guy in the end. And I have to thank him and the Chair for all the help he has given me over the years, and I'm glad I'm on the Chair.
2. Virginia was vastly improved in 2007. Is Al Groh really going to lead this team to even greater heights or was this year's sucess just a mirage?
The Cavaliers were a much improved team last season, and as a fan it was pretty amazing to see it all go down and to be there for those nail biters. However, I do not think the success they had last season is scalable. Al Groh peaked last season and I think that was shown with the meltdown at the Gator Bowl. Personally I called for Groh's head at the beginning of last season and my position has not changed. He does not deserve a contract extension. Next season the Cavs will play without their best player Chris Long, and they are already missing four players including QB Jameel Sewell who were academically ineligible to play this spring. Think of last year's Cavaliers success as being similar to the success the Bears had in 01 or the 49ers of 06 where they had break out seasons and fell back to the earth the following year.
3. With Wade Phillips at the helm (winless in the playoffs), an aging receiving core, and an inexperienced quarterback in Tony Romo, are you optimistic about the Cowboys' future?
I am very optimistic about the future for the Dallas Cowboys. The receiving core is older but I'd hardly consider them an over the hill gang. Glenn is the oldest member and he will be healthy enough to play a full season next year which is a big help. I like the way Romo is maturing under Jason Garrett; I've said it 1,000 times I do not blame him for the playoff lost to NY this year. I don't see Romo as an inexperienced QB. Look around, Big Ben, Eli Manning, Philip Rivers all QBs with 5 or less years of experience and all have had great success. I see no reason why Romo can't be the same way. That being said, I'd like for him to get a win in the playoffs soon before it becomes a monkey on his back. If anything I'd like to see Julius Jones moved and another RB brought in to go with Barber as well as moving Creighton and bring in another wide out. I also would not be opposed to trading Roy Williams. At the end of the day the NFC is once again the best division in football, last season the worse team in the division was the Eagles and they went 8-8 the Giants made the Super Bowl, and the Redskins are crazy. No matter what Dallas does they will be in for a dog fight, and I think it's great.
4. Since you're a native Virginian and not an Aussie, how in the world did you become such a Rugby nut? What do you love so much about the sport? Is it more fun to play or watch?
I was introduced to rugby when I first went to college. I was an ex-football player and I was looking for something to do. When I first showed up to a practice I had no clue what the hell was going on, but once I played in my first game, I loved it and realized it was something I could play for a very long time. For me I love being part of the team, and as ex-offensive linemen, in football it's a great feeling to be able to carry the ball some and score as well as getting the chance to mix it up on defense. I played all the way through college and rugby was a big reason for my relocating to Washington D.C. I mean I don't get the pay of a professional athlete, but rugby has given me the opportunity to go to a lot of places meet a lot of people and have a hell of a lot of fun. Like Mark Cuban said, being a rugger means I can go anywhere in the world sit down at a bar say I'm a rugby player and I'm guaranteed someone will buy me a drink, and I'll have a place to stay.
I'd have to say rugby is a lot more fun to play than it is to watch.  Rugby has a similar pace to a soccer game so for me at least it's easy to fade in and out while I am watching it unless I have a close connection to the team that is playing (I.e. its the USA or one of the USA Super League). 
5. Let's be honest, most Americans and even most users at ArmchairGM, don't know much of anything about rugby. How could the average joe learn more about the sport and at least try to become interested? Local Leagues? TV? Blogs? Websites? Books?
Rugby is one of the fastest growing sports in the United States and I don't care where you live I can promise you there is a team near your area. The easiest thing to do is go to USA.org or check the AGM encyclopedia for rugby and I have a list of just about every Division I rugby team in the country. With the way rugby is broken down, Super League, Div I, II, and III there are teams for men and women of all skill levels and athletic abilities to join. As far as learning the game, also go to the Encyclopedia on AGM and see the rule book. The easiest way to understand Rugby is to watch the game or go out and see your local team play. Most venues are real laid back and they are very family friendly. Hang out have a hotdog grab a cold beer, and who knows they may even ask you to join in on a B-Side game. Finding coverage of rugby on TV can be difficult but check in at your local Irish pub and ask if they have Setanta and you can catch some highlights and a game or two on Saturday nights.
Ad blocker interference detected!
Wikia is a free-to-use site that makes money from advertising. We have a modified experience for viewers using ad blockers

Wikia is not accessible if you've made further modifications. Remove the custom ad blocker rule(s) and the page will load as expected.