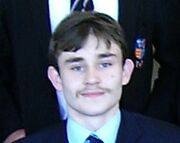 1. How did you learn about ArmchairGM?
I was using Myspace, in the Red Wings forum, and Rob (I think) "spammed" the forum with the site. That's how I "discovered" it.
2. Just last week, British soccer star David Beckham scored his first goal for the MLS's LA Galaxy. When it is all said and done, what kind of impact do you think the British futbol star will make on American soccer?
I resent British soccer star... I prefer English for starters, I resent soccer moreso. Either way, Beckham is hugely overrated. His ability at passing and free-kicks are excellent. I will never question his leadership and desire to win. He's not as talented as people make out, but his enthusiasm and determination are his biggest strengths. He went to LA for one last pay cheque. I don't blame him for that. I don't know if the benefit of the US game crossed his mind, but I think that that was a fortunate biproduct. The fact that you are asking me this question shows that it has been positive - people are talking about it that previously wouldn't have been. Everyone on here knows who Beckham is, and whilst they probably don't care too much about what he does, when USA plays in the World Cup more people will take notice. In the long run, it can only be beneficial.
3. Personally, I have always viewed snooker, or pool, as a sport more suited toward bars and recreational centers. However, snooker is your favorite sport according to your ArmchairGM user page. What makes the sport as good as some of the world's more prominent sports such as soccer, baseball, or basketball?
Well, you're slightly mixed up with the terminology to start with. The first cue game was billiards. Forget what you may think billiards is, it actually was a simple game involving three balls, a red, white and yellow. One player's cueball was the white, the other player's was the yellow. You had to pot the balls or play cannons pretty much how you want. The problem is, frequently the game was too repetitive, and Walter Lindrum killed it off because he was so good that he would go on forever. Only sport in history to be killed because it's players were too good!
Snooker was invented by Sir Neville Chamberlain, not the one that sent Britain to war with Germany in 1939, a different one. From there the game flourished throughout the Empire. The US then got hold of the game, and like they've done before, changed it a bit. The last attempt at unification was in the 19th century, when English billiards players played a billiards game against an American player in New York. But there were all sorts of special rules that no side preferred. In the end, you stole billiards, and that became your name of choice for cue sports. Pool developed from there. I don't much care for pool, there's much less skill involved, it's too much "Wham Bam Thank You Ma'am", as David Bowie once said. But that hasn't answered your question. For much of the history of cuesports, it was in smokey bars, and snooker halls over here. The thing that changed it was "Pot Black". It came about because the BBC wanted to test out colour television, so they invited the leading snooker players of the day to take part in a 1 frame snooker tournament. It was a success. When the players then went on exhibitions (money was poor at the time), their TV exposure made them famous, and they got more money for their exhibitions. The tournaments that followed increased professionalism, until sponsors became interested and the sport could fund itself. The World Championship itself was held at Thurston's Snooker Hall until it was destroyed in the war, and then moved to Leicester Square, a centre in Blackpool, and many other locations. From the war, the Final was played in Conference Centre atmosphere, rather than snooker hall atmosphere. Since Pot Black, a professional tour was founded, and all events are played in arenas designed for both fans and TV spectators. So the reputation of smokey halls and bars is true for the average player. The pros get proper playing halls. I enjoy snooker as opposed to pool because it involves much more skill. Whereas with pool, you are forced to smash the pack open, and with one mistake you win the rack, in snooker at the top level, opening the pack is a risk. Safety shots are played often, and they can be just as interesting as potting the balls. It's a bit like chess on a snooker table. Recently too, it has got to the stage where if you win a frame with 1 major break, you are likely to win the frame. Also, the table is much bigger, and the pockets are much tighter. It says a lot that pro snooker players are competitive at US pool events should they enter (Ronnie O'Sullivan, Tony Drago, Jimmy White and Steve Davis), whereas if leading pool players came to a snooker table, they wouldn't have a hope. Also, the World Championship is brilliant as it takes so much time. The matchplay means a player can lose a session 8-0, and still win the match in the other three sessions. The professionals are also sporting and are not afraid to mingle with the fans, because at exhibitions they need to anyway. You don't get snooker players cheating. If they foul by accidentally hitting the white while addressing the ball, they own up to it. If you were to watch a match, you'd be surprised how entertaining it actually is. If you want to watch the World Championship (from April 19 - May 7), go to the BBC website and I think you'll be able to.
4. Since you live in England, several time zones away from the United States, how are you able to follow American sports? Do you primarily use the internet, radio, or television? Any suggestions for other non-Americans looking to follow U.S. sports?
I didn't really follow US sports. On TV's over here, we have Teletext and CEEFAX, wikipedia them if you like, and there are sections of it devoted to sport. E.g. on CEEFAX, page 388 tends to have all the US sport! I used to read that, but now of course I can keep up track much more easily, either with the Internet, or even here. Channel 5 also tends to show a few games a week in whatever is in season, so I can watch that. Nothing much on radio, I'm afraid. The sport on TV is at a dodgy hour, but I just record them.
5. The recently banned Tyrone Briggs started a tournament pool at Jay the Joke that will decide the worst AGM user. He also started a wordpress blog called FU ArmchairGM, making fun of this Sports Wiki site. Do you think these actions will prove detrimental in the future.
He can do what he likes. He's not here to bother the majority of the AGM users, so I don't think it matters. I just think he's making himself look a bit silly.
Ad blocker interference detected!
Wikia is a free-to-use site that makes money from advertising. We have a modified experience for viewers using ad blockers

Wikia is not accessible if you've made further modifications. Remove the custom ad blocker rule(s) and the page will load as expected.