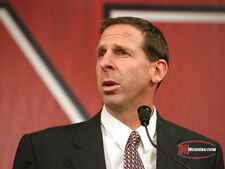 1. How did you learn about ArmchairGM?
First of all I want to make a huge shout out to all the agent supporters out there at the chair. I finally made it to "Meet the Users"! Anyways, back from my little ADD moment. Like most people here, Dan sent me an invitation after seeing my blog at blogger.com (a blog that was short lived and Dan happened to drop by on a lucky day). I looked into it and saw that this place had a great community, which was huge for me. I didn't want to come to a place and be harassed for my new writing skills that were being produced. I was new at writing, and everyone here has been very supportive and has helped me in so many different ways with my writing and, as most people know, AGM has led me to pursue a career in sports journalism.
2. You've often referred to yourself as a big baseball fan, playing in high school and a big-time MLB fan. Can baseball still be considered the national pastime? Will it remain so in 20 years?
Wow... you know that is a great question. The first thought that runs through my mind is what could possibly be the nation's pastime in place of baseball. After that thought flies out my head, the tainting of the game comes flying into my mind. How could baseball still be considered the nation's pastime while containing all these illegal drugs that past two decades? Being such a baseball lover, I can't see the sport not being considered the national pastime, but I can see why it might fade away out of other people's mind. For you people who begin to doubt baseball, how could you give basketball that title? All the thugs that don't play defense couldn't possibly give you that idea. David Stern actually had to impose a dress code to make it look as if you were at a professional sport not an AND1 street game. Sure, there is going to be exceptions, and I guess basketball is the closest thing to it besides baseball. Then, there is football, and all the players that get arrested. It seems as if every single day there is an NFL player showing up for a court date or asking to be re-instated. In my mind, there is no way that football can be the national pastime. Don't get me wrong though, every sport has its faults; it's just that some have more than others. Baseball is a sport that captures you in such a way, you feel as if you are in a different world. Nothing else matters except for who is up to bat, what the pitcher's count is, what player just made that ridiculous error, how much this player is making, and so many other things that fill a baseball mind. This sport is starting to overcome the drug era in my opinion. Sure, there is much more to do, but baseball is making the necessary steps to cleaning itself. In my mind, baseball is the country's national pastime.
3. Currently, your profile avatar is of Barry Bonds. With his "steroid abuse" and "arrogant behavior," how are you and thousands of other Giants fans able to support the All-Time Home Run King*? Do you simply look past his character flaws?
Barry Bonds is a close to Willie Mays as being the best player ever behind Ty Cobb. Yes, I think Ty Cobb is the greatest player to ever play the game. Guess what Cobb was: an arrogant a-hole, a racist, and some considered him to play the game dirty. Barry Bonds is player that was a five tool player in the '90s. The year Big Mac and Slammin' Sammy chased Roger Maris' record, Bonds was busy with his 40-40 season. No one acknowledged this amazing feat because they were concerned with the home run race. America had become engulfed in the home run. If your ball wasn't flying over the fence, they couldn't give a damn about you. So I can see why Bonds' would have taken a drug to help him train harder and longer to get stronger. Do I think he is innocent? I sure as hell do; remember in America you are innocent until proven guilty. I will stick up for Bonds for the length of my life, just as I presume the many Boston faithful here at the Chair will stand up for Belichick. Barry Bonds was a player that made time stop and grabbed the nation's attention every time he came to the plate in the 2000s. He helped build the San Francisco Giants franchise, so that is why we Giants fans can stand behind him. Barry Bonds was and still is a great player that deserves to be a first ballot Hall of Famer. I hope he can find a place to play this year and get that first World Series ring.
4. With the recent hiring of Larry Brown, are the Charlotte Bobcats a playoff team in '09? If not, what do they need to do to reach the postseason?
In the weak, weak east, I think they are definitely a threat to make a playoff run. Now I don't think they can go deep into the playoffs just with a new coach. They need to spend some of that money on a big man so they can move Emaka Okafur back to his natural position at power forward. Before we go looking for a big man though, I think our top priority should be to re-sign Okafur. He is the future and the foundation to this Bobcats team. Without him there is absolutely no front line for Charlotte. After re-signing him the Bobcats should re-sign center out of UCLA Ryan Hollins. I think he shows a lot of promise and if he puts on some more weight can be a force off the bench. A player I think that could help the Bobcats is Jason Richardson's old Golden State teammate Mickael Pietrus. Pietrus would be huge help coming off the bench, the Bobcats lack scoring coming from the bench. Although signing him could be a stretch due to the fact he can be a starter in many other places. There are two players that could really help the front line of the Bobcats. They both have early termination options. One is Jermaine O'Neal, who could play the center position. O'Neal and Okafor would make for a very formidable, athletic, and talented front-line. The second is Elton Brand, although he would leave Okafor at the center position; I still think he would really make this Bobcats team into a play-off team. Then there is restricted free agent Ronny Turiaf. In high hopes that the Lakers won't re-sign (I think they will), I would love for the Bobcats to bring him in. I think his electricity is exactly what the Bobcats could use. I can't forget the draft though... As of right now, it seems as though the Bobcats could be in position to draft Brook Lopez out of Stanford. He is a seven foot center who could really come in and have a big impact on, but I really don't know if he could bring the Bobcats to that next level. I guess I will have a clearer cut answer after the off-season is complete.
5. Fact or Fiction: Bo Pelini will restore the prominence of Nebraska football?
FACT. A defensive minded coach is exactly what Nebraska needs to restore glory. Nebraska has always been known for their defensive prowles, hence the nickname black shirts. They were doomed as soon as they signed an offensive minded coach in Callahan. Now with Pelini, who put together a great defense at LSU, has a chance to be the head coach of a program that can make a total 180 degree turn this year. I am very excited to see the upcoming season. Most people don't know this, but Pelini is actually 1-0 as a Nebraska head coach. He was the Nebraska defensive coordinator in 2003 and that year Nebraska made the Alamo Bowl. Right before the bowl game, Frank Solich, their head coach, was fired, and Pelini was made the interm head coach. He went on to win the Alamo Bowl.
Ad blocker interference detected!
Wikia is a free-to-use site that makes money from advertising. We have a modified experience for viewers using ad blockers

Wikia is not accessible if you've made further modifications. Remove the custom ad blocker rule(s) and the page will load as expected.