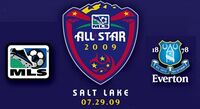 Major League Soccer
announced its First XI on July 13.  The First XI are the first players named for the MLS All-Star match to be played on Wednesday July 29, 2009.  The match will feature the All-Stars versus the Premier League's
Everton F.C
. at
Real Salt Lake
's
Rio Tinto Stadium
.  The match can be seen on ESPN and Galavision from 9:30PM. 
Selection to the First XI is done through a means utilizing input from the fans, players, media and the Coaches and General Managers of the teams.  Each of the categories is weighted 25% and also players and Coaches/GMs could not place votes for players from their own teams.  Overall the selection process seems to have provided a squad that is reflective of the top quality players in MLS this season. 
The Coach of the All-Stars will be Houston Dynamo head man Dominic Kinnear.  He and his coaching staff were selected to coach the team because the Dynamo have the highest points per game total through games of June 28.  The entire All-Star squad for game day will be an 18 man roster.  Kinnear and his staff will add 5 more selections and the squad will be rounded out with 2 Commissioner's Selections.  Kinnear will announce his additions to the team on July 20. 
The First XI is not guaranteed to be the starting lineup against Everton as Coach Kinnear will pick the actual starting lineup and formation.  The First XI will more than likely though get plenty of minutes on the pitch.  The formation used for selecting the First XI was 1 goalkeeper and a 3-5-2 formation.  
Here is the breakdown of how the First XI was chosen based on the input from all of the sources.  The MLS First XI are highlighted in blue. 



All in all a pretty fair selection process is reflected in the First XI by my reckoning.  It is obvious that the Seattle supporters made their voice heard just by looking at the number of Sounders receiving a high number of fan votes.  It is hard to argue with them given the success of the first year team.  I am happy though that the fan vote was counter-balanced in the forward category and Conor Casey got the selection ahead of Montero.  Casey got little support from the fans but has had a fantastic season so far and this honor is well deserved.  It is also clear to see that the overwhelming choice from all areas to be on the squad is Columbus Crew midfielder Guillermo Barros Schelotto.  The Argentine has continued his brilliant play this season so congratulations to him and all of the First XI.
Ad blocker interference detected!
Wikia is a free-to-use site that makes money from advertising. We have a modified experience for viewers using ad blockers

Wikia is not accessible if you've made further modifications. Remove the custom ad blocker rule(s) and the page will load as expected.