Perhaps you glanced over the 2009 All-Star rosters and wondered to yourself "Who IS that guy?". Ben WHO?
Maybe you saw the name Ben Zobrist and thought to yourself "Damn that wiley Joe Maddon really leapt over the bounds of good taste and picked his own players when a real star was more deserving...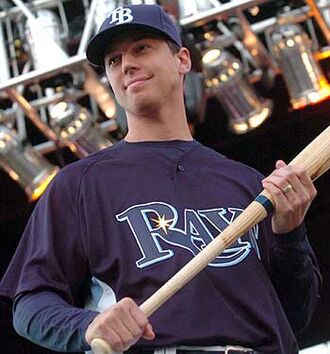 Maybe you made yourself a big mistake.
Ben Zobrist IS an all-star. Not just in the game of baseball, but also in the game of life.
I have met far more than my fair share of major league baseball players as well as professional athletes in general or professionals - for that matter - in my life. Few have possessed an aura of distinct character, few have demonstrated an air of class and few have carried themselves in a manner that can make you not only question your current state but makes you reconsider your own path in life.
I met Ben Zobrist over 2 years ago for the first time and to this day I can still feel an effect of interacting with him. He was cordial, interactive and ***get this*** genuinely NICE! For no reason whatsoever. He held a conversation with me like very few people I have ever met. He listened, he absorbed, he was patient to understand and far more patient in his response. He didn't know me from any other whack job that might wander into a MLB lockerroom but he treated me with dignity, without expectations, with respect.
Ben Zobrist is a professional athlete who is not a show. He is not a fake. He is the original article. A person of reverence; a guy whom you can easily sum up in one word: Inspirational.
When "Zoey" was making his way through the Rays' minor league system after the "big" Aubrey Huff trade, his outstanding character was leaned on by the new ownership to benefit the organization. Coming out of Dallas Baptist University as a religious, socially sound and truly respectful young man his job was to support, empathize and simply affect his fellow teammates with his "way". He was drafted by an organization that was still reeling from the aftermath of former #1 overall draft pick Josh Hamilton's seemingly wasted career due to drug abuse and uber-prospect Toe Nash's sad tale. Then there was another #1 draft pick who had his "issues" in Delmon Young and the highly talented athlete with a questionable upbringing, Elijah Dukes. The Rays understood that teaming a talented and character-driven person such as Zobrist with these young, impressionable athletes was in their best interest.
Within the first two steps I took into my first visit in a Major League lockerroom in April 2007 I was introduced first to a naked Elijah Dukes (a phenomenal sight by any persuasion as the dude is a remarkable physical specimen in all respects) and his neighboring locker mate, Ben Zobrist. On the other side of Zobrist was Carl Crawford. My first impression once I got past the "WOW, Dukes is a beast" and "Holy crap, I understood most of what Dukes was saying through his thick Hillsborough accent" and "Holy crap, Carl might be the only person I've ever met that talks more than I do" was "Ben Zobrist must not realize that I'm not some super-important dignitary or broad-audience mouthpiece". I talked with both of them for some time about general nothingness. About how much nicer the Trop was than people alluded. About how sweet the lockerroom was. About how many deep and thoughtful quotations manager Joe Maddon had placed around the room.
Ben and Elijah didn't stop doing what they were doing as they talked to me - they were dressing as they prepared for batting practice - but they also didn't assume the role of two players who acted like they had a combined 3 months of MLB experience under their belt, either. Granted, I wasn't "interviewing them" but I also tossed them no softball questions. I was just "shooting the shit" with two dudes who were doing what I wish I could have done. After Dukes was dressed, he went to the cages to take BP and Ben continued to talk with me.
I started to get the feeling he was more interested in me than I was him. He asked me about my flight, where I was from, how my experience in Tampa was going. Remembering that this dude had no idea who I was other than the fact that Operation VP/public relations guru Rick Vaughn led me into the room. At the time I was still preparing myself for four days of grilling the Rays' "stars" for all they were worth. I wasn't truly paying attention to the Ben Zobrist's of the day, the "guys who are splitting time in Durham this year" types. But after a little while, I felt myself straightening up, I felt myself feeling like an ass for thinking I was cool telling him my witty story of getting drunk on the plane "because I'm too impatient to fly sober and getting drunk makes the time "fly by"...". I felt myself taken in by his character. He gave a crap about ME!
So... is having versatile enough skills to play multiple positions or helping teammates get through the pressures of life or being nice to random guys carrying a pen in your lockerroom enough to be a Major League All-Star? Hell, no. Grasp the whole story. Check the facts.
Ben Zobrist, the player
The 6'3", 200lb switch-hitting "Zorilla" came up through the Rays' system as a shortstop with the hopes he would fill the Utility role behind future super-stud prospect B.J. Upton at shortstop. B.J. at short didn't pan out as planned and despite leading the 2006 Arizona Fall League in hits, neither did Zobrist as a shortstop. By 2008 Jason Bartlett locked down the SS role and Zobrist had to do whatever Joe Maddon asked him to do in order to see playing time. In 2008, Zobrist donned the gloves of every position except Catcher, First Base and Pitcher. His willingness to do whatever was asked of him for the greater good was infectious. He became a lockerroom leader with his magnetic high character, his penchant for timely game winning hits and was a big part of the reason that led to the team's cohesiveness during their World Series run. His statistics told very little of the story compared to his actual impact on the team.
Zoey has done it all this season. He's done whatever and played wherever. Though he was named to the All-Star team as an outfielder, with the competing Rays losing their slick-fielding Second Baseman Akinori Iwamura to a knee injury, Ben has finally "found" a home. Despite the Rays' slow start, Zobrist helped carry the team through some times of difficulty. His character helped the team withstand the storm. No matter where he has played this season, he's raked. He's currently second in the AL in Slugging, 3rd in OBP and 5th in ALL of MLB in OPS. Making the All-Star roster is not a mistake.
Ben Zobrist, All-Star
Seventeen bombs, 52 ribeyes, a .297 clip, 1.012 OPS (159 OPS+)... he's deserving. Who knows where he'll see playing time in the game? With Dustin Pedroia out for the game, likely he'll be subbing at second. But given his 2009 season, don't be shocked to see him perform his best with the game's outcome unclear. His ability to be in the right place at the right time is uncanny as demonstrated by his three Grand Slams already this season.
Joe Maddon summed up/defended his selection with this statement to the St. Petersburg Times: "There's a form of nepotism involved, and you don't want to be the anti-nepotist, if that's a word. I don't want to exclude anybody just because they're with us, and because of that, I'm trying to be fair to everybody else and not fair to our own people." It wasn't just a message to players that "If you do the right thing, you get rewarded" or you "Carry yourself the right way, it will pay off" it was a message that respecting the game, respecting people, respecting yourself will always get you the respect you'll deserve - especially when you have the stats and game winning hits to back it up.
Ben Zobrist deserved to be on the All-Star squad and don't be surprised if - based on the way his 2009 season is going, maybe - he gets to display his talents when it matters the most. His fine character deserves nothing less.
Ad blocker interference detected!
Wikia is a free-to-use site that makes money from advertising. We have a modified experience for viewers using ad blockers

Wikia is not accessible if you've made further modifications. Remove the custom ad blocker rule(s) and the page will load as expected.