Former NFL quarterback,
Steve McNair
and girlfriend Sahel Kazemi was found shot to death in a Nashville, Tennessee condo. The police found McNair seated on a living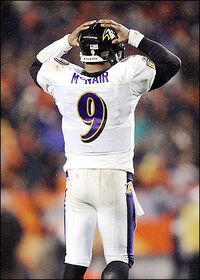 room sofa with multiple gun shot wounds and Kazemi had one gun shot wound to the head.
According to reports, the gun that was used to kill McNair was owned by Kazemi and was purchased two days before the shooting.
It was reported that Kazemi and McNair were dating for several months. McNair received the opportunity to meet Kazemi's parents.
This news took many by a surprise because McNair was married for 12 years with four children. There's been reports that McNair's wife, Mechelle Cartwright knew about McNair's relationship with Kazemi, but nothing has been confirmed.
The police report that McNair's death was a murder homicide, but Kazemi's death is still being investigated.
Kazemi was 20 years of age and was a Dave & Buster's Restaurant waitress. According to reports, McNair purchased Kazemi a black Cadillac Escalade for her 20th birthday.
The police are still working to found what caused this incident.
Ad blocker interference detected!
Wikia is a free-to-use site that makes money from advertising. We have a modified experience for viewers using ad blockers

Wikia is not accessible if you've made further modifications. Remove the custom ad blocker rule(s) and the page will load as expected.