As originally written on Nice Little Sundays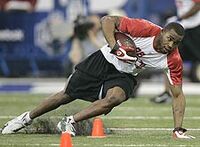 Many of you may have already heard: Former Arkansas running back Darren McFadden ran a 4.27 40-yard-dash at the NFL Combine on Sunday. His second 40 was clocked at 4.33, so that 4.27 was no fluke.
Everyone knew that McFadden was fast, but apparently most NFL'ers didn't know he was THAT fast. Gekko and I have been marveling at McFadden's abilities for quite some time now, so his performance at the Combine won't vault him even higher in our fantasy rankings for next year...mainly because there isn't much more space left between him and the top. From a fantasy perspective, however, the only thing that may hinder McFadden is the situation in which he winds up. If he's getting most (if not all) of the carries for whatever team drafts him, then he remains the top fantasy rookie for 2008 and will be among (at least) the Top 7 RB's (overall) for 2008.
The most amazing thing revealed about McFadden at the Combine wasn't his 40 time, however. The number that we here at Nice Little Sundays were most impressed by was this one: 2.
What is 2, you ask? The number of cars that he was able to jump over (a la Joey Gathright) in a special Combine display of skill? No, sir. The number of footballs he was able to catch at the same time? Wrong.
It's the number of his kids that are on the way.
McFadden apparently used the interview portion of the Combine process to inform his prospective teams that he is soon to be a new father. Twice. (Presumably, these are not twins with the same woman, but rather two separate, unrelated kids with two different women. Well, not entirely unrelated, since they obviously both have the same fertile father...but you get my point.) Oh yeah, and he's dealing with a pesky little paternity suit. Only the wonderful Fantasy Gods could reach down from above and provide us with with power and the glory that would be a McFadden-on-Maury-Povich-paternity-show. In the event of a negative test result, we would expect Darren to have a reaction very similar to this guy's, what with the child support money that will likely be at stake given McFadden's probable Top-5-pick-mega-contract (not to mention endorsement dollars, because really, what company doesn't want a serial impregnator hawking their goods and/or services).
Maybe if he didn't have to save up for his future child support payments then D-Mac could have splurged for the REALLY big rims. I'm thinking something along the lines of an H2 body sitting on four small carnival ferris wheels. Chromed out, of course.
The best part of this news is that Travis Henry will soon have a competitor on the NFL scene that will clearly be capable of giving him a run for his money. With two kids on the way before he's even been drafted, McFadden has certainly announced his presence with authority. Give the guy some props...he doesn't have a single NFL carry, but the gauntlet has been thrown down, Mr. Henry. Although the NFL career of an average running back is fairly short, we believe that with his obvious talents, there is plenty of time for McFadden to tie, and even surpass Henry's mark. Travis has evidently been slacking off lately. Maybe his boys aren't swimming as well anymore, what with all that THC floating around in there. Nonetheless, we won't ever count out a wily veteran of the Running Back Spawn Wars like Henry. We predict a coming NFL-apocalypse as the epic struggle between Henro Runningbackus and Runningbackus McFaddenus will likely come to a climactic conclusion between 2018-2025 A.D.
As an aside, is it really that hard for these multi-millionaire (or soon-to-be multi-millionaire) athletes to use a little foresight and discipline in taking control of their own birth control methods? I understand and fully sympathize with these guys in that The Gine is being flung at them with complete abandon by any Jock Sniffer that can get within 10 yards of them. However, these guys have to know that and be prepared for it, too. To me, it would be very difficult to trust these sorts of women, even if they profess to be employing the Pill, an IUD, the sponge, a diapraghm, spermicidal jelly, having their tubes tied, and even volunteering to be on top (because that alone makes it impossible, right?). If you are in McFadden's position, you have to EXPECT that the "goalie will be pulled" in each and every instance, and therefore plan accordingly. Although it may have a different meaning in this context, please heed Dave Chappelle's words and "WRAP IT UP, YO!!"
Ad blocker interference detected!
Wikia is a free-to-use site that makes money from advertising. We have a modified experience for viewers using ad blockers

Wikia is not accessible if you've made further modifications. Remove the custom ad blocker rule(s) and the page will load as expected.