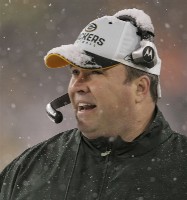 Contract extension negotiations between
Packer
GM
Ted Thompson
and Head Coach
Mike McCarthy
are close enough to completion that President
Bob Harlan
has stated that the deal is basically done. "We have to finalize some details but I hope this week we can do something," Harlan said Sunday. "I think Ted would be fine with that (announcing it) if we're totally finished. I think Mike would, too."
Sunday night, McCarthy acknowledged that negotiations have been ongoing. "I feel very good about the progress that we've made," he said. "I'm just excited about being a part of the near future of this great organization. We're moving forward."
McCarthy, who had one year left on his original three-year deal, is expected to sign to a contract that gives him $4million per year. This should be about twice the yearly value of his current deal.
In 2006, McCarthy took over a team that finished 4-12 the season before. The native of blue collar Pittsburgh remained true to his beliefs after a 1-4 start to his Packer head-coaching career. A strong finish in 2006 helped the Packers achieve an 8-8 record and left them feeling optimistic about the 2007 season.
I don't think anybody could have predicted how the 2007 regular season would go. McCarthy's Packers, one of the youngest teams in the NFL, have tied a franchise record for regular season wins by going 13-3 during the 2007 season. They are now 21-11 during the regular season under McCrthy.
The one time Packer quarterback's coach renewed his relationship with Brett Favre in 2006. The reunion served to bring Favre back into line and re-energize the future Hall of Famer. Under McCarthy, Favre's interception total dropped from a career high 29 in 2005 to just 15 in 2007. His rating improved from 70.9 to 95.7, his highest rating since the 1996 season that led to a victory in Super Bowl XXXI.
Last week Packer GM Ted Thompson was rewarded for his work in rebuilding the Packers by receiving a contract extension through 2012. It looks like his coach gets to enjoy the rewards as well.
Ad blocker interference detected!
Wikia is a free-to-use site that makes money from advertising. We have a modified experience for viewers using ad blockers

Wikia is not accessible if you've made further modifications. Remove the custom ad blocker rule(s) and the page will load as expected.