Manny Stiles and "Fudging With Numbers" present:
THE NASFL
The North American* Sports Fan League
Combining the four major sports and census numbers to clearly define which cities have the richest sports heritage, best fanbases and deepest rivalries.
North American Sports Fans League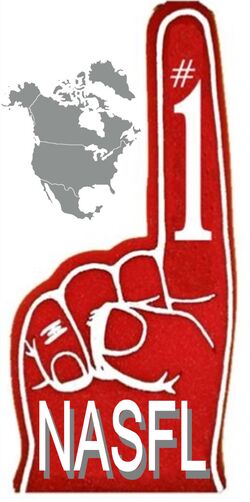 Are you sick and tired of fans from other cities bashing your town? Are you tired of informing fans from other cities that they are comparing apples and triangles? Do you need a method of fairly comparing the fanbase of one area with another?
Which towns have the best fans? Which towns have the best sports media? Which towns have the smartest fans?
Dr. Commento has devised a method - originally a book concept - to separate and analyze the 32 major sports metropolitan areas.
Introducing the 4 Tiers of Sports Fan Metro Areas. Simply put, Tier 1 has all four major sports represented and is a major media market. Tier 2 has three sports represented, Tier 3 has two major teams and Tier 4 is one sport towns. All data is derived from 2005 census numbers. Included are the top 100 cities (proper) in population and the top 60 metro areas in media market size. In order to even things out, I took some liberties and jammed things where I thought they should go (with logic and reasoning provided).
Tier 1 – 4 Pro Sports Represented
top 60 population, top 30 media market
Exception for LA and Toronto, for population, history and fan interest.
Tier 1+ – Division "Captains"
NY - New York City (#1 population/#1 media market) – Newark (#64 population), Jersey City (#73), Yonkers (#99)

The Big Apple. America's biggest and richest city. Media market capital. Passionate sports fans tremendous sports culture and history. More championships and teams than any other market. Includes teams in New Jersey.

Yankees, Mets, Knicks, Nets, Giants, Jets, Rangers, Devils, Islanders
LA - Los Angeles (2/2) – Long Beach (32), Santa Ana (51), Anaheim (52), Riverside (61)

2nd largest city in America. Home to Hollywood, the Rose Bowl and many Super Bowls. Although there is no longer a NFL team in LA, the city gets credit as a 4 sport town due to formerly hosting TWO historic NFL franchises.

Angels, Dodgers, Lakers, Clippers, Ducks, Kings
Tier 1
CHI - Chicago (3/3) – Ft Wayne (80)

"The Windy City" (even though Dallas has a higher average wind speed) is a hub for the middle of America. Not just for industry, organized crime and food, but sports as well. With it's crazy weather and crazy, sometimes destructive fans, Chicago has a rich intertwining throughout the tapestry of sports history.

Bears, Cubs, White Sox, Blackhawks, Bulls

PHI - Philadelphia (5/4)

A town that wants you to bleed trying, a town that knows heartache like few others and a town that loves the blue collar players more than it's stars Philadelphia isn't just a place for cheese steak, scrapple and Tastykake aficionados. It's a safe haven for the deeply knowledgeable yet well-worn diehard fan.

Phillies, 76ers, Eagles, Flyers

PHX - Phoenix (6/14) – Mesa (40), Glendale (76), Scottsdale (83), Chandler (87)

The Valley of the Sun is Mecca for free agents with golf addictions. 330+ days of sun a year draws the biggest sports names – in the off season. The local teams rarely draw the same accolades as the local accommodations.
Diamondbacks, Suns, Coyotes, Cardinals
DFW - Dallas (9/5) – Fort Worth (20), Arlington (49)

Everything is bigger in Texas. And the Metroplex is huge. While the 'Boys remain the biggest thing in the Metroplex, Mark Cuban reminds you he's still a mover and shaker. And here's a question: Are the Rangers cursed?

Cowboys, Rangers, Mavericks, Stars
DET - Detroit (10/9)

Detroit has taken a lot of PR hits lately. From the auto manufacturing industry taking it in the driveshaft to the Mayor taking it… well – the last grasp at happiness is the sports teams. Only the Lions could possibly use more hope than the economy in Michigan.

Red Wings, Tigers, Lions, Pistons

SFO - San Francisco (14/12), San Jose (11/28), Oakland (43)

SFO encompasses a large area around the bay including all the way down to San Jose and Fremont. A cultural center for all things hip and hippie, SFO also has a rich educational influence and a year-round weather system that while can be mildly unpleasant is never wintry and harsh. Although earthquakes make up for the lack of blizzards.

Giants, A's, 49ers, Raiders, Warriors, Sharks

BOS - Boston (23/10)

After decades of distraught, Bah-stahn can enjoy the rare feat of having three of it's teams in title contention at the same time. However, good times never last long. Currently at the apex of bandwagonry, you can't visit a major town in the United States without bumping into a Beantown Sports-clad fan.

Red Sox, New England Patriots, Celtics, Boston Bruins

WAS - Washington D.C. (25/7)

The District is the nation's capital, historical center and the southern tip of the Northeast Corridor. Many educational facilities intertwine the City. A rich tapestry of recreation and leisure is needed to escape the pest and parasite infested swamp of government; I mean, the Potomac River. There aren't a lot of diversions, but the local sports teams offer a rebuttal to the complications of politics.

Redskins, Nationals, Wizards, Capitals
DEN - Denver (26/22) – Colorado Springs (48), Aurora (59)

The Mile High City is a football town first, but learning how to enjoy the other sports too! On the Eastern side of the Rocky mountains, Denver enjoys what is probably the broadest fan base in terms of mileage. Fans from as far as Idaho, Utah, Wyoming, Montana, South Dakota, New Mexico and Nebraska all call Denver their "Home team"

Broncos, Rockies, Nuggets, Avalanche

ATL - Atlanta (41/11)
The South's cultural and historical center is all about Southern Hospitality - often extending their hospitality to teams that visit as well. The local sports scene has been barren save for the '95 World Series, at a time when general interest in baseball was near it's lowest due to the prior year's strike. Fitting. Passivity for the home teams does not help, but winning cures all – winning BIG, that is!

Braves, Hawks, Thrashers, Falcons

MIA - Miami (46/6) – Hialeah (78)

You have to wonder how a vacation and party hot spot can sustain four major sports teams, but Miami does it – barely. While the Dolphins have the longest tradition, they are currently the weakest of the four teams having not reached a championship game since years before there were ANY other major sports teams in southern Florida.
Heat, Panthers, Marlins, Dolphins

MIN - Minneapolis (47/16) – St Paul (62)

When it's as cold as it gets in the Twin Cities, sports is the refuge. Nothing gets as big as the Vikings in Minnesota, but it might have as much to do with the Scandanavian heritage of the residents more than anything. The Twins are the only team in Minny to win a title.

Vikings, Twins, Wild, Timberwolves
TBO – Tampa (55/21), Orlando (94/30) – St Petersburg (70)

Though Orlando is nearly a two-hour drive from Tampa, it gets combined Tampa and St. Pete due to it's kinship and market sharing, plus the fact that I wanted 16 cities in Tier 1.
Tampa Bay was LONG the dregs of pro sports with the historically horrific losing ways of the Buccaneers. That all turned around in 2002 with the Bucs winning the Super Bowl. The Lightning followed that championship two years later with the Stanley Cup. Might the Rays or Magic be far behind?

Buccaneers, Rays, Lightning, Magic

TOR - Toronto (*)
Toronto is one of the most important cities in North America. The most populated city in Canada is less populated and has a market size just slightly smaller than Chicago's. A multicultural supercenter and a true melting pot of diversity, 49% of people who reside in Toronto were not born in Canada. Added to the list despite housing an NFL team, Toronto's football history cannot be ignored and the city is also hosting a Buffalo Bills game this fall.
Blue Jays, Raptors, Maple Leafs, Argonauts
Tier 2
60/50, 3 sports represented
HOU – Houston (4/8) Astros, Texans, Rockets

TEN – Memphis (17/41), Nashville (27/39) Titans, Grizzlies, Predators

MIL – Milwaukee (19/36), includes Green Bay (*/*) Packers, Bucks, Brewers

CHA – Charlotte (21/37), Raleigh (57), Greensboro (77), Durham (96) Bobcats, Panthers, Hurricanes

SEA – Seattle (24/15) Seahawks, Mariners, Sonics

CLE – Cleveland (35/23) Browns, Indians, Cavaliers

STL – St. Louis (53/18) Cardinals, Rams, Blues

PIT – Pittsburgh (54/20) Steelers, Pirates, Penguins
Tier 3
60/50, 2 sports represented
SDO – San Diego (7/17) Chargers, Padres

IND – Indianapolis (12/34) Colts, Pacers

BAL – Baltimore (18/19) Ravens, Orioles

NAW – New Orleans (34/38) Hornets, Saints

KAN – Kansas City (38/26) Chiefs, Royals

CIN – Cincinnati (56/24) Bengals, Reds

BUF – Buffalo (60/42) Bills, Sabres
Tier 4
60 AND/OR 50, 1 sport represented
SAN – San Antonio (8/29) Spurs

JAX – Jacksonville (13/45) Jaguars

COL – Columbus (15/31) Blue Jackets

POR – Portland (28/25) Trailblazers

SAC – Sacramento (37/27) Kings

SLC – Salt Lake City (*/50) Jazz
Other Cities
Top 50 US cities in population, no sports teams:
Austin (16), El Paso (22), Oklahoma City (29) Las Vegas (30), Tucson (31), Albuquerque (33), Fresno (36), Vero Beach (39), Omaha (42), Tulsa (44), Honolulu (45), Wichita (49).
NASFL "Rivalry" Divisions
(including last year of championship)
NorthEast
NY * – 2008
BOS* - 2007
BAL - 2000
WAS* - 1991
PHI* - 1983
Rustbelt
PIT - 2006
DET* – 2004
TOR* - 1993
CLE - 1954
BUF - ?
Midwest
IND - 2006
CHI* – 2005
MIL – 1997
MIN* - 1991
CIN - 1990

SouthEast
MIA* - 2006
CHA - 2006
TBO* - 2005
ATL* - 1995
NAW - ?
TEN - ?
Central
SAN – 2007
STL – 2001
DAL* – 2000
DEN* - 1999
HOU – 1995
KAN - 1985
West
LA * - 2006
PHX* - 2001
SFO* – 1994
SEA - 1978
SDO - ?
(Asterisk indicates Tier 1 Cities)
Minors
JAX - ?
POR - 1979
COL - ?
SAC - ?
OKC - ?
SLC - ?
note - San Antonio is included in the NASFL and not the minors due to population and market size, multiple championships and also due to the factor that it has hosted NFL games as well. Plus I needed one more city to make it a nice round 32! Sorry, Portland.
So there you have it...
More analysis and breakdown coming soon - this is just beginning. This is just the framework for the NASFL.

While many articles and stories have been written comparing American cities' sports teams, the NASFL will delve MUCH further. We will break down each division and examine the roots of the rivalries. Later posts will include local college sports, other sports such as soccer, WNBA, racing, etc. as well as "fringe" sports, athletic histories, forgotten leagues and franchises and of course, local reports.

If you live in these areas and would like to contribute, message me!

If you want to compare cities in the tiers on particular topics, be fair and feel free!

Basically this allows any AGMer to compare rivalries and fanbases in a more accurate and fair manner. Create the category or topic and let the inter-divisional smack talk fly!
Ad blocker interference detected!
Wikia is a free-to-use site that makes money from advertising. We have a modified experience for viewers using ad blockers

Wikia is not accessible if you've made further modifications. Remove the custom ad blocker rule(s) and the page will load as expected.