Article:Manny Stiles' Hall of Famous II - Class of 2008
Talk

0
Ad blocker interference detected!
Wikia is a free-to-use site that makes money from advertising. We have a modified experience for viewers using ad blockers

Wikia is not accessible if you've made further modifications. Remove the custom ad blocker rule(s) and the page will load as expected.
With inspiration from the inaugural class and all the conjecture surrounding "iffy" Hall of Fame prospects, this list is the second induction to my personal "Hall of Famous".

One Half: lame excuse to start sports banter and discussion, One Half: Reason to make red links that I can tempt others (and occaionally myself) to change to blue links, One Third: personal log of my who I think are the best athletes in sports history and 9/10ths reason to make odd and unique labels that will help draw a broad range of traffic to AGM...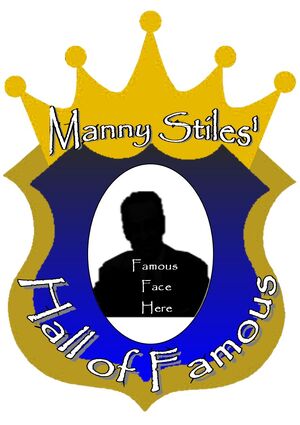 Manny Stiles' Hall of Famous comes bi-annually in waves of approximately 100 inductees at a time. This class is a little heavier in the "other" department, but that's how it goes sometimes...

The rules are simple: You had to be better than VERY, VERY, VERY good. You have to be All-Time Great Good... DOMINANT in your sport or ridiculously famous for your talents... if I missed you, my bad! (I might make a few additions as long as the argument is REAL compelling) Otherwise, wait until 2010...
So the unveiling of the second class of 2008, The next 100 inductees are... (all listed in alphabetical order by sport)
Manny Stiles' Hall of Famous Class of 2008
Baseball
Basketball
Football
Hockey
Olympics (Summer)
Olympics (winter)
Boxing
Auto Racing
Golf
Tennis
Other
Don't worry
I have reasons for each individual's addition to my Hall of Famous. And I'm prepared to explain my head off. I know that Roger Bannister never won an Olympic medal and that Minnesota Fats never won a major pool tournament and that Pro Wrestling is "fake".

Feel free to criticize and attack, even agree with some or commend my ability to recognize greatness in Sport if you want! Please don't bitch about missing people until you've ensured that they weren't inducted in the inaugural class first!!! And rest assured that I have a longer list of athletes that just missed the cut on this round. 2010 will be the first class with "Non-Athletes" (coaches, managers and contributors to sport, as well as owners, organizers and supporters)... possibly even journalists! (There's no way in Hell, McCarver. So don't bother getting your hopes up!)
Ladies and Gentlemen, the Manny Stiles' Hall of Famous Class of 2008!!
{standing applause for the inductees}