The Manny Stiles' All-Time "Good Guy" Baseball Team 25 Man Roster
It works like this…
There's far too much negativity in the world, especially on the internet. I get pretty worn out by the gossip, the continuation of half-truths and lies and the tidal wave of slander that permeates the collective consciousness. It's sludge, it's fetid and it has nothing to do with the reasons I love sports.
So, it's time for some "good" instead. Yes, there is some good in the world. Not all of these guys are the living shadow of Jesus, but they've all been repeatedly noted and deemed as genuine "Good Guys", not just by me but by many of the people with whom they've crossed paths.
Starting lineup
Well, it works like this; No one is perfect. But here are the guys who have been routinely mentioned through various streams of contact and history books as the "Good Guys" of the game. They might not have always been angels (in the proverbial sense, not actual California/Anaheim/Los Angeles Angels) off the field but no one can argue their place on this team.
1B - Fred McGriff - The Crime Dog is hands down the coolest, nicest human being I've ever met - pro athlete or otherwise - and he hasn't changed since the first time I met him in 1988. The guy eminates a good vibe with his presence alone. He has class, style, a smile that glows how happy he is and his demeanor is gracious and very, very courteous. His parents must have been incredible people.
2B - Ryne Sandberg - Ryne Sandberg did work. He is as kind and courteous with fans as much as any Hall of Famer I've ever met. If there's ever been anything said bad about the guy it's a personal problem with the yahoo doing the talking.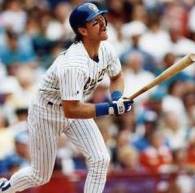 SS - Robin Yount - The man with the awesome 'stache is even nice to people when he's waiting in line at the DMV. How do I know? That was where I first met Robin Yount. Granted, all I did was chat with him for a few moments and compliment his amazing facial hair (it looks even awesomer in person!) but if there's any place a regular guy would lose his shit and be a jerk - it's in line at the DMV. Not Yount (who was coaching with the D-Backs at the time). He carried himself like a guy who was having a backyard BBQ with his friends!
3B - Ron Santo - Legends are made on the field and magnified off the field. I can argue all day and all night why Ron Santo doesn't belong in the Hall of Fame as a player. But there's NO DOUBT he's a Hall of Fame "Good Guy". The tales of him signing autographs after games for hours on end and the stories of him hanging out with regular Joes is legendary. He's not pretentious or looking for people to satiate his ego; he's genuine. When people mention Ron Santo's name... they always call him "my friend".
C - Yogi Berra - I think a lot of people misunderstand Yogi (and his boyhood pal Joe Garigiola, too). Lawrence Berra is a kid in an old man's body. He played a game for a living and loved every minute of it. He hung out with some of the shadiest and craziest people of their time and somehow survived the madness. Part bumbling fool - part legendary ghost as a manager, he wasn't nearly as successful in that role as he was at the backstop. Don't be fooled by the "Yogi-isms", as they were more than not staged and prepared in a slightly surly manner to disengage conversations with writers he didn't like. Still, tales of his exploits at card shows, with kids and at charity events continue to add to his "Good Guy" legend.
LF - Luis Gonzalez - My wife used to personal train people at the same gym in Scottsdale that Luis Gonzalez worked out and will always sum him up as "a Good Guy". She's not the only person who would say that. Now understand, you could say all Luis did for my wife was open the door for her as she carried our two kids and bag full of crap in to work and Luis, being a father of triplets probably felt a wealth of empathy and was just courteous on principle. But the charitable exploits of Mr. Gonzalez are well documented. His smile is unmistakable and his positive energy made him one of the most likable guys in the game with teammates, foes and fans alike.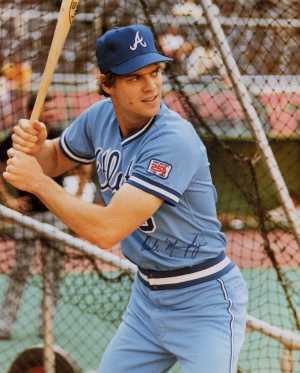 CF - Dale Murphy - Anyone who knows me knows how I feel about Dale Murphy. Dale Murphy is perhaps the goodest of the "Good Guys" ever to suit up. He was deeply religious - but he wasn't preachy or goody-goody, he was genuine and true to his convictions. the man led his life as an example. He was kind to everyone and honest almost to a fault. As a butt of MANY jokes when he came into the league as a country bumpkin catcher who couldn't throw the ball back to his pitcher, he moved to the outfield and his cannon arm suddenly found it's purpose. He'll never be confused with Albert Einstein and his appetite is the stuff of legends ("Dale would order everything on the menu including 'thank you for dining with us'") but anyone who was a baseball fan in the early 80's has to be scratching their head wondering how he didn't end up as a Hall of Famer. He's a Hall of Fame "Good Guy".
RF - Hank Aaron - Henry Aaron put up with more shit than all of these "Good Guys" combined and never changed who he was - a "Good Guy". Let's put it this way - MLB's "Man of the Year" award is named after him. A great, consistent player on the field and a greater, more consistent man off the field.
Bench
Sean Casey - "The Mayor" has been called "The Nicest Ballplayer there ever was or will be" but he misses out a starting role on this squad simply because I am under Fred McGriff's enchanting spell.
Roberto Clemente - Clemente's legend will last 1,000 years. If you didn't know #21 was a good guy, you need to get out from under that rock.


Lou Gehrig
– The Luckiest man on the face of the Earth's legend will last even longer than Clemente's. Such a good guy that when he was struck down with a fatal disease, they named it after him!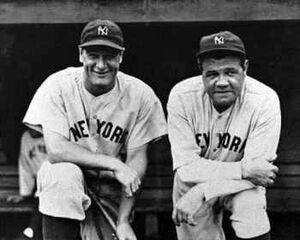 Don Mattingly - I always wondered if Mattingly was a little autistic (maybe it was his hair?). He looks like he couldn't care what the surroundings are, he is 100% Donnie Baseball. He is also 100% good guy - the only career-long Yankee player to ever to make me root for him. He's had his personal off-the-field problems with his family but it's never changed how he treated other players or the fans. Plus he was on The Simpsons, so he's getting extra credit for that!
Kirby Puckett - He had his personal problems with his kids and his somewhat strange "love life" but no one can take away what he meant to baseball, the state of Minnesota and to the thousands of people he touched during his sadly shortened life. Kirby exuded life like few humans ever have and he played the game as every kid dreams to do.
Leon Durham - "Bull" was so nice to fellow ballplayers that when rookie Mark Grace was called up to slide into Durham's role, he took Grace under his wing and worked with him constantly so Grace could be the best professional ballplayer he could be. he could have snubbed the rookie and did everything he could to ensure his own playing time, but he did the opposite. Any man who gives his all to assist his replacement is a "good guy".
Craig Biggio - Is there any kid in Houston who doesn't love Biggio? I've heard "stories" about his jerkish exploits off the field that are easy to disregard when you consider the body of work. The guy never turned down an opportunity to be nice to the fans, especially kids.
Jim Thome - Jim Thome is a good guy. Unmistakably a good guy. He is good to the kids, good to the fans and is a great teammate. His grin is seemingly permanent except when he's growling at the bat…
Al Kaline – Kaline is notoriously nice; so nice baseball pretty much invented the Designated Hitter just to keep him in the game. He sometimes competes with Barry Sanders as Detroit's favorite athlete. Think about that.
Tony Gwynn - If you don't like the pudgy kid from San Diego, there's something wrong with you. Seriously wrong.
Starting Pitchers
It's not often you hear about a pitcher being a good guy. It seems that pitchers need to have a certain crankiness in their demeanor in order to be successful, but here is the "Good Guy" staff:
Bob Feller – Robert Feller wasn't just a wunderkind fireballer who started dominating big league hitters in his teens. He was not just a fine American, one of the first ballplayers joining the War causes and thereby lo0sing out on some of his prime years. He is a "Good Guy". Feller has been notoriously hard-lined on cheaters and outspoken with all things controversial but his instincts and opinions are pure. And he treats people fairly and understands not everyone sees the world like he does. He is great with kids and fans who weren't alive when he played and he is routinely regarded highly amongst his peers. Named to the Greatest living Baseball players team in 1969 (40 years ago!) he may be the best living baseball player today, for his skills and his "good guy"-ness.
Fergie Jenkins – Anyone who has ever talked to Fergie probably gets the impression that they're talking with a long-time friend. Fergie is another one of the "good guys" who may not have always been an angel off the field but he doesn't hold grudges and is kind and personable to everyone.
Jim Abbott – By now, you're thinking most of these guys are on this list because I met them and they were nice to me. Somewhat true. It's also why Stan Musial ''isn't'' on this list. I met Stan the Man and Jim Abbott at a baseball card show when I was 15. Stan was miserable and insufferable the entire day but he still drew the majority of the crowd while Jim Abbott was at the same show stuffed in a corner room with nary a scant crowd… a few meanderers talking about "The man". I decided that Abbott (who was still just a one-handed University of Michigan pitcher/Golden Spikes award winner was a far more interesting fella. Abbott and myself and my buddies who were with me at the show spent well over an hour shooting the proverbial shit. About baseball, playing wiffleball, going to college, about his birth defect and his jokes about how people treated him differently. He was jovial and simply "kickin' it" with us like he was one of our neighborhood gang of card-collecting pals. Later, I found out he was pretty much that way with everyone. Truly, Jim Abbott is a "good guy".
Greg Maddux – Sure he looks like an accountant and pitched like a physics professor attempting to defy Newton's laws of motion but Greg Maddux (as well as brother Mike) is a notorious "good guy". The stories of his high school days and his journey through the draft and minors indicate his goodness might be drenched in naïveté, but Maddux didn't change once he became the most dominant right hander of the second half of the 20th century.
Tommy John – Tommy doesn't sweat the fact that he's not in the Hall of Fame – even though his playing career is arguable at best, his "fame" plus his career should definitely put him in as a "special contributor" at the least.
Relievers
Dan Quisenberry
– Quiz was quirky. Quiz was a whackjob and Quiz was always entertaining. But he was always good to everyone. He was exceptionally good-humored with the media. His quotes are comedic gold and he rarely displayed anything in his nature but goodness. Even until his premature death from brain cancer, Quiz was a charming oddball and kind to fans and media alike.
Rod Beck – He had the intimidation, the mustache and the competitiveness on the field. Off the field he was a riot. Teammates loved him, fans loved him and he loved them back. Sure, he had problems in his personal life and was very much a failure when it came to finances and personal responsibility with substances but Beck was authentic in who he was. He was a guy's guy and never treated people disrespectfully. He was a party on two legs and even as his career was waning and he was toiling in the minors, he was still a champion of the people.
Staff
Manager - Gene Mauch - Gene will probably always be remembered as the best manager to never get to a World Series instead of for what he did do. Mauch was quite talented at bench jockeying and taunting his opponents but he always respected his players as men and his opponents off the field. History has not been kind to Mauch and he'll be remembered as a "small ball" guy but that had more to do with his rosters and home parks than his firm will to play station to station baseball. It's hard to pick a manager as a "good guy" but Mauch fills the role as well as anyone else I could force into this slot.
Base Coach - John Vukovich – Yes, I met him a couple times. He was high spirited and hilariously funny every time I saw him. Everyone who ever speaks of him holds him in high reverence. Sadly, he is on this list and also passed away prematurely from cancer. Why are the good ones always taken away from us too early? I blame Billy Joel.
Owner – It goes against my nature to consider an owner as one of the "good guys". Ha ha!
Summary
Sure, there are guys that belong on here that I'm sure I'll start thinking of minutes after posting. I could mention a few dozen other guys I've met personally or know people who have crossed paths with that deserve mentioning. That's what comments are for!!!
So, who is on ''your'' "Good Guys" team???
Ad blocker interference detected!
Wikia is a free-to-use site that makes money from advertising. We have a modified experience for viewers using ad blockers

Wikia is not accessible if you've made further modifications. Remove the custom ad blocker rule(s) and the page will load as expected.