The
Orlando Magic
escaped from danger by defeating the
Los Angeles Lakers
, 108-104 in game three of the NBA Finals.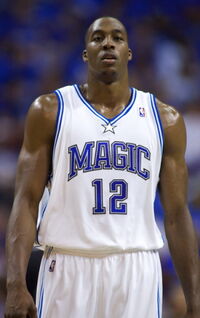 Magic center, Dwight Howard, finished with 21 points, 14 rebounds and 2 assists. Howard still felt his team could still make this series interesting. He was confident playing in Orlando.
"We lost two games, but there's no need to roll over," Howard said. "It's a seven-game series. A team has to beat you four times to end the series and we felt good knowing that we had three games at home."
Magic forward, Rashard Lewis, played 41 minutes and scored 21 points. He led the Magic with 5 assists and had 5 rebounds.
Hedo Turkoglu, forward had 18 points, 7 assists and 6 rebounds.
Magic head coach, Stan Van Gundy, wanted to get guard Rafer Alston more involved. Van Gundy's goal worked. Alston scored 20 points and played 36 minutes, which led happiness to Alston who wasn't comfortable with his playing time.
Lakers guard, Kobe Bryant, scored 21 points in the first half (17 points in the first quarter), but melted down towards the end of the game. Bryant tried to split Mickael Pietrus who finished with 18 points and Howard and committed a turnover, which possibly ended the game for the Lakers.
"It's disappointing," Bryant said. "I'm used to coming through in those situations. The team trusts me to come through in those situations and it just didn't happen tonight. Just got to bounce back." Bryant led the Lakers with 31 points and 8 assist.
Lakers forward, Pau Gasol, finished with 23 points and Trevor Ariza had 13 points with 7 rebounds. Lamar Odom and Jordan Farmar had 11 points each.
Yahoo Quotes
Ad blocker interference detected!
Wikia is a free-to-use site that makes money from advertising. We have a modified experience for viewers using ad blockers

Wikia is not accessible if you've made further modifications. Remove the custom ad blocker rule(s) and the page will load as expected.