The Major League Baseball offseason is well underway as the winter meetings have quickly come to a close.  A couple of teams have been steady making deals while others are sitting back and watching the action from their armchairs, much like us.
For one, the New York Yankees are dealing for starting pitching after Mike Mussina's retirement earlier in the offseason.  Chien-Ming Wang has been surrounded by injuries the past year or two, so the Steinbrenner's must think it's time to go all out on the pitching.  The Yanks have already pretty much wrapped the C.C. Sabathia deal up and put a bow on it for Christmas.  But, they have reportedly offered A.J. Burnett a contract as well.
New York's inter-division rivals, the Baltimore Orioles, have also shown that they are ready to step their game up after dealing veteran catcher Ramon Hernandez to the Cincinnati Reds for OF Ryan Freel and two prospects.  This shows that Peter Angelos is ready for the younger guys to step up.  Getting rid of the 32-year old catcher makes room for the young AA-er, Matt Wieters, who was this past seasons Minor League Player of the Year winner.  The 22-year old catcher, a two-time All-American at Georgia Tech, has a great mixture of power and average on both sides of the plate while his big frame (6 foot 5, 230 pounds) makes him an easy target behind the plate.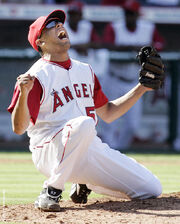 Believe it or not, this isn't the only move Baltimore has made this offseason.  The front office is close to completing a two-year, $6 million deal with former Blue Jay, Dodger, Cub, Pirate and Cardinal shortstop Cesar Izturis.  The O's have had major issues at the shortstop position since the end of the Miguel Tejada era.  Izturis does not have much power, or even all that much consistency in his eight seasons, but he does have a great glove.  That is what they are looking for as of this point.  Just someone who can hold the spot and get the job done.  Izturis' career fielding percentage (.979) is better than Tejada's MLB career and, like most middle infielders, Izturis has speed.
I'm still not done with the O's.  Angelos also finds himself in the middle of the Mark Teixeira talks.  He may actually be in the lead, as of right now.  They have reportedly offered Teixeira a seven-year, $150 million contract.  The O's, as a matter of fact, are also said to be one of the four remaining teams going after Teixeira.  The other three teams; Angels, Nationals, Red Sox.
Jake Peavy is not packing for Chicago after all. The Chicago Cubs and San Diego Padres have called off the deal that would have sent the NL Cy Young winner, Peavy, to Chicago. The multi-player deal was reportedly called-off by Chicago GM Jim Hendry.
The Yankees aren't the only New York team making moves. On Wednesday, the Mets front office made two huge moves to improve their weak 2008 bullpen drastically. In a 12-player deal with the Seattle Mariners, the Mets picked up closer J.J. Putz, who is a very controlling pitcher when healthy, P Sean Green, OF Jeremy Reed and four prospects. In return, OF Endy Chavez and RP Aaron Heilman were shipped to Seattle. Seattle won in this trade along with New York because they also received OF Franklin Gutierrez from the Cleveland Indians. From the Mets, Cleveland were given RP Joe Smith and IF Luis Valbuena.
Earlier in the day, Omar Minaya made a move on another closer from Los Angeles, All-Star Francisco Rodriguez, and was able to sign him to a three-year contract. It is said the Mets will use Putz to setup Rodriguez, who broke the single-seasons save record just last season (62 on the season).
Elsewhere? Well, the Tribe is very close to signing former Chicago Cubs RP/SP, Kerry Wood, pending the physical. If they make the move their closer issues may finally be resolved, that is if Wood can stay healthy for a majority of the season at least.
There's still plenty of offseason action to come. So if your team hasn't made a big move yet (e.g. New York's 12-player trade, C.C. and K-Rod signings), don't sweat it. Sounds like San Diego is still willing to deal Peavy, and Pat Burrell, Jason Giambi, Bobby Abreu, Rocco Baldelli and countless other notable players have yet to sign a new contract.
You might as well sit tight for a while. It's gonna be a long winter.
Ad blocker interference detected!
Wikia is a free-to-use site that makes money from advertising. We have a modified experience for viewers using ad blockers

Wikia is not accessible if you've made further modifications. Remove the custom ad blocker rule(s) and the page will load as expected.